Matchmaker Lets Us Know Melania Trump's Public Absence Isn't The Red Flag You Think It Is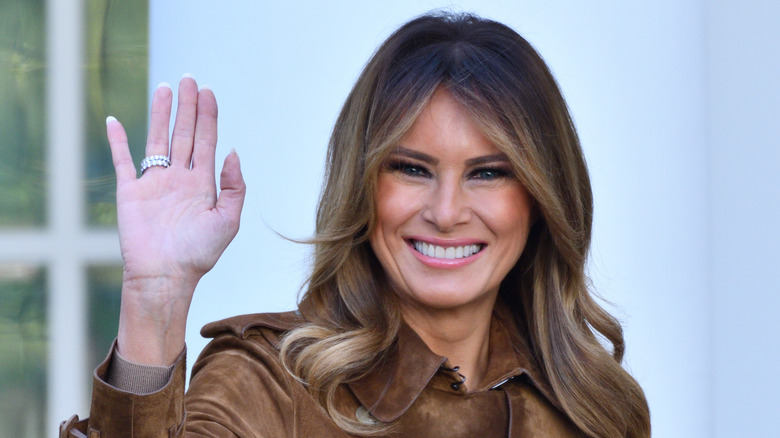 Evan El-Amin/Shutterstock
While former President Donald Trump awaits trial once again, we can't help but notice his once-vocal family has been out of the spotlight. Former First Lady Melania Trump was absent as her husband surrendered himself at Fulton County Jail on Aug. 24, 2023. This is Trump's fourth indictment, as he has now been hit with several counts of varying RICO charges in connection to the tampering with the 2020 election. As former strongholds in the White House, Melania and Barron, the only child she shares with Trump, have been out of the press in recent years.
However, our expert matchmaker says that Melania's absence doesn't necessarily indicate disloyalty. The List spoke exclusively with Susan Trombetti, matchmaker and CEO of Exclusive Matchmaking, who has experience with matchmaking high-net-worth individuals and provided insight into the inner workings of this high-profile marriage.
First of all, she believes that Melania's absence doesn't mean her relationship with Trump is on the brink of turmoil. "When Melania wasn't around during Donald Trump's arrest at the Fulton County Jail, it spoke volumes about Melania's personal strength as opposed to the strength of their relationship," Trombetti told The List. "This is a woman that does her thing and marches to the beat of her own drum. She doesn't seem to care what anyone thinks of her. I don't think it says anything about the strength of their relationship." It seems that while Melania might not support her husband publicly, she still may do so behind the scenes.
Trump and Melania lead separate lives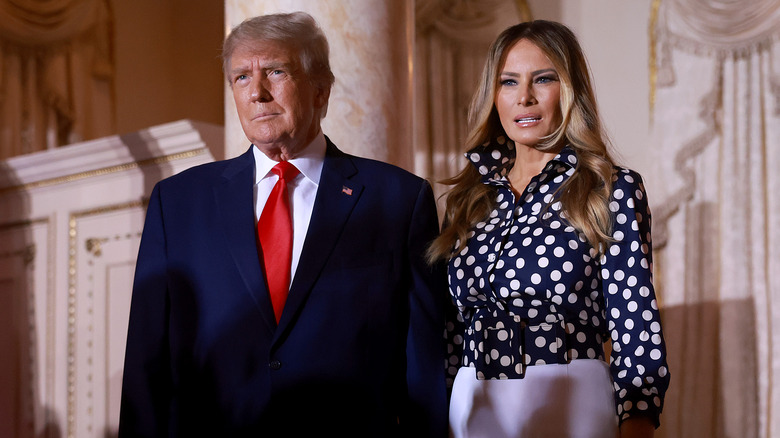 Joe Raedle/Getty Images
Prior to Donald Trump's presidency, he and Melania were vocal about their admiration for each other, even if their actions indicated otherwise. While Melania dutifully supported her husband along the campaign trail, there have been several signs pointing to a strained relationship. The former First Lady has been spotted avoiding physical contact with Trump on various occasions, and it was even reported that the couple shared separate bedrooms in The White House. 
Despite public assumptions that they have a loveless marriage, insiders have said that their relationship is indeed founded on a connection. This supports Susan Trombetti's observations, which infer that the Trumps' situation is an agreed arrangement. She explained to The List: "Melania lives life her way ... Everyone thought she would leave him when he left the office; she didn't. She lives her life taking care of her son, being with her parents and friends, and just being discreet. She has her own life, and he has his."
The former president commented on these political strains in their marriage, specifically as it relates to his recent charges. "It's always unpleasant when you have to go in and tell your wife that, 'By the way, tomorrow sometime I'm going to be indicted,'" Trump told "The John Fredericks Show" (via The Hill).
Melania enjoys her privacy and stays out of the public eye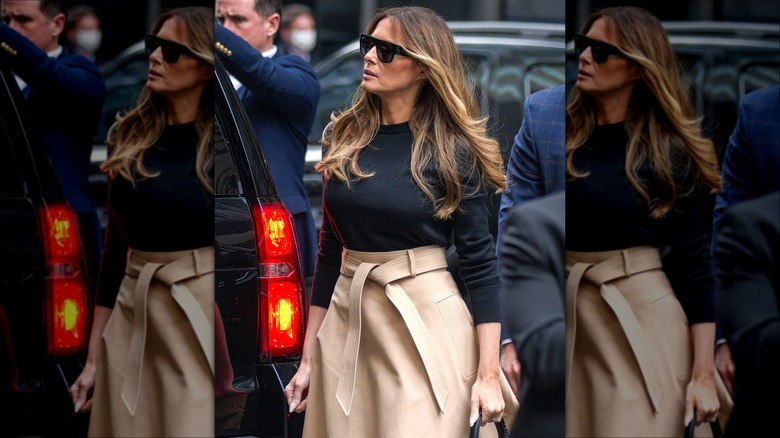 James Devaney/Getty Images
Donald and Melania Trump's marriage has been nothing short of public since the two met in 1998, as Trump was a well-known entity. Before running for the presidency, Trump and his third wife were friends with the likes of Anna Wintour, Tom Brady, and even the Clintons. After Trump's contentious term as president from 2016 to 2020, Melania and their son, Barron, have receded from the spotlight.
Susan Trombetti tells us that this was a strategic move, as Melania aims to keep her life as private as possible post-presidency. "She stays out of the press as much as possible, and he relies on her for support and her opinions," Trombetti assured. "Privately, she seems to be a strong woman that guides him and is there for him. She doesn't need to be by his side."
It's also worth noting that Melania didn't accompany Trump to his three previous arraignments, so her absence isn't sudden. Our expert matchmaker's final verdict: "I don't think it says anything about the strength of their relationship ... I think she privately supports him, but she stays out of the public eye as much as possible."