The Touching Reason Bob Barker & Nancy Burnet Never Married After 40 Years Together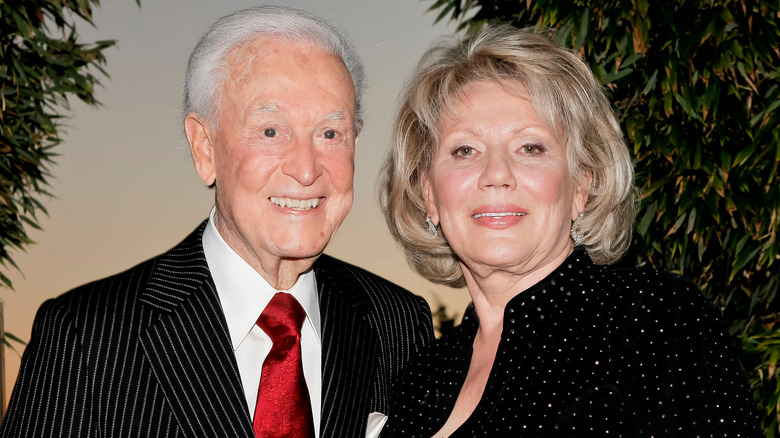 Tibrina Hobson/Getty Images
Following Bob Barker's death, fans are reflecting on "The Price Is Right" host's prolific career as well as his notable personal life. Barker spent his final years with animal rights activist Nancy Burnet, his companion and caretaker. The two were together for 40 years, yet they never got married. Why didn't Barker and Burnet ever take their relationship to the next level?
In August 2023, Barker died at the age of 99, per People. As tributes for the TV legend poured in, Burnet released her own statement about her partner. She said, "I am so proud of the trailblazing work Barker and I did together to expose the cruelty to animals in the entertainment industry, including working to improve the plight of abused and exploited animals in the United States and internationally."
Besides finding success in the entertainment industry, Barker made his mark as a supporter of animal rights. In fact, his commitment to the cause was what initially captivated Burnet. The pair stayed incredibly close over the following decades. Still, Barker was adamant about not getting married, and his reasoning concerned his past.
Bob Barker had already experienced a loving marriage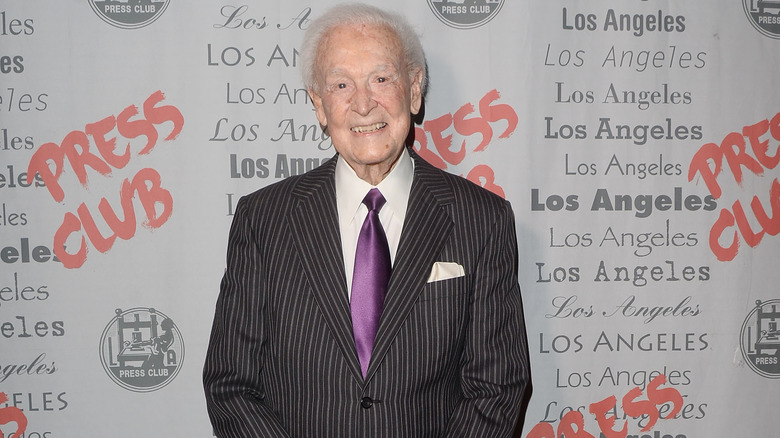 Matt Winkelmeyer/Getty Images
While Bob Barker and Nancy Burnet cared deeply for each other, Barker didn't have a desire to get married again. The star had already been in a long-term marriage and wanted to honor his wife Dorothy Jo Gideon after her death in 1981. He said, "I never had any inclination to remarry. She was my wife," per Good Morning America. In 2007, Barker told Esquire, "She was with me all the time until she died." He continued, "For some men, maybe a second or third marriage would work out fine. In my case, I had my marriage and she was the love of my life."
Barker and Gideon were high school sweethearts and tied the knot in 1945, per People. They were head over heels for one another, as Barker once told the outlet, "We fell in love as kids. And we stayed in love." Barker continued to commemorate his wife after she died. In 2017, photos showed him at Gideon's gravesite on the 36th anniversary of her passing, per the New York Daily News. He set down a bouquet of white daisies by her grave and polished her headstone.
Bob Barker and Nancy Burnet bonded over their passion for animal rights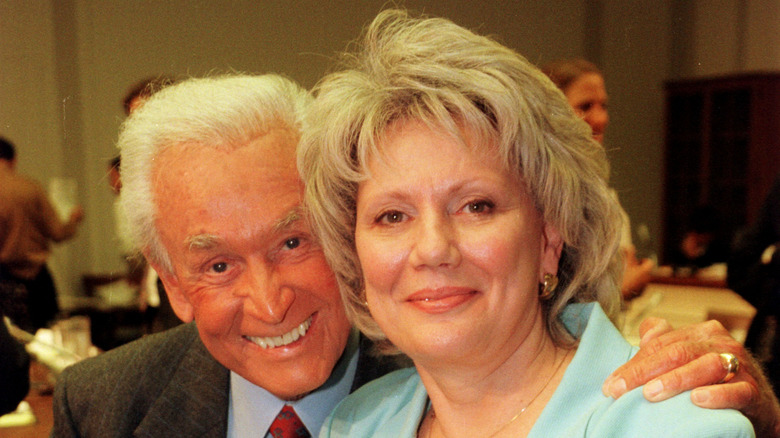 Alex Wong/Getty Images
Although Bob Barker and Nancy Burnet never got married, the pair had a supportive dynamic and adored each other from the moment they met. The two first crossed paths at an animal adoption event that Barker co-hosted in 1983, per People. Burnet didn't recognize "The Price Is Right" host, but was drawn in by his activism regarding animal rights. They ended up bonding over their mutual passion for the movement. In the following years, Burnet and Barker tirelessly devoted themselves to the cause. Burnet told Fox News, "Just about everywhere we ever traveled, we became involved in some animal issue or something."
Interestingly, Barker's late wife Dorothy Jo Gideon was also an animal rights advocate. He once told Good Morning America that his late wife had inspired him, saying, "She was ahead of her time. She really was. She stopped wearing fur coats before anyone was stopping. She became a vegetarian before people were becoming vegetarian. And I gradually did the same thing with her." Barker clearly saw similar qualities in Burnet and Gideon. In 2000, Burnet became the director of the DJ&T Foundation, which was partially named after Gideon, per People. Barker's organization, which he founded in 1994, offers affordable spaying and neutering services.