The Truth About Bob Barker And Betty White's Relationship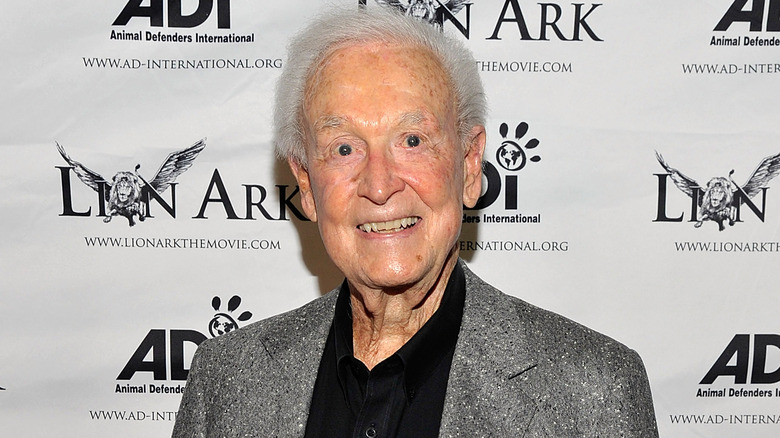 John M. Heller/Getty Images
Legendary game show host Bob Barker's death has been keenly felt by everyone who has ever watched "The Price Is Right": moms who paused their morning vacuuming to watch the Showcase Showdown; the kids who tuned in from the couch while recovering from the sniffles; game-show fans who loved his genial personality. The multi-Daytime Emmy award-winner died of natural causes at home at age 99 (sparking many affectionate jokes about his "not going over 100"). Among the tributes to Barker was a post by Drew Carey, who succeeded Barker as "Price" host in 2007. "Very sad day for the Price Is Right family, and animal lovers all over the world," he wrote. "There hasn't been a day on set that I didn't think of Bob Barker and thank him. I will carry his memory in my heart forever. #RIPBobBarker. We love you."
Barker was also famed for his passion for animal rights and pet population control. He signed off every show with a reminder to spay and neuter your pets — something Carey continues to do in his honor — and was so opposed to fur-wearing that he left his position as host of the Miss USA and Miss Universe pageants because of their tradition of giving fur coats to the winners. In a huge twist of irony, Barker was at odds with Betty White, another vocal animal rights activist, over a (literally) huge animal issue — a disagreement that reportedly estranged them for the remainder of their lives.
Bob Barker and Betty White feuded over an elephant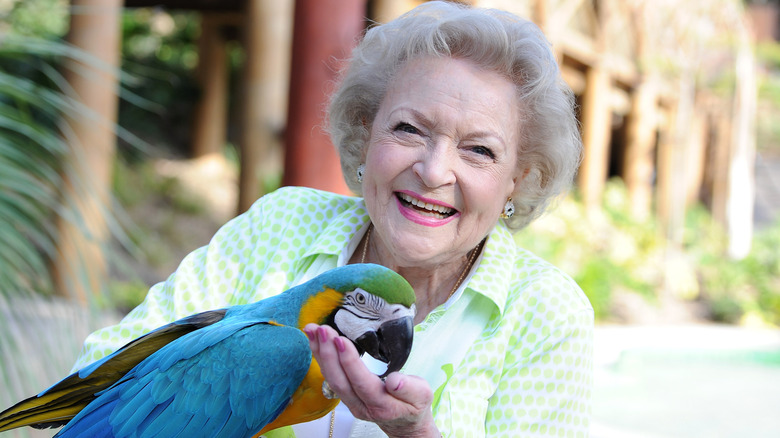 Angela Weiss/Getty Images
Bob Barker and the late Betty White were so alike in many ways, it would seem natural they'd be best friends. Like Barker, White was a long-time staple of game shows. In addition to her appearances on "Password," "Match Game," "To Tell the Truth," and many others, she was the first woman to receive the Daytime Emmy for Outstanding Game Show Host for her work on the short-lived, "Just Men!" White and Barker both enjoyed long careers on TV, and both died at age 99. Most of all, they were both as devoted to animals as they were to performing. White, who owned pets all her life, was active in organizations such as the ASPCA. 
It's surprising, then, that the two TV icons would find themselves sparring over an elephant. Per NBC's "Today," in 2009, the Los Angeles Zoo was in the midst of constructing a large forested habitat that would expand the living space for its Asian elephant, Billy. Barker was among a group of celebrities protesting the project, arguing for Billy to be transferred to an animal sanctuary. However, White, who worked closely with the zoo, supported its work with Billy. She once told Smithsonian Magazine, "So many people have a closed mind on zoos. They think no animal should be in captivity ... So what the zoos do, that some of the 'zoophobes' don't understand, is work not only with the captive animals but also with the dwindling populations in the wild."
Bob Barker and Betty White reportedly never made up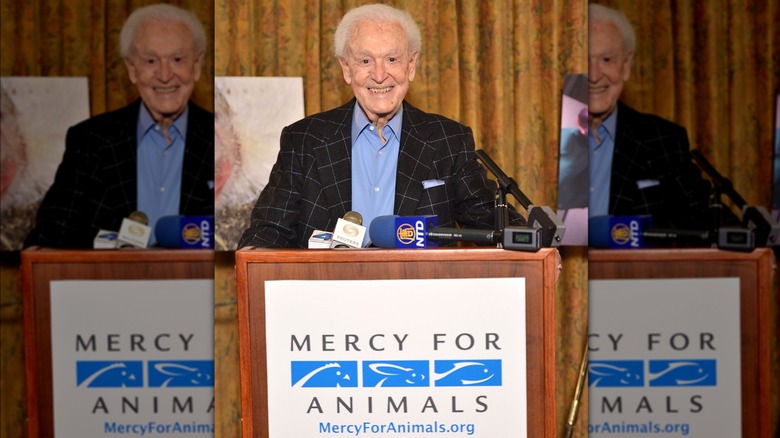 Araya Doheny/Getty Images
The controversy over Billy, the beloved Asian elephant, apparently drove a permanent wedge between Bob Barker and Betty White. Barker fought to have Billy transferred to a sanctuary, where he would be given more freedom to roam, while White argued the Los Angeles Zoo was giving him appropriate care. According to now-archived game show blogs, Barker was allegedly so irate over the issue that he threatened to sit out the 2009 Game Show Awards, a Game Show Network special in which he was to receive honors.
From there, the two didn't cross paths often. Barker lent his voice to an episode of "The Golden Palace," the short-lived spinoff of "The Golden Girls," but there's no record of Barker and White sharing the screen since their disagreement. In 2013, an unnamed source told The National Enquirer that White had offered an olive branch in the form of a birthday gift and a note reading, "We don't have to agree on every­thing, but we can listen to each other's opinions. Maybe a couple of old dogs could teach each other some new tricks." Barker was reportedly unmoved. 
As far as can be determined, Barker and White never reconciled before their deaths. Meanwhile, the battle for Billy the Elephant continues. The Los Angeles Times reported in 2022 the L.A. City Council, supported by Cher and other activists, filed a motion to have him taken out of the zoo.