Kellyanne Conway Has A Little-Known Family Connection To Mike Pence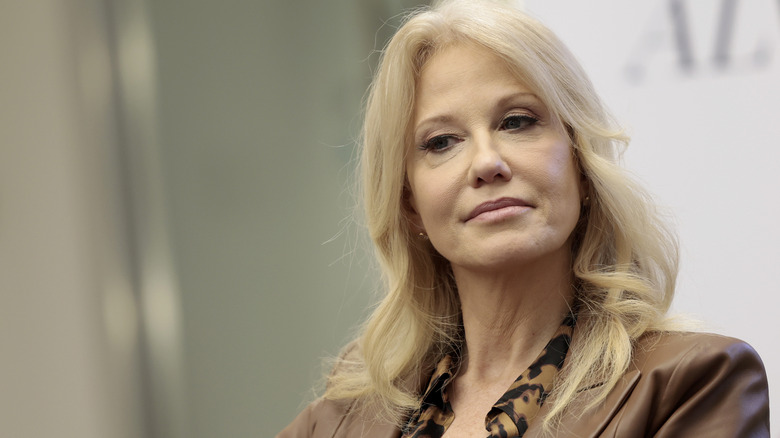 Anna Moneymaker/Getty Images
Even after Kellyanne Conway left her role in the White House, she and her family continued to be under heavy scrutiny. And she's not the only Republican figure to catch the American public's eye — Twitter turned its attention to Mike Pence after Trump's second indictment. While the lives of politicians and their families have always been complicated, the web these two have woven is a lot more tangled than we thought.
Two members of the Pence and Conway extended families got married in September 2019 at the Resorts Casino Hotel in Atlantic City, forever linking the former vice president and senior Trump advisor. Both Pence and Conway were present at the ceremony celebrating his nephew, John Pence, and her cousin, Giovanna Coia. The happy couple has since welcomed a son named Jack, who's frequently featured on John's Instagram.
While this family connection has caused little drama to bubble to the surface just yet (that we know of, anyway), a look at the two families — and how Giovanna and John first met — may reveal some shady, nepotistic dealings.
Who are Giovanna and John Pence?
Before diving into their relationship, we need to examine their political backgrounds. Because, as is usually the case with relationships like these, politics and love are closely intertwined. They've been behind the scenes for much of their political careers, but their family connections secured them comfortable positions. Giovanna Pence, née Coia, interned for Steve King, former Representative for Iowa's 5th and 4th districts. While Kellyanne Conway's connections to this internship are not immediately apparent, she likely had some influence on her cousin's next job. 
Upon Giovanna's graduation from Catholic University, she became a press assistant for the White House during the Trump administration, while Conway was a well-known advisor to the then-president. As for her husband, John Pence, he studied law at Indiana University, following in his uncle's footsteps. Mike Pence's political career has continued to propel his nephew to high places. From the beginning of Donald Trump's presidency, John had a seat at the table, though he didn't obtain a high-profile position until becoming deputy executive director for Trump's campaign committee in 2017.
Their relationship timeline
While the exact details of their first encounter aren't known to the public, a cursory search through John Pence's Instagram reveals a clear and consistent relationship timeline. Evidently, 2017 was a big year for Pence: his first Instagram pic with Giovanna dates back to August, soon after she started her job at the White House. She quickly took over his Instagram from then on, where he was all too proud to show off the progression of their budding relationship. 
In 2018, they got engaged, tying the knot a year later. As of 2023, they are still together, becoming a political power couple. They've both thrown their support behind Mike Pence's 2024 presidential campaign. While Giovanna's political opinions are less known — her own Instagram account is private — Giovanna's support of her husband should be a good indication of who she's voting for. Whether or not this will influence Kellyanne Conway remains to be seen.