Suzanne Rogers' Ode To 50 Years On Days Of Our Lives Has Us Emotional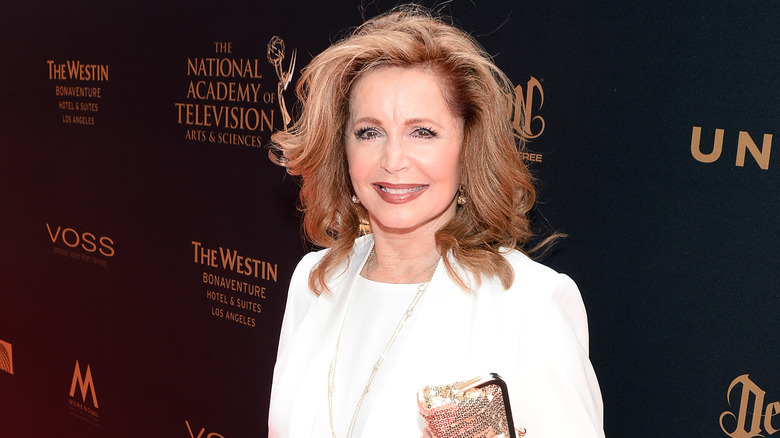 Matt Winkelmeyer/Getty Images
Actress Suzanne Rogers has had plenty of unforgettable moments as the iconic Maggie Horton in "Days of Our Lives" over the last 50 years. As the show has been recently honoring the late John Aniston, whose villain Victor Kiriakis found a surprising love connection with Maggie, it's simultaneously been celebrating Rogers' monumental anniversary with special flashback episodes. Her costar, Stephen Nichols (Steve Johnson), posted a video on Instagram on August 25 in which Rogers was honored with a large themed cake on the set of Salem's Horton Town Square. He wrote, "Today we celebrated the remarkable, talented, and KIND Suzanne Rogers...who has graced our screens in Salem for 50 years! You are an inspiration to each and every one of us, Suzanne. Congratulations and much love."
Among Rogers' many peers who chimed in with their congratulations were Michelle Stafford (Phyllis, "The Young and the Restless"), Mary Beth Evans (Kayla Johnson), Greg Rikaart (Leo Stark), and George DelHoyo, who plays the villainous Orpheus. He expressed his own well-wishes, writing, "Kind and Good and thoroughly professional. An inspiration to all who have crossed her path. Congratulations [whose] generosity and grace has now spanned 50 years!" Many fans sent congratulations and also shared their memories of watching Rogers on the sudser since they were kids, proclaiming that Maggie was always their favorite character.
Rogers herself was choked up and had some kind words to share in response to this memorable celebration, which only made fans more emotional about the milestone.
Roger thanked everyone involved in making the show a success
In the Instagram video posted by Stephen Nichols, Suzanne Rogers expressed her shock that half a century had gone by since she joined "Days." She explained that executive producer Ken Corday's mother, Betty Corday — who co-created "Days of Our Lives" with her husband Ted Corday — had hired her initially, and Ken later took over. "[Ken] has fought for all of us, but mostly, I think for me and the people that his mother brought on the show," she stated, explaining that the networks and writers allegedly didn't like working with older actors. Fighting back the tears, Rogers fondly remembered everyone involved in the show who had passed away.
"I thought when they killed us all off [in 2003] that was the end for me," she continued, adding, "And I thought when my husband Mickey passed away, I thought that was it for me. And I also thought when Victor just passed away, that was gonna be it for me, too." She expressed her happiness at continuing on the show, and told everyone in the cast and crew, including the makeup and wardrobe departments, that she loved them and that "Days" wouldn't be possible without them. "I hope I've been a kind person," she said, which was met with a collective sigh and applause from the onlookers.
"I can't believe this is happening and it still is happening, and I'm still working, and...yay!" she remarked. "Days" fans most certainly agree.