B&B's Scott Clifton And Darin Brooks Remember Important Lessons Bob Barker Taught Them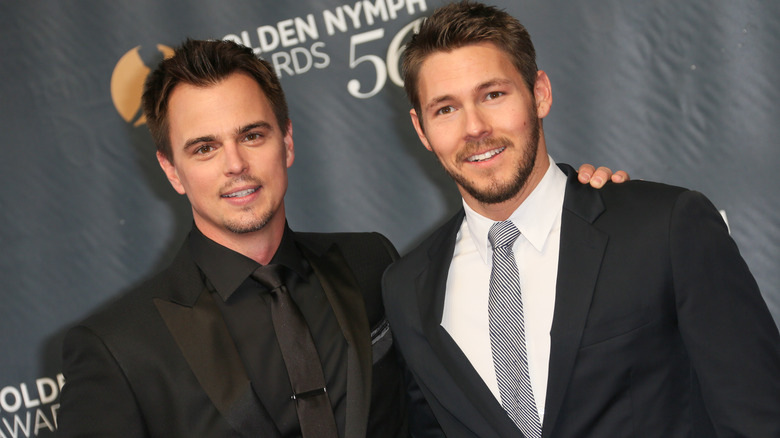 Toni Anne Barson/Getty Images
When legendary "Price is Right" host, the late Bob Barker, guest starred as himself on the August 28, 2014 episode of "The Bold and the Beautiful," it became one of the most memorable and hilarious episodes ever. In it, Liam Spencer (Scott Clifton) is talking with Barker when his brother Wyatt Spencer (Darin Brooks) shows up and immediately insults animals and animal lovers. Barker takes offense and uses his iconic catchphrase that he said at the end of almost every episode of the game show: "Help control the pet population. Have your pet spayed or neutered." Wyatt continues throwing shade which enrages Barker so much that he reenacts his famous scene from the film "Happy Gilmore" (1996), repeatedly punching Wyatt in the face to Liam's horror. 
Clifton and Brooks both took to social media to pay tribute to the late TV icon. On August 26, the day Barker died, Clifton posted a picture on Instagram of Barker and Liam from the episode, writing, "What a privilege it was, not only to work with him, not only to marvel at his wit and vitality even at 90 years old, but to have a once-in-a-lifetime private conversation with the man about his passion for animal ethics. His views were infinitely more nuanced and thoughtful than the catchphrase about spaying and neutering he made famous." 
He remarked that Barker's moral views on animal treatment helped shape his own, wishing everyone could have had the chance to meet him. "We'll mourn him, but the best pieces of this exquisite man will stay forever with us," he continued, adding, "Rest in Peace, Mr. Barker."
Darin Brooks was honored to be punched by Bob Barker
Darin Brooks also paid tribute to renowned game show host Bob Barker on Instagram following his death, posting the now-iconic screenshot of Wyatt being punched in the face on "The Bold and the Beautiful." He began by writing in the caption of the August 26 post, "I had the absolute pleasure of working with (and getting punched in the face by) the incredible Bob Barker on @boldandbeautifulcbs!!! And I just gotta say... He was one of the sweetest people I've ever met!! I told him 'Hi Bob. I'm Darin, I play Wyatt and I'm really looking forward to [being] punched in the face by you today!'"
Brooks revealed that he admitted to the legend that, as a kid, he would skip school to watch "The Price is Right," to which Barker responded, "Well, nice to meet you Darin. Not only are you a nice young man, but you're SMART too!" Brooks added crying-laughing emojis and praised Barker for raising awareness of how animals should be treated, as well as sending his love to the Barker family.
Brooks' on-screen dad, Don Diamont (Bill Spencer), responded with a heart and prayer emoji, while many fans reminisced not only about the episode but also about staying home sick from school and watching the beloved game show. One fan who emigrated to the U.S. from Cuba over 60 years ago remembered watching Barker host "Truth or Consequences" prior to "Price," and wrote the heartfelt comment, "He was an amazing human being we lost an irreplaceable legend of TV entertainment."