Days Of Our Lives' Stephen Nichols Remembers Arleen Sorkin With Ultimate Throwback For Soap Fans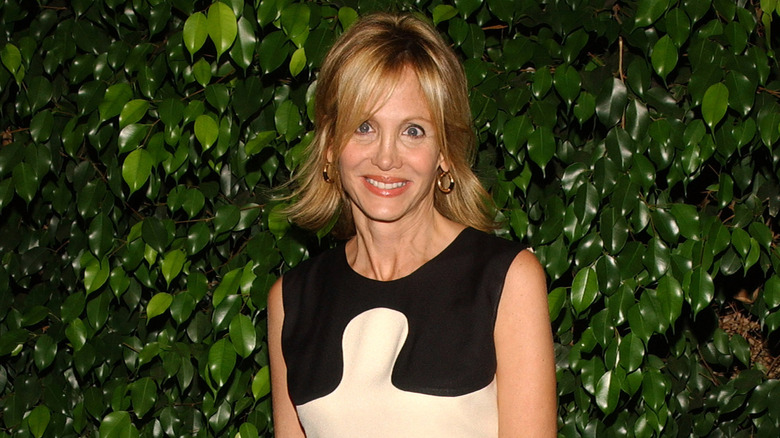 Jean-paul Aussenard/Getty Images
The devastating news that former "Days of Our Lives" star Arleen Sorkin died on August 24 has brought up all kinds of memories about her character, Calliope Jones. Calliope's classic romance with the wacky inventor Eugene Bradford (John de Lancie) has been a beloved fan favorite story that lightened up the traditionally heavy world of "Days" (and which also involved robots and time travel). Co-star Stephen Nichols (Steve Johnson) not only paid loving tribute to Sorkin on his August 27 Instagram post, but he also gave the fans a nostalgic treat with a video he attached to it. He wrote, "I have fond memories of Arleen on the #Days set, as she presented her wild costumes and hysterical, over the top humor as Calliope. But more than that, I remember witnessing her loving care of the fans she met as we traveled to South Carolina and other cities around the country. She delighted everyone with her humor, but especially with her kindness."
The first part of the video was a scene from "Days" in which Eugene is in the basement working on an invention, while Calliope is upstairs trying to warn everybody that one of his premonitions may spell disaster for Salem. Fans were saddened by Sorkin's death and reminisced about Calliope, as one fan responded with the heartfelt, "Loved watching her as Calliope as a kid ... always missed Calliope and Eugene! May her memory be eternal."
The second part of the video that Nichols shared was truly a blast from the past for the fans.
Nichols shared a clip of Sorkin at a celebrity softball event
Stephen Nichols' Instagram tribute to co-star Arleen Sorkin continued, as he wrote, "Arleen was ... a joy to be around. She has left a tremendous impact on this world ... and on those of us fortunate enough to have known her. Rest easy, Arleen. Sending love to Arleen's children and all who loved her." The second part of his video was a clip from one of the celebrity softball benefits that "Days of Our Lives" cast members used to frequently participate in. It is unclear exactly what year the clip is from, but in it, Sorkin enters the baseball field to the cheers of an adoring crowd, and Nichols goes up to her, whispering something in her ear. After the announcer states that Calliope Bradford is up at bat, Sorkin gets a base hit to the delight of the fans.
A news story published by Go Upstate on July 14, 1989, discussed a softball game where the cast, aka the Salem Sluggers, played against the Southeast All-Stars. The article hilariously joked that a robot version of Calliope might pinch hit for her, and postulated that she would make earrings out of the balls — a nod to the fact that her wardrobe was often as wacky as her character. Sorkin and Nichols returned in 2005 for the 19th annual Days of our Lives Celebrity Softball Game, so clearly Sorkin had a lot of love left to give to "Days of Our Lives" fans. Her passing was a great loss to all.