What Happened To Michael Newman After Baywatch?
When "Baywatch" debuted on NBC in 1989, it became a cultural phenomenon. The drama series centered around the beach and showed a team of lifeguards protecting swimmers from a host of dangers in the waters. Several of its stars, including Pamela Anderson, renowned for her famous "Baywatch" swimsuit, and David Hasselhoff, later moved on to more opportunities in Hollywood. However, Michael Newman, who portrayed a lifeguard of the same name nicknamed "Newmie," didn't exactly achieve superstardom during or after the series. In the years following the show's end, he led a normal life, though his water skills remained a considerable part of his post-"Baywatch" career.
Newman held several positions on the series outside of saving lives on camera. At times, he would serve as a stunt double, performing risky actions on the beaches of California and Hawaii. In several scenes, his legs were even used in place of Hasselhoff's. As a valuable cast member for 11 seasons, it's unknown if Newman stayed in touch with his fellow "Baywatch" stars such as Anderson and Yasmine Bleech. Nevertheless, he is still widely regarded for his role, even if he isn't still in the acting community. 
Michael Newman water trained other actors after Baywatch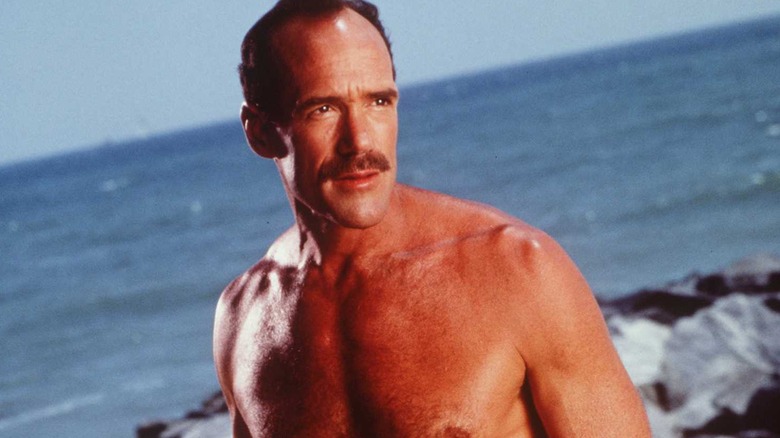 All American Tv, Inc./Getty Images
Before taking on the role of "Newmie," Michael Newman served as a technical consultant on "Baywatch." His expertise was needed for movie set equipment, actors' radio commands, and much more. As a trained lifeguard who'd even secured the 1996 National Lifeguard Ironman Championship, Newman was still heavily sought after to assist with other projects even after "Baywatch" ended. He worked alongside Ashton Kutcher and Kevin Costner, prepping them for their roles as Coast Guard rescue swimmers in the 2006 flick, "The Guardian."
In addition to his stellar skills on the waves, Newman also dove into real estate, something he wishes he would have pursued more instead of his years on "Baywatch." While other stars of the show brought in decent salaries, Newman revealed he made only a fraction of those earnings despite appearing in over 100 episodes
"To give you an idea of the kind of money I made, I bought a property next door to my house and renovated it, and sold it. I made more money building that one spec house than I made in all the years that I worked on 'Baywatch.' If I hadn't been wasting my time on 'Baywatch' and had been building spec houses instead, I would have made some real money," Newman told the Daily Mail in 2014.
Michael Newman is living with Parkinson's Disease
In 2005, Michael Newman felt his first tremor in his left hand. This would ultimately be the first indicator of Parkinson's disease. In addition to the uncontrollable shaking, symptoms of Parkinson's include changes in speech, rigid muscles, and loss of movement, per Mayo Clinic. Unfortunately, Newman had to come to grips with his new reality. "It took me a long time to realize that I was going to have to reorder my life. It was going to change. Just realizing you're not going to be able to do a lot of the things with your kids that you thought you were going to be able to do," he said in a 2011 interview with Los Angeles KPCC-FM (via E! News).
Newman opened up again about his condition in 2014 during his chat with the Daily Mail. He revealed the tremors had spread to his leg. This, combined with an accident, had greatly hindered his mobility. Newman told the outlet, "Although I had the foot treated, it was always weak, and now the Parkinson's just makes it worse." However, the ocean was still his go-to, and despite his condition, he was still able to swim and surf without any issues. 
In recent years, Newman has maintained a low profile. His last Instagram post was from 2017, so his health status is unknown. Newman is reportedly residing in California with his family and is hopefully doing well and still enjoying the surf.