Amy Robach & T.J. Holmes Finally Confirm Romance With Matching Sentimental Photos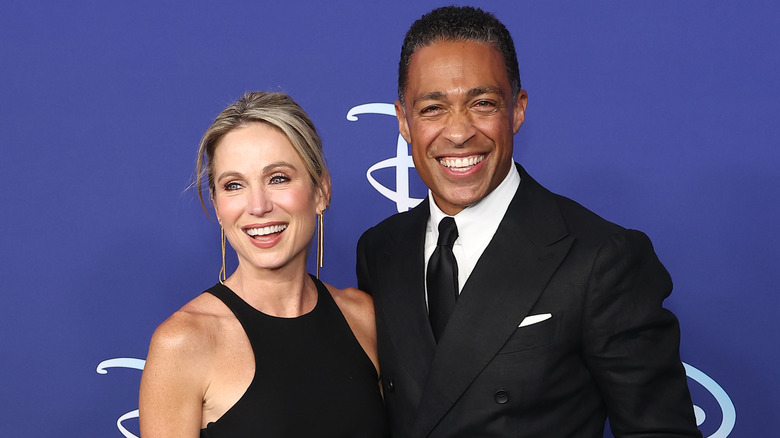 Arturo Holmes/Getty Images
For most of 2022, the world was used to seeing the shining faces of Amy Robach and T.J. Holmes as they hosted the afternoon segment of "Good Morning America," "GMA3." By the end of the year, those faces would disappear. The two were caught in what appeared to be a romantic relationship in November 2022, with photos splashed across the internet showing them holding hands, and Holmes patting Robach's rear in an intimate gesture. 
While the co-hosts' rumored affair wouldn't normally cause a scandal, the fact that both were married to other people did. They each wed in 2010, Robach to "Melrose Place" actor Andrew Shue, and Holmes to lawyer Marilee Fiebig. Holmes filed for divorce in December 2022, after the affair was exposed, while Robach and Shue were rumored to have separated only months earlier. Amidst the backlash, Robach and Holmes officially lost their anchor gigs in January 2023. 
Even with all the press, media exposure, and general hullabaloo surrounding the situation, both Robach and Holmes have remained quiet about their relationship, neither confirming nor denying any romantic element — until now. The two seem to have quietly, and subtly, become Instagram official with matching posts.
The couple shared the same running-themed photo
In August 2023, T.J. Holmes and Amy Robach each posted the same photo on Instagram, complete with matching hashtags, "#NYCMarathon2023." The comment also included two emojis, one of a running woman, and one of a running man. While nothing else was said, the pic seemed to publicly declare their coupledom. 
The New York City Marathon has been a part of the couple's relationship for a while, with Robach being a long-time avid runner, and Holmes joining her for marathon training in 2022. In May 2023, the two were seen running the Brooklyn Half Marathon together, in coordinated outfits of pink and black.
While neither Holmes nor Robach has posted on their Instagram accounts since November 2022, in one of Holmes' last posts, ironically, he featured a photo of himself running the 2022 New York City Marathon. He noted it's not something he ever thought he would do, but somehow, enjoyed the experience. He also gave a nod to his running partner. "And get this, I turned to Robach at the 10-mile mark and said: "'I'm f—-ing doing this again next year!'" Robach also posted about her experience at the same marathon and included several photos from the event, including images of Holmes wearing a pair of bright-orange sneakers matching her own.