Details About JFK Jr.'s Brief Romance With Sarah Jessica Parker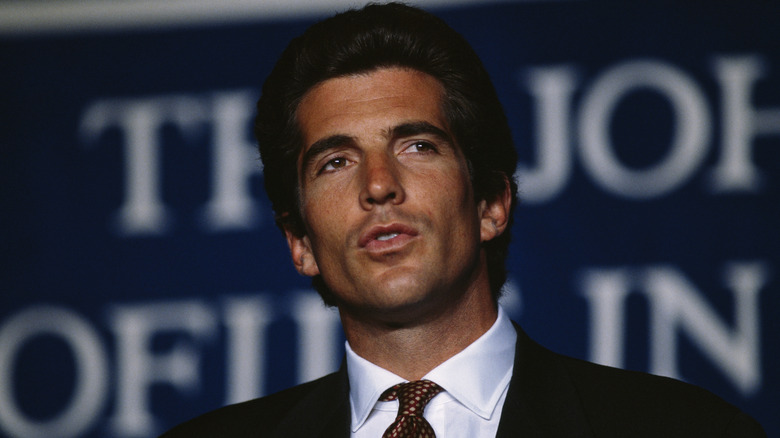 Brooks Kraft/Getty Images
We may receive a commission on purchases made from links.
John F. Kennedy Jr. was one of the most desirable bachelors in America until he married Calvin Klein publicist Carolyn Bessette in 1996. They met four years prior but didn't get together for the first two years, as JFK Jr. was with actor Daryl Hannah at the time. However, another romance stands out among the many in his dating resume. For a brief moment in time, JFK Jr. met his abbreviated name match, Sarah Jessica Parker. Despite their relationship being short-lived, it left a lasting impression on the "Hocus Pocus" actor, but not for the reasons one might expect.
At the beginning of the nineties, SJP was already known for her lead role in "Square Pegs," a CBS sitcom, as well as for appearing in "Footloose" and "Girls Just Want to Have Fun." Still, she wasn't a superstar swarmed by photographers, which seemed to have changed overnight once the word got out that she was dating Kennedy Jr. "We would go places where there wasn't a soul around, and the next day I'd see pictures of us there in the tabloids," Parker noted to The New York Times in the early '90s. The experience ultimately led to the actor breaking up with the attention-clad John.
SJP didn't like the notoriety that came with dating JFK Jr.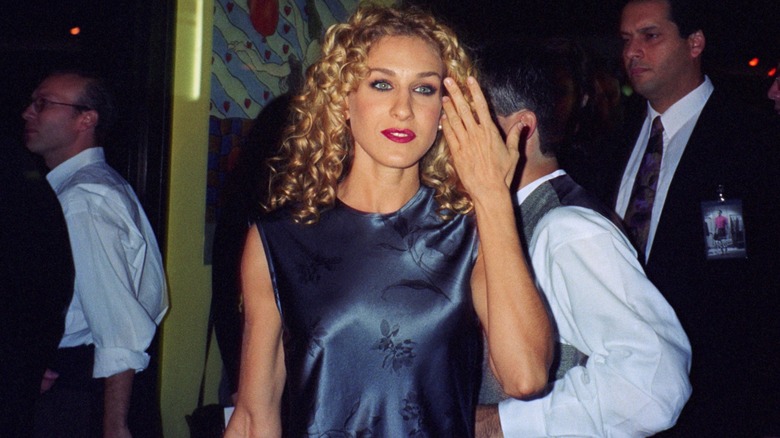 Art Zelin/Getty Images
"The Kennedy fiasco," as Sarah Jessica Parker once referred to her short-lived romance with John F. Kennedy Jr. when speaking with The New York Times, almost made the beloved "Sex and the City" star a part of America's royal family. Before getting together with Matthew Broderick, according to People, Parker had a few months-long fling with the former first son in 1991.
The charismatic aviation enthusiast approached Parker after a play at the theater, prompting the actor to fangirl once she was on her own, in proper Carrie Bradshaw fashion. "You're not going to believe who asked me out," SJP screamed over the phone to her friend Adam Shankman, who detailed the instance to People.
Even though their love burned out quickly, the couple sure did have fun; at least that's what celebrity biographer Christopher Andersen claims. In his book, "The Good Son: JFK Jr. and the Mother He Loved," the author described one of the duo's NSFW encounters. According to Andersen, Parker once welcomed her beau at the airport wearing nothing but a fur coat and high heels. Despite their merriment, she soon realized Kennedy Jr. was too much of a public persona for her liking. "I never had any idea what real fame was until I met John," Parker said in her 1992 New York Times interview, continuing, "I feel like I should apologize for dating him. It has become the defining factor in the [public] person I am."
They both went on to marry other people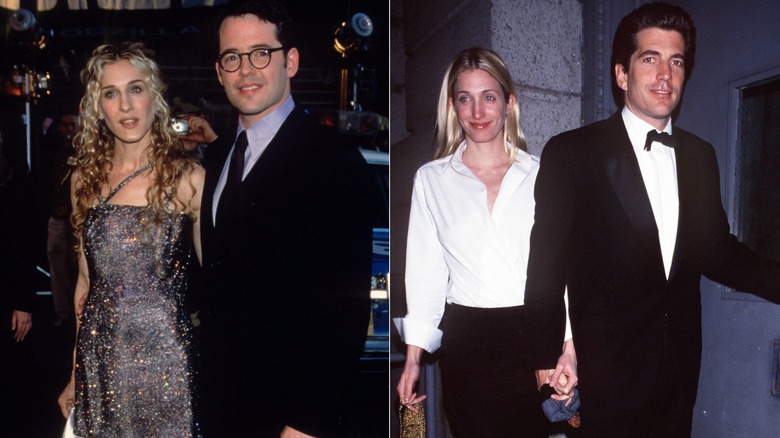 Kevin.mazur & Arnaldo Magnani/Getty
Sarah Jessica Parker met her future husband, Matthew Broderick, soon after calling it quits with John F. Kennedy Jr. The actor got her privacy wish granted, as she and Broderick have managed to keep their decades-long marriage out of the spotlight. "We try to keep some privacy, a circle around the family, so we can all have as normal a life as possible," Broderick shared in a talk with The Guardian, adding, "Once you start talking about your relationship and your feelings in public, you're in trouble . . . I don't want to have my kids reading about our relationship."
JFK Jr., on the other hand, famously married Carolyn Bessette Kennedy, and the two went on to become one of America's favorite and most famous couples of the 1990s. Despite Kennedy's secret island wedding ceremony, the rest of their marriage was under the watchful eye of the public and the paparazzi. This might have suited Kennedy Jr., who grew up with cameras in his face, but not Carolyn.
The celebrity lifestyle caused a major rift between the spouses, as it caused the style icon to abandon the idea of motherhood, according to Vanity Fair. "I hate living in a fishbowl," Carolyn told a friend, including, "John may be comfortable living like this, but I'm not. How could I bring a child into this kind of world?" The pair ultimately never had any children, and they both tragically passed away in the shocking Martha's Vineyard plane crash in 1999.