General Hospital Star Maurice Benard's Impression Of Josslyn Will Leave You In Stitches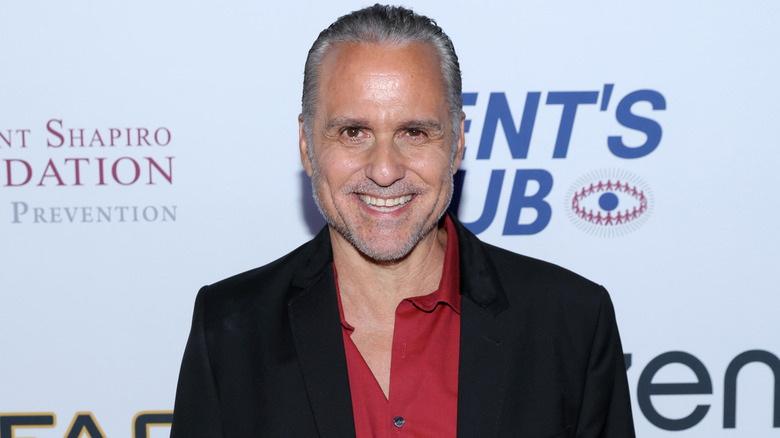 Rich Polk/Getty Images
Maurice Benard has always portrayed Sonny Corinthos as a dark, serious, brooding mobster on "General Hospital." But in real life, he's got a great sense of humor and enjoys having fun, particularly in making funny Instagram videos and stand-up comedy. The actor has been very open about his bipolar disorder and anxiety, and even created a mental health awareness show on YouTube called "State of Mind." On the episode in which he interviewed "GH" co-star Tabyana Ali (Trina Robinson), posted in November 2022, she mentioned that she'd done some stand-up routines. Benard then explained he does stand-up comedy as well, with 45 minutes of "GH" jokes. "When I do it, these are my fans from 'GH,' so I don't care if I suck or whatever, they laugh," he quipped.
He's currently working with Coastal Entertainment on his new Milestone tour, in which he's traveling to 14 cities to perform and meet fans, and on August 29, 2023 wrote on Instagram, "What can I say about this tour? I have done three shows [and] it's going absolutely perfect!!! I have been on a number of planes. Absolutely no anxiety. I'm not gonna tell you it's not chaotic, but I will take chaos with a healthy MENTAL MIND." Prior to that post, Benard shared a clip from one of his shows on social media in which he invited "GH" co-stars Evan Hofer (Dex Heller) and Eden McCoy (Josslyn Jacks) to join him, and hilarity ensued.
Eden McCoy and Maurice Benard trade GH characters in an improv sketch
"General Hospital" star Maurice Benard's August 28 Instagram post included a video clip from his live show where he, Evan Hofer, and Eden McCoy did an improv skit about the show. "What happens when SONNY DEX and JOSS Do improv at the @improvkcmo [is] just a bunch of hilarious chaos," he captioned it. In the video, McCoy is wearing a men's sports coat and "State of Mind" baseball hat, while Benard has a blonde wig on, as the two play each other's characters. Benard looks at McCoy and says in a high-pitched voice, "I don't like you." A deep-voiced McCoy responded, "I don't like you either."
She pointed at Benard and Hofer stating, "You gotta find something else to talk about, man. You two," shaking her head, referring to the fact that Dex and Joss' pillow talk often revolves around Sonny. In a quieter high-pitched voice, Benard again stated, "I don't like you. You really messed up our family," and then screamed in the same voice, "You messed up our family!" which was a reference to the point that Josslyn feels Sonny ruined their family when he left her mother for another woman.
The clip ended with Hofer mentioning that Sonny had amnesia in 2021, and Benard goofed, stating, "I'm Mike and Sonny," then remembered he was supposed to be playing Josslyn, yelling, "Oh no no no!" as the audience roared with laughter.