What Luke MacFarlane Did Before Becoming A Hallmark Star
Luke MacFarlane has become a fan-favorite actor on Hallmark, starring in over fourteen flicks since his network debut in 2014. Now, he's garnered the title of a Hallmark King through made-for-TV movies such as "Taking a Shot at Love," "A Valentine's Match," and "Christmas in My Heart," playing the straight leading man despite being gay himself.
While Hallmark has consistently given him work throughout the years – opportunities that MacFarlane will always be grateful for – the star has a long list of credits that pre-date his feel-good movie fame. In fact, fans of the actor might be surprised to learn that he has roots in theatre, studying acting at Juilliard before he landed some major Hollywood roles.
If you're wondering what Luke MacFarlane did before becoming a Hallmark star, he appeared in a couple of television series before achieving status as a network regular, with his eighty-nine episode stint in "Brothers & Sisters" a significant part of his career.
Luke MacFarlane started acting professionally at Juilliard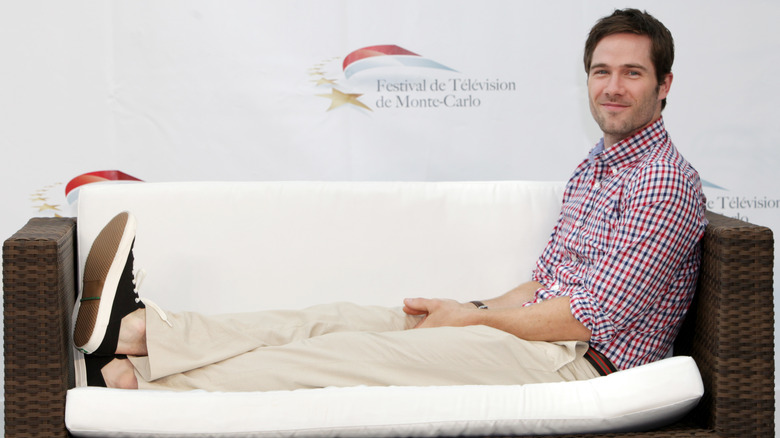 Stephane Cardinale - Corbis/Getty Images
Long-time fans of Luke MacFarlane might be surprised to learn about his background in music and theatre. The Hallmark heartthrob actually discovered his passion for acting through musical performance, as he explained to the "Story + Rain Talks" podcast, "I think the most pivotal thing in my life has been a love of performance through music. I've always played the cello, and when I was in high school, I started playing in an orchestra."
This musical talent was actually utilized in "Chateau Christmas," a 2023 Hallmark movie starring MacFarlane and Merritt Patterson. It was cello-playing that eventually led him to acting, with the made-for-TV movie star saying, "That sense of performance through my cello-playing was a really big part of it. And then a drama teacher in high school said, 'You know you can do this. You can become an actor.'" After high school, MacFarlane attended Juilliard, moving from his small town in Ontario, Canada to the flourishing Big Apple.
As cataloged by SyFy, the actor starred in many productions during his time at Juilliard, including "The School of Night," "The Grapes of Wrath," and "As You Like It." He also appeared in off-Broadway productions from Playwright's Horizons and Vineyard Theater. While his career centers around television and film these days, he has expressed his ongoing love for theatre and New York City, sharing, "New York will always feel like where my creative life really started."
The Hallmark star landed a short-lived gig on FX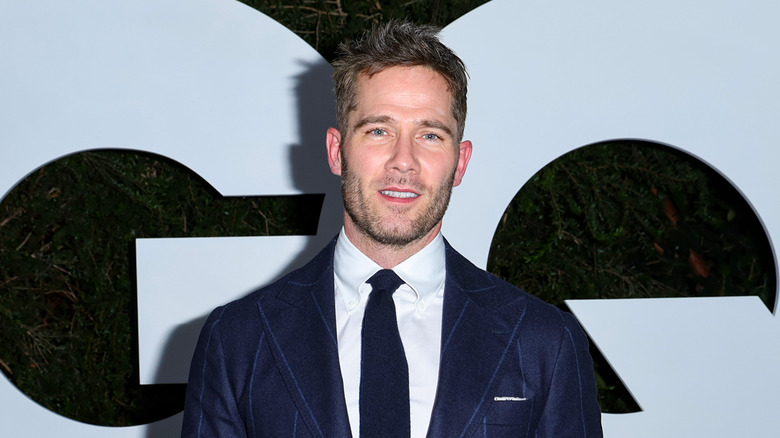 Phillip Faraone/Getty Images
Luke MacFarlane's first Hollywood gigs included a supporting part in the film "Kinsey" and a notable role on the HBO mini-series "Tanner on Tanner." However, what appeared to be his big break came in 2005 when he was cast in "Over There," a war drama following the lives of four U.S. military soldiers as they're deployed to Iraq for their first tour of duty.
"The first gig that brought me to L.A. was this FX series called 'Over There' [from] Steven Bochco, big-time producer," he told Tamara Rappa on the "Story + Rain Talks" podcast. Unfortunately, the show's success was short-lived. "I'm really thinking, 'Here it is. I'm going [to] be famous now.' One season later, thirteen episodes, and we were canceled."
While MacFarlane experienced the kind of false start many actors run into, he didn't have to wait long for his next chance at fame. In 2006, he landed what would become a major role in both his career and the cultural zeitgeist.
MacFarlane had a significant role in Brothers & Sisters
Before becoming a Hallmark hottie, Luke MacFarlane was most known for playing the role of Scotty on the ABC drama series "Brothers & Sisters." Though he was originally cast for a short story arc, the actor soon became a series regular as the love interest of Kevin Walker (Matthew Rhys). The positive portrayal of Scotty and Kevin's relationship was momentous. Eventually, they had the first same-sex wedding between series regulars on a network show during a time when sexuality was a more contentious topic.
"Scotty and Kevin were characters that were treated with love [and] care by the writers and by the producers of the show. I think they wanted to have a representation that hadn't really been seen on network television," MacFarlane said in a People interview, recalling that gay marriage in California was legalized only days before the Scotty-Kevin wedding aired on ABC. "I've had a number of people over the years come up to me and say like, 'I came out to my parents in the wake of, you know, you guys normalizing gay marriage.'"
In addition to its cultural impact, the role also gave MacFarlane the space to be open about his own identity as a gay man. While he was already out to his friends and family, the actor spoke publicly about his sexuality to The Globe and Mail in 2008. While the decision undoubtedly affected his career, it was valuable for both him and the LGBTQ+ community.