How Ron DeSantis' Fashion Choices Became An Internet Joke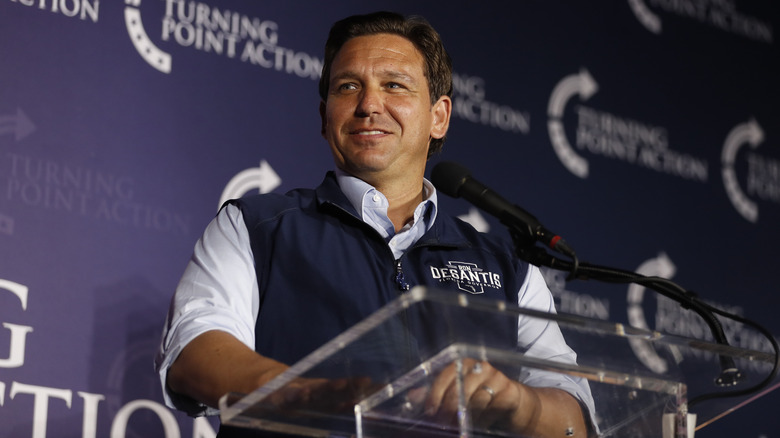 Octavio Jones/Getty Images
As the 2024 Presidential Election draws closer, Florida Governor Ron DeSantis and former President Donald Trump have become the Republican Party's two highest-polling candidates (although Trump is still way ahead at over 50% in comparison to DeSantis, who is now below 15%). Although DeSantis has his fair share of loyal supporters, certainly more than Governor Nikki Haley or long-time presidential hopeful Chris Christie, he's no stranger to criticism, especially on social media. The Florida Republican has come under fire for his forced smile at the first GOP debate, his fashion choices, and, most importantly, enabling countless book bans in his home state.
In 2023, the NAACP was forced to issue a travel advisory, writing, "Please be advised that the State of Florida does not value diversity, equity, and inclusion in Florida schools, colleges, and universities," adding, "Florida does not welcome the contributions of African Americans and people of color." Members of the LGBTQIA+ community are also at risk when traveling to Florida, according to The Human Rights Campaign. 
In the midst of this nationwide anxiety, DeSantis has been practicing his friendliest smile and polishing his collection of heeled cowboy boots, a fashion choice that's become a favorite joke on the internet. At somewhere between 5'7" and 5'9" inches tall (reportedly), he'd be well below average when it comes to presidential heights. Trump is 6'3" (allegedly, although some dispute his height claim). Therefore, it makes sense that heels have become a part of DeSantis' effort to win the primary.
Everyone loves to hate Ron DeSantis' footwear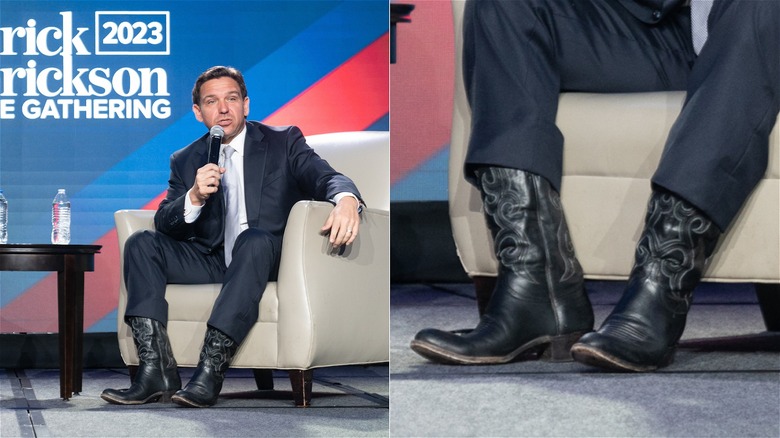 Megan Varner/Getty & Megan Varner/Getty Images
When Ron DeSantis isn't standing behind a podium in a tailored suit, he likes to go for the "assistant football coach" aesthetic, rocking belted dad jeans and layering fleece vests over button-downs. His shoe of choice is a heeled cowboy boot, also a favorite among fashion it-girls like Emma Chamberlain and Emily Ratajkowski. Many have speculated that DeSantis' shoe preference is due to height insecurity. "Ron DeSantis consistently wears high-heeled boots in order to appear taller," wrote one Twitter user. Journalist Matthew Yglesias also weighed in, asking, "Are men even allowed to wear high heels like this in Florida?"
Meanwhile, The New Yorker joked that the heels were funded by the governor's political-action committee. He's been mocked by pro-Trumpers and liberal-leaning voters alike. "Donald Trump had work boots on. DeSantis had Dallas Cowboy cheerleader boots on," a Trump insider pointed out to The Daily Beast, comparing the two candidate's choice of footwear. His bright white Florida hurricane boots also became a popular subject among Late Night hosts. "You're not allowed to pass a 'don't say gay' bill and then show up in public dressed like Nancy Sinatra," quipped Jimmy Kimmel, projecting a snapshot of the Florida governor in knee-highs.
Ron DeSantis' wife knows what she's doing when it comes to fashion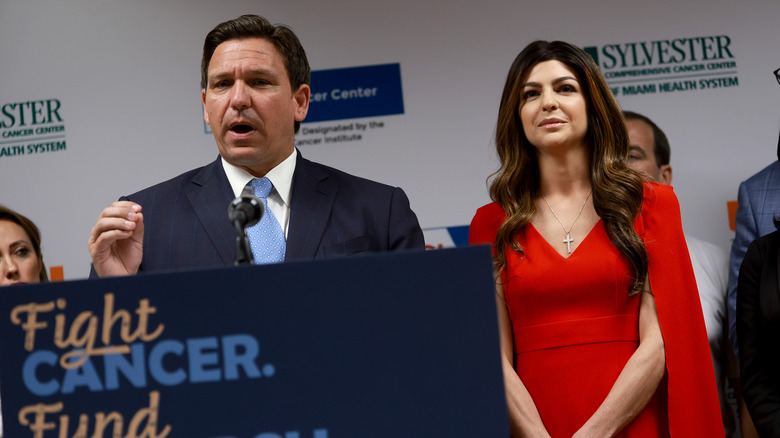 Joe Raedle/Getty Images
Don't underestimate the power of fashion, especially in the political arena. Florida's First Lady, Casey DeSantis, has made her personal style a part of her husband's 2024 campaign. "She understands the image game and how to play it," Republican strategist Ron Bonjean told The New York Times. According to author Kate Andersen Brower, she's been "dressing her part," paying homage to beloved First Lady Jackie Kennedy at several high-profile events.  
The Florida First Lady's fashion sense and charisma (two departments in which the governor seems to be lacking) legitimize Ron DeSantis' fight for the Republican nomination. "She is every bit as involved in Ron's rise as Ron is himself," former congressperson David Jolly told Politico. Plus, she can probably balance better in heels. "He's a leader who makes political decisions with the assistance of his wife, who was elected by nobody, who's blindly ambitious," an anonymous former administrative staffer explained. However, much like her husband, Mrs. DeSantis is no stranger to controversy ... She founded a "Mamas for DeSantis" group that some have called "desperate," also calling for the support of American "grandmamas," per The Guardian.