Why Danica McKellar Decided Hallmark Was Right For Her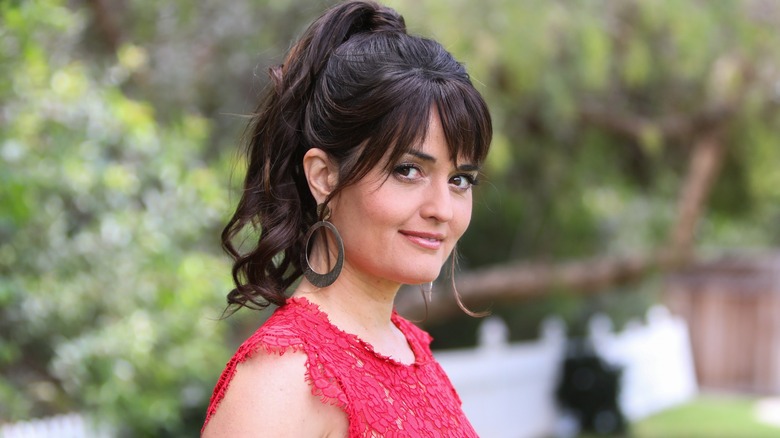 Paul Archuleta/Getty Images
Danica McKellar is one of the streamable Hallmark Channel's favorite leads when it comes to heartwarming romances and holiday-themed flicks. She's appeared in over a dozen of the network's films, starring a number of beloved characters. McKellar was a maid-turned-royal in "Crown for Christmas," a matchmaker with exquisite investigative skills in the "Matchmaker Mysteries" franchise, an event planner whose love liaison is Dolly Parton in "Christmas at Dollywood," and so many more.
The star's acting career didn't start at Hallmark, though. McKellar's most likely still best known for her role as Winnie Cooper, the wholesome younger sister in ABC's "The Wonder Years." As a child actor (McKellar was barely a teenager when the show aired in 1988), she knew she had to root her self-worth in something other than stardom once the series came to an end. After taking a brief break from the entertainment industry to focus on her studies, McKellar ultimately decided Hallmark was the right choice as the next step in her career because of their signature feel-good storylines and the delight they bring to the audience.
Danica McKellar wanted to spread kindness and positivity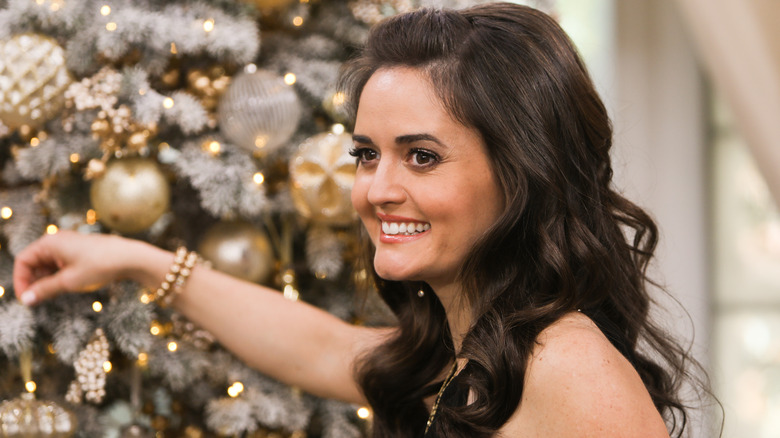 Paul Archuleta/Getty Images
Danica McKellar played one of the lead roles in "The Wonder Years" at only 13 years old. Despite being so young, she recognized early on that the project shouldn't define her as a person. When speaking on stage at RomaDrama Live!, a fan convention bringing together characters and authors of some of the most popular TV shows and movies, McKellar got into how she found her self-worth after "The Wonder Years." As reported by E! News, the star wanted to explore her abilities apart from acting, which is why she enrolled in UCLA's math program, earning her bachelor's degree in mathematics. 
She did, however, get back in front of the camera, soon marking the beginning of her impressive Hallmark career. "I just wanted to put good energy into the world by doing movies like this," McKellar explained at the event, continuing, "It's extraordinary how much these movies mean to people."
In a Today appearance, alongside hosts Kathie Lee Gifford and Hoda Kotb, McKellar gushed about how impactful Hallmark's movies are. She noted that the heartwarming scenarios encourage goodness in people and serve to remind them of the value of tradition and family. "I love helping to spread that," the actor said warmly. After devoting years to the network and headlining some of its most loved seasonal movies, nonetheless, it was time for a change.
In order to to be more involved, Danica McKellar moved to a different network
Despite being a major hit at the Hallmark Channel, Danica McKellar opted to transfer to Great American Media, commonly referred to as GAC Media, in 2021. She signed a multi-picture contract with the company, starring in and producing four original movies for its channels, as Deadline reported. The first movie, "The Winter Palace," premiered in January 2022, and McKellar was more than pleased with her debut.
"It's such a wonderfully fun, super-romantic movie," she shared in a conversation with PIX11 News. As with Hallmark, McKellar emphasized that she enjoyed being able to make people feel good, despite the storyline being a tad predictable. Other than that, she was creatively more involved than ever before. "I'm so proud of it. We've gotten such a wonderful response," the star told host Ojinika Obiekwe.
McKellar shared a snap from the first day of filming "The Winter Palace" on her Instagram account, captioning the post, "Can't wait to make some more feel-good magic for you all!" In July 2023, she announced the second GAC movie in the works, "A Royal Christmas Romance," which is set to air on Thanksgiving weekend 2023. According to Parade, another royal match-up is headed our way as Bella (McKellar), a boutique owner, is hired to style a single Duke, Stefan (played by Damon Runyan). Sparks fly, and while we may be able to forecast the rest, the anticipation of the sweet ending always gets us.