Arielle Kebbel & Zach Roerig Both Appeared On The Same Teen Drama Before Teaming Up On Hallmark
Another film in Hallmark's "A National Park Romance" series premieres on September 2, 2023. The film, "Love in the Great Smoky Mountains: A National Park Romance," stars Arielle Kebbel and Zach Roerig. However, this is not the first project Kebbel and Roerig have been in together. Prior to their collaboration for Hallmark, the actors appeared in the popular teen drama "The Vampire Diaries."
Kebbel did not have a starring role in the series, appearing in only nine episodes. Her character, Lexi Branson, was a vampire who was friends with Stefan Salvatore (Paul Wesley). Despite not being a regular cast member, Kebbel's character was very popular amongst fans.
Kebbel could not anticipate what "The Vampire Diaries" fans would think of Lexi. She told TVLine, "We started shooting, and I totally fell in love with Lexi. But still, even then, I didn't know what the fans' reaction would be." Their positive reception inspired the writers and Julie Plec, an executive producer and showrunner on the show, to keep adding Lexi to episodes — even after she met her demise.
Roerig felt like 'The Vampire Diaries' shaped him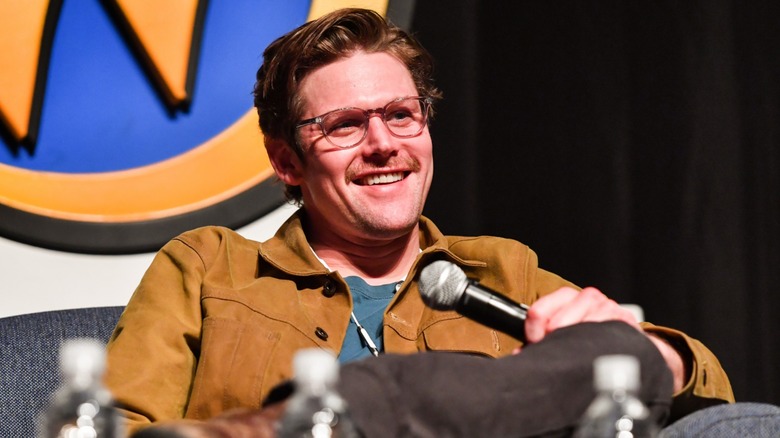 Erika Goldring/Getty
Zach Roerig was a main character on "The Vampire Diaries" and played a human named Matt Donovan. He appeared in over 100 episodes and even played his own ancestor in one. Roerig briefly appeared in "The Vampire Diaries" spinoff shows, "The Originals" and "Legacies," as well. Matt and the show's protagonist, Elena Gilbert (Nina Dobrev), used to be romantically involved.
Roerig reminisced about his time on the show before the series finale aired. He spoke about his first time seeing excited fans of the show out in public and described how being on the show has changed him. "For me, not only has 'The Vampire Diaries' been the longest job I've ever had, but it's been a quarter of my life," Roerig told Entertainment Weekly. "I became a parent doing this job. It's been a very healing process. We all started this show, almost all of us, in the midst of some sort of life turmoil, whatever it may have been. And somehow, through these eight years, we've patched ourselves up and are now ready to face the world again."
Now, these cast members from "The Vampire Diaries" are switching out their fantasy lives for more down-to-earth characters.
Kebbel and Roerig play exes that have to collaborate
In "Love in the Great Smoky Mountains: A National Park Romance," Arielle Kebbel and Zach Roerig play Haley and Rob, respectively. The two characters dated in high school but had a falling out when Rob was chosen to receive a research grant over Haley. Years later, chance brings them together again as they work on a dig site at Great Smoky Mountains National Park. Unfortunately, the duo are at odds for a grant again.
Despite that, Haley and Rob work side-by-side, and they find themselves bonding once more. The former couple come to understand that perhaps love is more important than opportunity — a far sweeter storyline than anything Kebbel and Roerig portrayed on "The Vampire Diaries."
Hallmark shared a sneak peek scene from the film, where Haley pulls Rob into the water by a waterfall for a surprise swim. If you love a feel-good romance with a breathtaking backdrop, you can also check out the other "A National Park Romance" movies: "Love in Zion Nation" and "Love in Glacier National."