Khaby Lame: 13 Facts About The TikTok Star With The Most Followers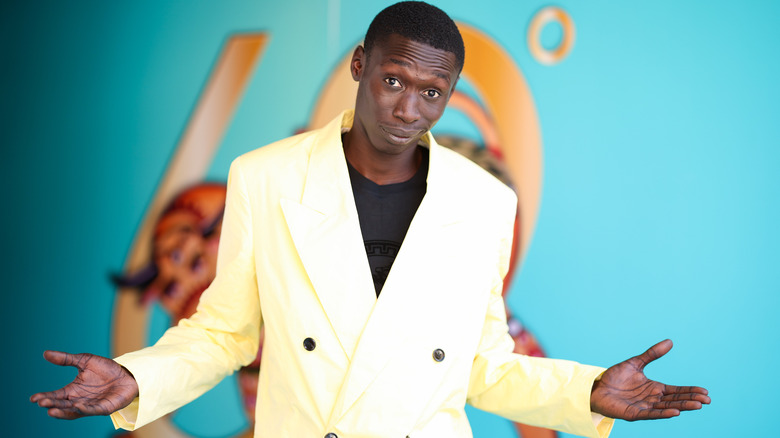 Daniele Venturelli/Getty Images
Khaby Lame went from being relatively unknown to securing megastar status in just a few years' time. Even if you do not recognize his name, you have probably seen at least a few of his TikTok videos, which have helped him secure the title of the most followed person on the platform (beating the long reign of TikTok star Charli D'Amelio). "Everything changed when I subscribed to [TikTok]. I immediately understood that it was the perfect platform for me," Lame admitted to GQ in a 2022 interview. And that it is.
Lame, who came from humble beginnings, has amassed over 160 million followers on TikTok. He's gone on to attend some of the hottest events in the world and has his sights set on even bigger things in the future — he's not slowing down anytime soon. Yes, Lame is an unstoppable force both online and in real life, and he hopes to inspire and influence others.
Fame is not what drives him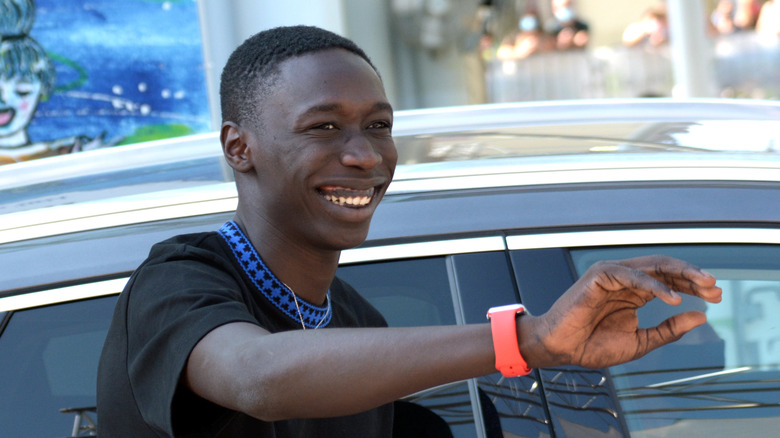 GIO_LE/Shutterstock
Khaby Lame's fame has changed his life — but this is not necessarily the driving force behind his decisions. "I don't care if I'm first or second or fourth most popular on TikTok," he told CNN. Lame went on to explain that he started uploading videos to TikTok in hopes of bringing a little laughter during the height of the pandemic. "And I keep making videos with the same ideals," he said. "I'm happy about my accomplishments, but those are not my main things."
He is ambitious, though, and has embraced the opportunities offered to him, including working on a campaign for McDonald's FIFA World Cup 2022. It is remarkable the direction his life has taken. As he told Mashable in November 2022, "I ... actually sent an application for a job at McDonald's when I was younger. I thought it'd be nice to work for them."
Khaby Lame is proud to be Italian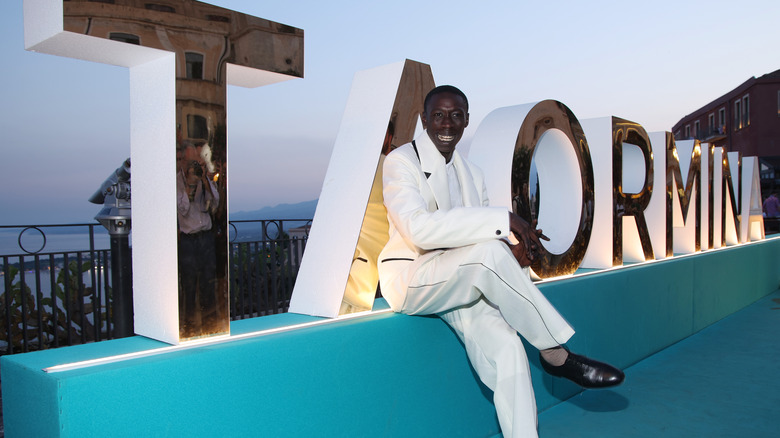 Daniele Venturelli/Getty Images
Fans of Khaby Lame should know where he comes from and how he feels about the country he now calls home. He was born in Senegal and relocated to Italy as a toddler with his family. While it would be difficult to determine his mother tongue from his videos alone, being that they are silent, Lame can speak fluent Italian. Yet despite living in the country for most of his life, it was a long and complicated journey for him to achieve Italian citizenship.
"I believe it's a very normal thing that people who've always behaved well and who live according to the law should get Italian citizenship," he told Time in a 2022 interview. At the time, he was not yet a citizen — he had a passport instead — but was on his way. A month later, his citizenship was officially granted, AP News reported.
However, Lame didn't need to take an oath to know who he was. "Sincerely, I don't need a piece of paper to define myself as Italian," he told The New York Times back in 2021. 
He is a big fan of Snoop Dogg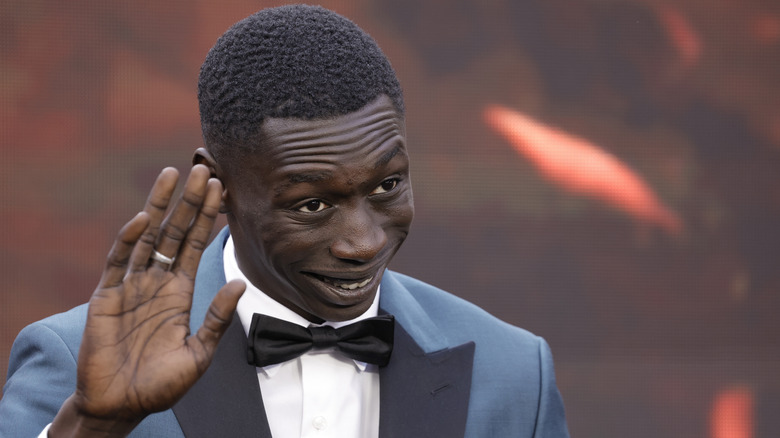 John Phillips/Getty Images
Over the course of just a couple of years, Khaby Lame achieved a level of fame many others — including celebrities — can only dream of, and with this success, there have been unique opportunities for him to rub shoulders with the rich and famous. One of the highlights in his rise to fame was spending time with Snoop Dogg. In an interview with PopSugar, he revealed he was "starstruck" when meeting the rapper.
"I have always listened to his music," Lame told the publication about his admiration for Snoop Dogg. "We spent a nice day together playing basketball, shooting a video together, eating together — a whole day." It was not just the hangout that was memorable but also the advice the musician shared with Lame, telling him to be himself and "keep working really hard, and keep trying new things."
There's a reason Khaby Lame doesn't speak in his videos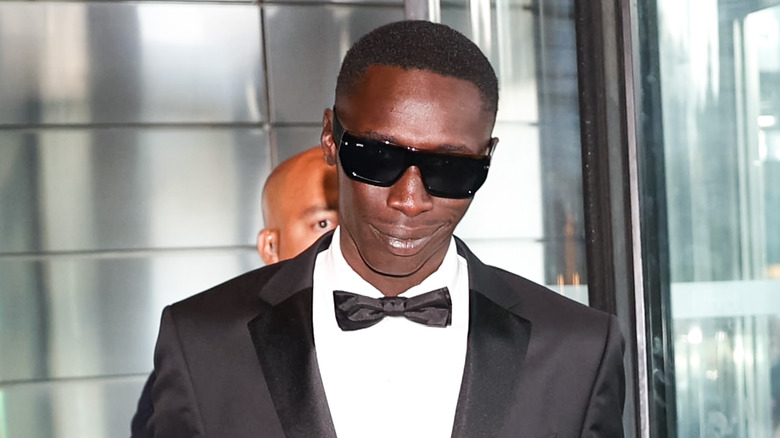 Jose Perez/bauer-griffin/Getty Images
As OG fans of Khaby Lame will no doubt remember, the TikTok's sensation earliest videos featured his voice. These days, though, Khaby Lame's online content is created without the use of his dialogue. And that has been the foundation for his success. By not focusing on one language, Lame has a universal appeal. There are no language barriers, allowing people worldwide to enjoy his bodily humor.
Speaking of his decision to stay slient on TikTok, Lame told CNN, "I came up with the idea because I was seeing these videos circulating, and I liked the idea of bringing some simplicity to it. I thought of a way to reach as many people as possible. And the best way was not to speak," he said. He clarified, saying, "The type of gesture came by chance, but the silence didn't."
Khaby Lame's parents were always supportive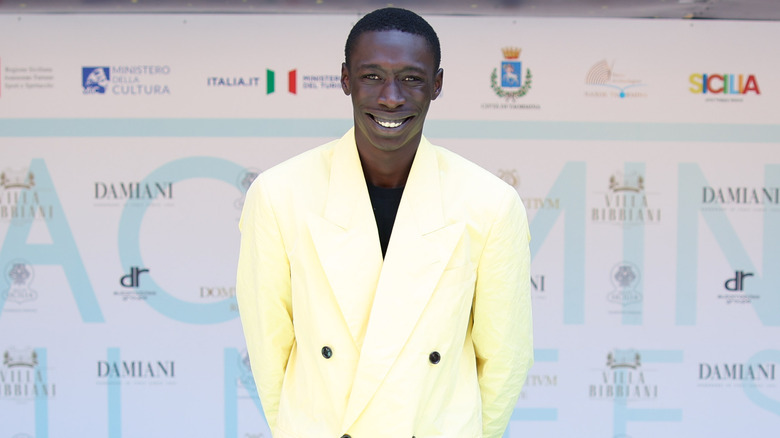 Daniele Venturelli/Getty Images
Khaby Lame's rise to fame happened incredibly quickly, and he has been fortunate to have the support of his nearest and dearest — even though it took them all by surprise. "Just like me, both my parents didn't expect this and are overjoyed," Lame revealed in an interview with the Italian publication Corriere, back in 2021. "I hope to continue like this."
The following year, Lame gave some insight into his upbringing when speaking with CNN, revealing that his parents were always very supportive and didn't pressure him into doing any one thing. "[My parents] didn't have any set idea of what they wanted me to become when I was a child — the important thing is that I was happy and had a good job." With an estimated net worth of $15 million, we'd say he definitely succeeded in securing a good job.
He has shown an interest in fashion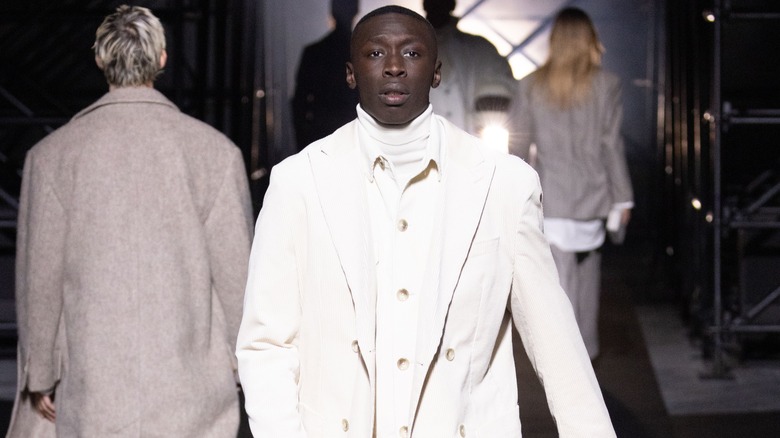 Andreas Rentz/Getty Images
Khaby Lame is a sharp dresser who can rock a pair of shorts and a T-shirt just as well as he can a suit. In 2021, he showed the world he has what it takes to model, walking the runway for Hugo Boss x Russell Athletic show in Milan, Italy. Speaking of the event, Lame told GQ, "It was super exciting to see the reaction of the audience and on social media."
This is just one fashion opportunity that has opened up for Lame since becoming a megastar. Lame has also collaborated with Hugo Boss for a limited-edition capsule collection, which was released in 2022. The BOSS x Khaby collection coincided with one of the most prestigious events in fashion, Milan Men's Fashion Week. Together, the influencer and the German fashion company created stylish pieces that are suitable for every day, including a hoodie, varsity jacket, T-shirt, and even a doll that was created in Lame's likeness.
Lame has also appeared in the Spring/Summer 2022 #BeYourOwnBOSS campaign and was invited by the brand to visit Dubai alongside actor Lucien Laviscount, model Patrick Schwarzenegger, and Italian tennis star Matteo Berrettini, as Women's Wear Daily reported.
He has big dreams for the future involving Will Smith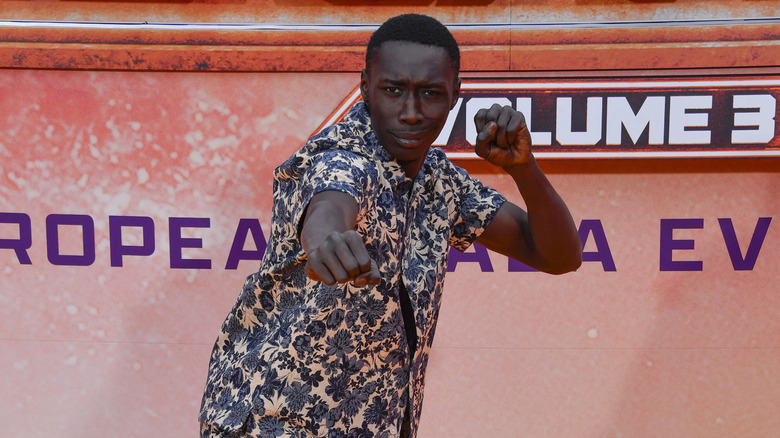 Kristy Sparow/Getty Images
Khaby Lame has already achieved the goal of becoming the most followed person on TikTok, but is there another dream he hopes to accomplish in the future? If things go according to plan, you may see Lame on the big screen. And if everything aligns the way he wants, Will Smith could be starring alongside him.
"My dream is to move to the US and shoot a movie with Will Smith, who is my idol," he told GQ. "Then, like all actors or aspiring actors, my dream is to win an Oscar. To make this happen, however, I will have to continue studying." This studying includes learning additional English and taking acting classes.
Lame's admiration for Smith dates back to childhood when he watched him in the '90s sitcom, "The Fresh Prince of Bel-Air." Smith has enjoyed tremendous career success and has been celebrated for his comedic abilities, and we wouldn't be surprised if Lame follows a similar trajectory. "My dream is to become an actor and make people laugh," he told Mashable.
There is already a film about his life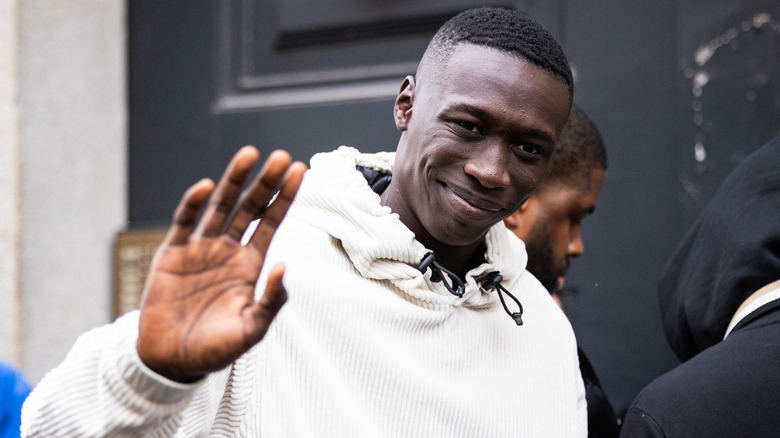 Claudio Lavenia/Getty Images
With his status as a top content creator and the fact that he rarely utters a word, the interest in who he is and what he's all about has only increased. Thankfully for fans, an autobiographical film about his life has already been made. "I Am Khabane," a short film Lame created in collaboration with his friend, Adriano Spadaro, shares a behind-the-scenes look into Lame's life, beginning in childhood and ending in the current day. "Over the course of a few minutes we told an entire life until now... it means a lot to me," he said of the film to Deadline. "Some things can be conveyed without words, but I wanted to tell my story and I couldn't do that only with gestures."
In summer 2023, Lame made his directorial debut at the 2023 Taormina Film Festival.His inclusion in the festival was important, which is something festival co-artistic director Barrett Wissman was aware of. As he told The Hollywood Reporter, "It is imperative for us to always be developing younger, fresh audiences through new media. Khaby helps us to bring diverse, young, international and Italian fans to our historic festival."
He has learning difficulties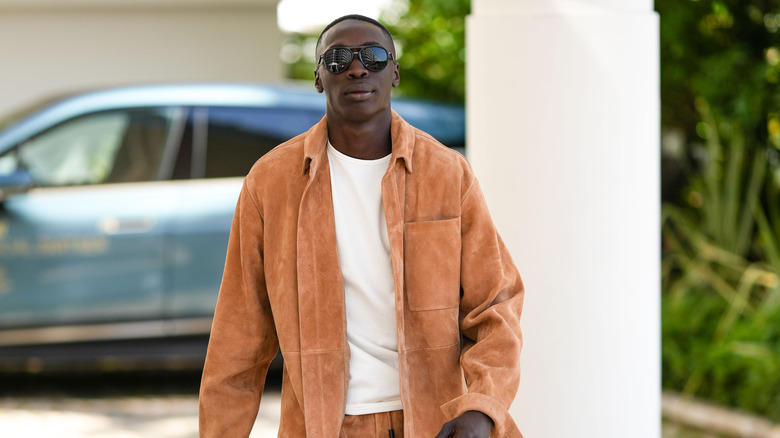 Edward Berthelot/Getty Images
Having dyslexia and dyscalculia made traditional learning more challenging for Khaby Lame. However, his openness about his struggles has brought awareness to the conditions. The Dyslexia Initiative praised Lame in a social media post in 2022, writing, "Let's celebrate Dyslexic Hero Wednesday two days early with Khabe Lame. We've all seen his videos, we've all laughed at the simple way he tackles tasks made too complex. This is the #DyslexiaRevolution."
Although Lame's humor has made him a star, he showed his comedic abilities from an early age, and it's helped him in many ways. "I always like to laugh and make jokes and tease everyone a bit, classmates and teachers," he told Icon Magazine. "But at the same time, I was a shy kid. I still am — strange, isn't it. I had difficulties because of my dyslexia, but I always found a way to cope with it."
Lame has not let dyslexia, or anything else, hold him back from achieving what he wants. This includes his desire to learn a new language, and he has been dedicated to his English lessons. "I'm currently studying English, it's fun and I'm learning fast," he told Forbes in a 2022 interview. In the same interview, he made his ambitions clear. "I have big dreams and will not stop until I have reached them,"  he explained. "What I'm doing now is also a dream coming true!"
Before social media success, he would take whatever jobs he could get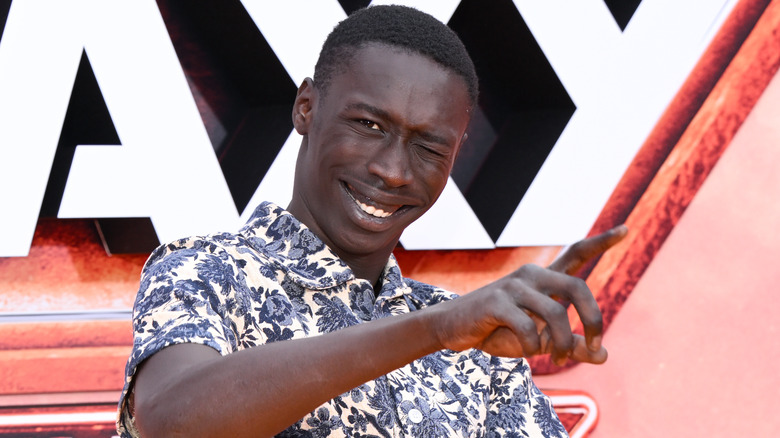 Karwai Tang/Getty Images
Before Khaby Lame was catapulted into stardom, he had what many would consider a very normal life. He has experience in several fields and has worked multiple odd jobs — from bricklayer to dishwasher to waiter.
In an interview with Icon magazine in 2022, he explained that he took such jobs to support his family. His final job title before becoming a TikTok star was as a machine operator in Turin, Italy; however, he found himself laid off because of the pandemic. While this would have undoubtedly been one of the most stressful times in Lame's life, it paved the way for him to start something new. 
Although Lame is enjoying his viral success, it has been an adjustment. He told the publication how it was an "indescribable feeling" when he achieved over 100 million followers on TikTok. 
His father was his first follower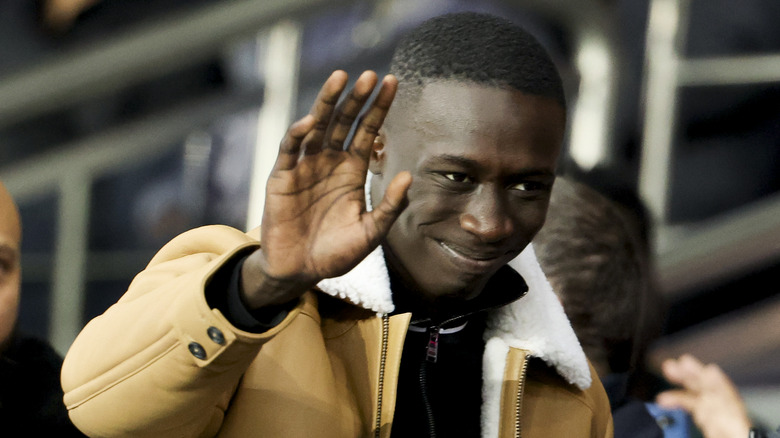 Jean Catuffe/Getty Images
Khaby Lame speaks about his family, especially his father, with great affection. Of his dad, he told Icon Magazine that he was his very first follower. "He has always supported me," Lame revealed. "He watched my videos, even when I uploaded them to YouTube as a kid."
His fame has grown tremendously in a short amount of time, making him the megastar he is today. You may think such changes would make him lose sight of who he is or alter his goals, but Lame appears to have remained humble. This could be because of the people who he surrounds himself, including his family. When asked in an interview with Mashable how his family views his fame, Lame revealed that his life had changed in several ways; "I'm always traveling, and I love it. My family is very happy for me. Every now and then I take my brother traveling."
He draws inspiration from different forms of media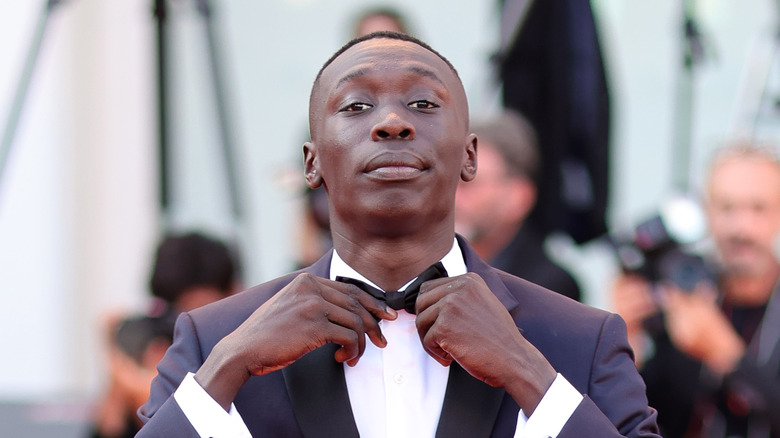 Andreas Rentz/Getty Images
Where does Khaby Lame find the inspiration for his videos? He is the man who can say so much without uttering a single word, but he wasn't actually inspired to create quiet content by silent film greats, like Charlie Chaplin, despite some comparing him to the actor. "These are legends, who have made their own story," Lame told Deadline. "Every person is a person in their own way, with their own dreams and I just want to be Khaby Lame."
Lame does, however, credit several influences. "To create my content, I watch movies, listen to music, watch Japanese anime. Everything can be a source of inspiration to me," he explained in an interview with Mashable. Lame also told GQ that he started "taking inspiration from real-life situations and poking fun at them." This simple combination has proven incredibly successful, and fans are drawn to Lame because he is witty and relatable –- how many times have you watched a supposed life hack and thought it was far more complicated than it needed to be?
He loves soccer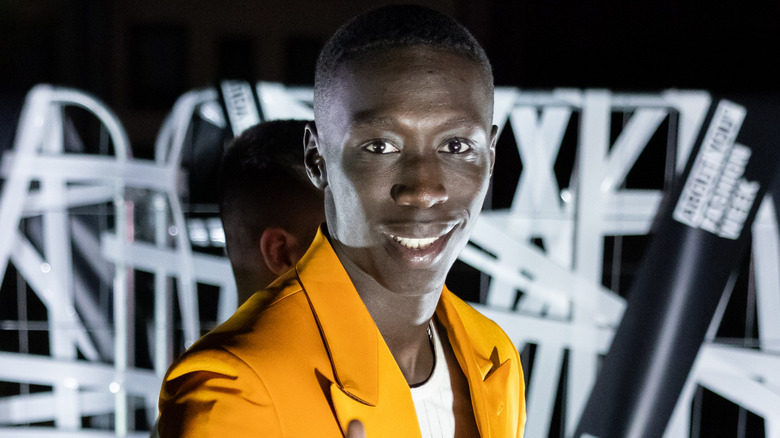 Arnold Jerocki/Getty Images
Soccer, or football as it is called outside of the U.S., is a passion of Khaby Lame's, and his love of the sport has changed his life in several ways. This includes helping him connect with his manager, internet personality Alessandro Riggio.
He recalled how they met, telling Forbes in a 2022 interview, "I've always been a big football fan, and one day, I was watching some Juventus players play video games live on Twitch with Alessandro." At the time, he was starting to make content and did not have anywhere near the fan following he does today, but his persistence with his messages in Riggio's chat got him noticed. 
Fast forward to the present day, and his fame has allowed him to take his love of football to a new level, including meeting and collaborating on a video with legendary soccer star Zlatan Ibrahimović. "[Ibrahimović] is one of the greatest. It was really fun!" Lame told Forbes of the partnership. The influencer has also been able to play with sporting greats like Roberto Carlos and Ronaldo de Assis Moreira. In an Instagram post in June 2023, Lame shared his excitement, writing, "There is no phrase to express how I felt when I was sitting in the living room and comes running my friend and tells me: we received an email, but you will not believe it: you will go to play a soccer game, and you will be the only nonpro to play with the legends."