All About Celine Dion And Barbra Streisand's Rumored Diva Feud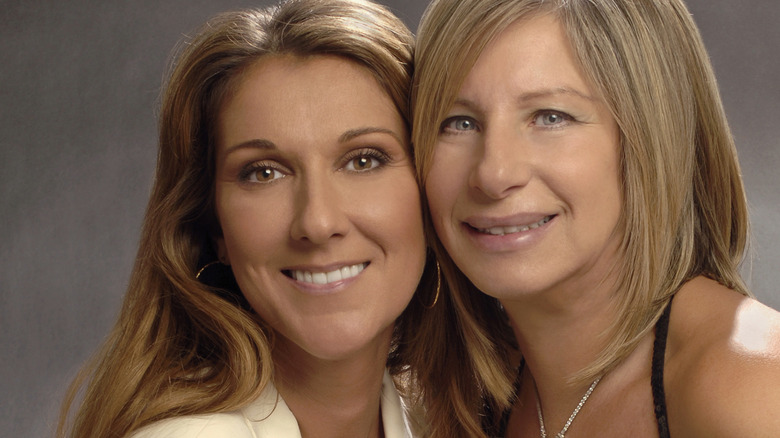 Kmazur/Getty Images
Barbra Streisand and Celine Dion are two musical greats, albeit from different generations. There is no doubt that the "Hello Dolly!" actor set the stage for generations of female musician-actors to follow. Despite Streisand's surprising opinion about Lady Gaga's remake of her classic film "A Star Is Born," the seasoned singer has brought many young female artists under her wing. Such is the story of her relationship with Dion, who was a newcomer on the scene when they first worked together.
The two were slated to begin rehearsals for their live performance of "Tell Him" at the 1998 Grammy Awards. The love ballad was their first and only collaboration. However, it was announced that Streisand fell ill and would no longer be performing — on the day of the awards show. It was up to Dion to capture the audience all on her own. The young songstress went on to sing "My Heart Will Go On," her top hit from the recently released "Titanic."
While Dion's performance received high praise, fans couldn't help but wonder why Streisand really wasn't present. Yes, her representative said she was ill. But with both Dion and Streisand having a history of high-maintenance showmanship, speculation began to swirl of a potential feud. This is partly due to their status as competing artists during the '90s, which saw the height of the pop diva era.
Celine Dion and Barbra Streisand are called divas in their own right
Kmazur/Getty Images
Barbra Streisand has definitely worked for her title as one of the best-selling female artists of all time. One title she doesn't approve of? Diva. Despite reports that she has banned staffers from looking her in the eye and made strict filming demands, Streisand has rebuked the title. She claims that the image the public has of her is very different from who she actually is. "I'm not a diva. I don't think so," she told The Today Show. "I'm very down-to-earth."
When it comes to embracing the diva title, Celine Dion is more accepting. She even co-headlined VH1's "Divas Live" show in 1998 alongside fellow female stars Mariah Carey, Aretha Franklin, Gloria Estefan, Carole King, and Shania Twain. During the iconic concert, Dion famously hijacked Franklin's gospel solo during the show's finale. Carey wrote about the battle in her memoir "The Meaning of Mariah Carey," and even went as far as to nickname Dion "the dueling diva."
"I couldn't believe anyone would try to upstage Aretha Franklin on her tribute, while singing about Jesus, no less," Carey wrote (via Jezebel). "Maybe it was a big culture gap, but it seemed like sheer lunacy to me, and I wanted no part of it." When asked about the moment years later, Dion revealed that she and the "Respect" singer didn't even talk backstage. This was no doubt its own battle of the divas.
Bad blood is denied by both Celine Dion and Barbra Streisand
Ron Wolfson/Getty Images
Nicknamed one of the original divas, Barbra Streisand was the prelude to many pop icons we have today. The "Don't Rain On My Parade" singer has not been shy about claiming her stardom, even stating that other stars such as Jane Fonda owe their success to her (per The New York Times). Thankfully, Celine Dion is not intimidated by Streisand's strong sense of self. In fact, she has nothing but praise for the Hollywood legend.
Of speculation surrounding their longtime "feud" stemming from the 1998 Grammy Awards, she finally set the record straight: "I wasn't upset at all that she canceled. She wasn't feeling her best, and she wanted to give her best. I totally understand that. It happens to me; it happens to all of us." (per HuffPost) A rep for Streisand confirmed that there was never bad blood between them, and stated that the two have been longtime friends.
Finding the controversial title more empowering than degrading, Dion further explained that she is honored to be considered a diva — especially amongst other greats. "Some people say that being a diva isn't such a good thing. Others say it is," Dion said. "All I know is that if my name is mentioned in the same company as Barbra Streisand, that's a wonderful compliment."