Did Ivanka Just Acknowledge Donald Trump's Legal Troubles? Her Repost Is Subtly Supportive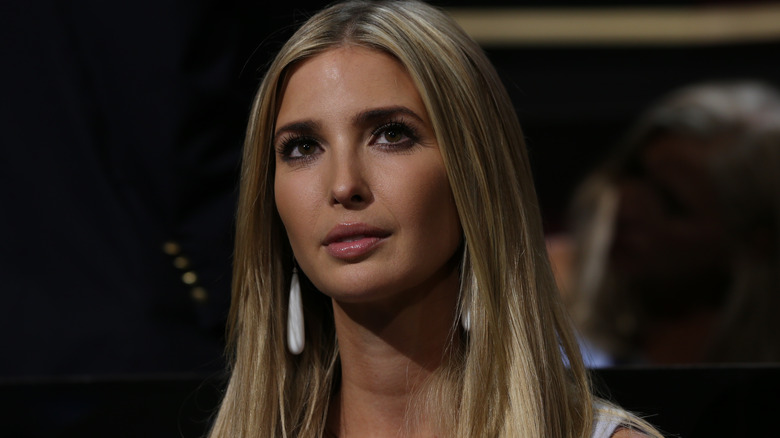 mark reinstein/Shutterstock
Despite Donald Trump's legal problems this summer, Ivanka Trump seems to have enjoyed a hot girl summer. She got surf lessons in Costa Rica, checked out historical sites in Greece, and lounged on a yacht off the coast of Spain. What she hasn't done in recent months, however, is say much about her father's multiple indictments — Ivanka has even been distancing herself from Donald since he left the White House. But a recent post she shared on her Instagram Stories may hint at her unwavering support for her father even in the face of his ongoing legal troubles.
On her Instagram Stories, Ivanka reposted a social media statement from Mizrachi's Pizza Kitchen in Hollywood, Florida, as reported by Mercury News. Ivanka had recently eaten there, and her visit seemed to have made an impression on David Mizrachi, owner of the kosher pizza place. Mizrachi wrote about her visit: "What an amazing surprise to have someone that so many people love and adore in our establishment just randomly walk in [...] I had the opportunity to talk to her and just let her know that we support her and her family during these ridiculous trials of her father and that we all know is a complete farce." 
It's a pretty clear rejection of any validity surrounding the charges against the former president, and Ivanka couldn't have missed that part of the post when she shared it.
Ivanka Trump has mostly kept quiet about her father's historic indictments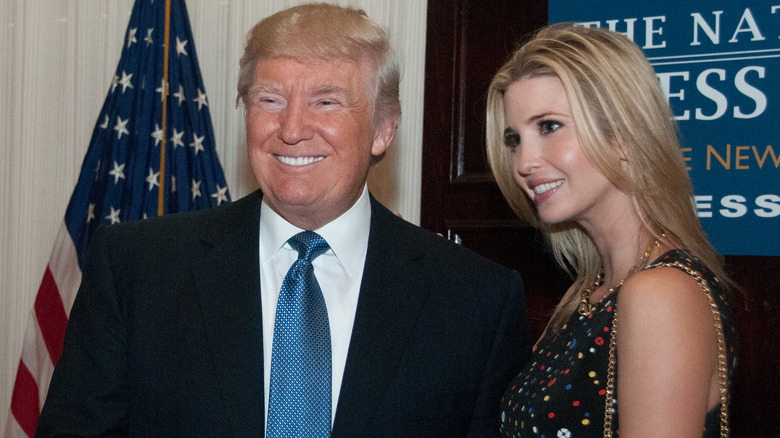 Al Teich/Shutterstock
Ivanka Trump didn't add anything about her father to her Instagram Stories when she reposted the Mizrachi's Pizza Kitchen post that referred to Donald Trump's indictments as ridiculous and a farce; instead, she noted that her youngest child Theo loved their pizza, according to Mercury News. But it's notable that she shared anything related to her father's criminal charges at all since Ivanka has been mostly silent about her father's indictments.
Her only direct public comment about his legal issues so far was also on Instagram Stories. After his March 2023 indictment in New York over hush money payments paid to Stormy Daniels, Ivanka broke her silence about Donald's historic indictment with a post that read, "I love my father, and I love my country. Today, I am pained for both. I appreciate the voices across the political spectrum expressing support and concern" (via People).
Ivanka was an active presence when her father was running for president in 2016 and 2020 as well as during his presidency — she even had a job in The White House as an advisor to the president. However, for her father's third run at the presidency, Ivanka has said that she's staying out of it to focus on her family.