John McCook & Adrienne Frantz's New Photo Is The Unexpected B&B Reunion We Needed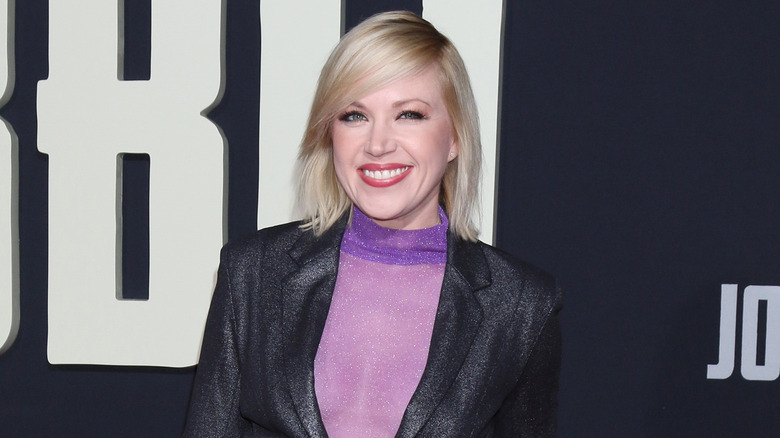 Kathy Hutchins/Shutterstock
Amber Moore (Adrienne Frantz) was a troublemaker on both "The Young and the Restless" and "The Bold and the Beautiful." In 2011, she stole fashion designs from Forrester Creations, which is owned by the stalwart Eric Forrester (John McCook), and was a thorn in the Forrester family's side for some time. Frantz portrayed Amber on "B&B" from 1997 to 2005, and then again from 2010 to 2012, and in between those runs, she appeared on "Y&R" from 2006 to 2010.
McCook had also been on "Y&R" playing Lance Prentiss from 1976 to 1980, so his and Frantz's paths obviously never crossed on that show. These days, though, he's been killing it as an actor on "B&B," as the elder Forrester has got some issues going on. Eric's become very frustrated with himself and even accused his son Ridge Forrester (Thorsten Kaye) of wanting to put him out to pasture. He's also been hiding the fact that he's got arthritis, but fortunately, his grandson R.J. Forrester (Joshua Hoffman) is helping him plan a new fashion line and has promised to teach Eric to use a computer instead of a pencil.
Frantz has shared some photos with her costars when she meets them out and about. In April 2023, she attended a gala for the 50th anniversary of "The Young and the Restless" and shared pictures of getting back together with old friends on Twitter. In August 2023, she bumped into McCook and shared a wonderful snap on Instagram for fans of their work together on "B&B."
Adrienne Frantz and family bumped into John McCook at a restaurant
On Aug. 31, 2023, "The Bold and the Beautiful" alum Adrienne Frantz posted a photo of herself and her kids with John McCook at an unnamed restaurant. She wrote, "When you run into old friends/family! Love you Mccookie!!!" Clearly, they enjoyed seeing each other, as McCook had his arm wrapped around Frantz while they were surrounded by her children.
Fans were happy to see them together and many wished for her return to either sudser. One happy fan responded, "I would love to see you back on 'B&B' or 'Y&R' especially since Daniel is back!" a reference to the fact that her character Amber Moore had been married to Daniel Romalotti Jr. (Michael Graziadei) on "The Young and the Restless" in 2009.
To illustrate the worldwide popularity of "B&B," many fans from Italy responded in Italian that the picture was beautiful, as one stated, "Bellissima foto." Another fan pleased to see McCook and Frantz together wrote, "You look wonderful and your babies are growing so fast. They are so adorable. Love this pic." Overall, everyone sent their love and affection for the two actors.
Frantz's last acting gig was on "Days of Our Lives: Beyond Salem" in 2021, and since then she's been focused on her family. Hopefully, she'll return to the soaps that made her a star soon!