The Tragic Reason Baywatch Star Pamela Anderson Ditched Her Go-To Glam Makeup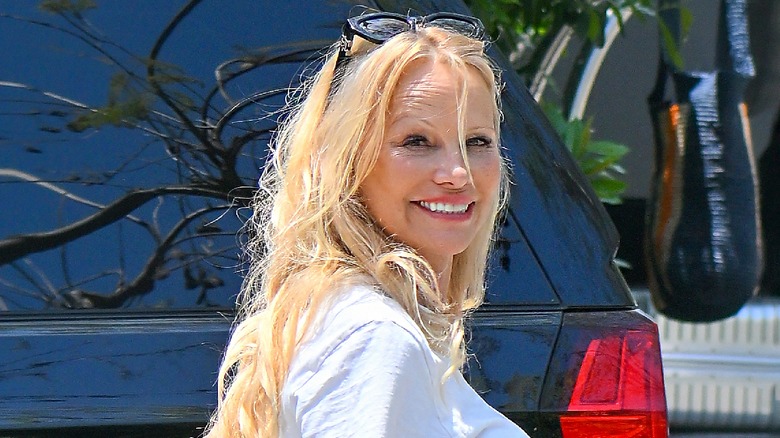 Mega/Getty Images
Pamela Anderson was once famous for her smokey cat eye and glossy lips, which complemented her blonde locks. However, the "Baywatch" star is now sporting a more natural look, with little or no makeup. Her decision to go bare-faced came after her makeup artist, Alexis Vogel, died of breast cancer in 2019.
Born in Hollywood, California, Vogel was called "The Svengali-like" makeup artist by Harper's Bazaar. Throughout her career, she worked with American model Shanna Moakler, adult film actress Amber Lynn, and other celebrities. "She created that Playboy look that captured generations," Moakler wrote on Twitter. Vogel was also the artist behind Anderson's signature glam look, and the two have been working together since the '90s.
The "Barb Wire" is satisfied with her decision to go makeup-free despite the tragic reason behind it. "I feel rooted for. I feel good. I'm in a good place," she confessed in an interview with Elle. Anderson also has mixed feelings about her '90s style and seems to prefer her new, toned-down look. "I don't know if it was a defense mechanism or what. I just thought, 'I'm going to have fun,'" she told the publication. 
Alexis Vogel's death left a mark on the Baywatch star
Pamela Anderson is still a beach babe without makeup, but her decision to go bare-faced didn't come easy. The "V.I.P" star was deeply marked by the death of her lifelong makeup artist, telling Elle, "She was the best. And since then, I've just felt that, without Alexis, it's just better for me not to wear makeup." Alexis Vogel gave Anderson her signature looks in "Barb Wire" and other movies and TV shows. Her makeup techniques are still popular today and have inspired generations.
For example, makeup artist Erin Parsons drew inspiration from Vogel to recreate Anderson's smokey-eye look. In an interview with Byrdie, she explained that Vogel drew a thick line on the upper eyelid while pulling it out to the side. Parson also recommends using a damp makeup sponge to create that smokey effect, which is what Vogel would have done. The sponge can be used to correct makeup mistakes, soften the lines, and achieve a smooth finish. 
While we'll no longer see Anderson sporting this look, she seems happy with her makeup-free lifestyle. The Baywatch star told Elle that going bare-faced feels fun, as it allows her to express her rebellious side. She even shared a no-makeup shot on Instagram, showing off her freckles and smiling. "It's never too late to bloom," the actress wrote in the comments section. 
Pamela Anderson says she's not afraid of aging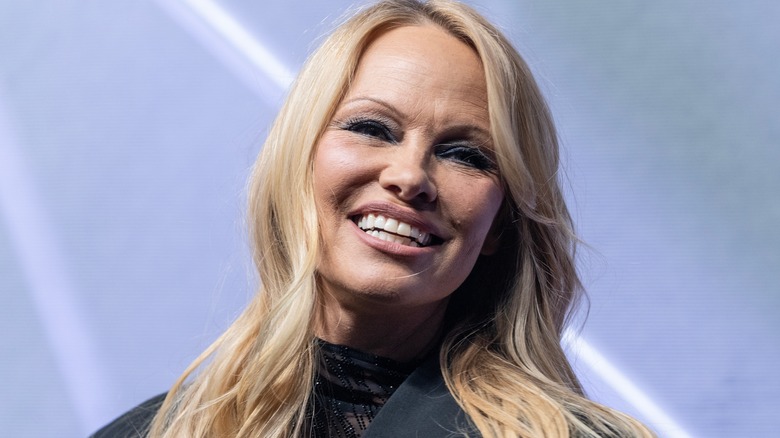 Lev Radin/Shutterstock
We've all witnessed the stunning transformation of Pamela Anderson over the decades, and she seems to age like fine wine. The former Playboy model actually told Elle that she had no intention of going overboard for the sake of looking younger. In fact, she revealed in an interview with Dax Shepard and Monica Padman that she's looking forward to growing old. "I always said I'd recognize myself when I was old in the mirror. I want to let my hair go kind of natural gray, put my little straw hat on, and not wear makeup. I mean, that's my comfortable kind of state," she added.
Anderson changed her look following Alexis Vogel's death, but she doesn't need to wear makeup to feel confident. The blonde bombshell wrote on Instagram that, as we're getting older, going makeup-free can take years off our faces. She also believes that aging can be a joyful experience, especially if we let go of judgment and expectations and embrace our true selves. In her opinion, there is too much pressure on women to look perfect, which keeps them from fully enjoying this experience. Fans agreed with the former model, complimenting her looks and encouraging her to let her natural beauty shine through.