Jimmy Buffett's Wife, Jane Slagsvol: What We Know About Her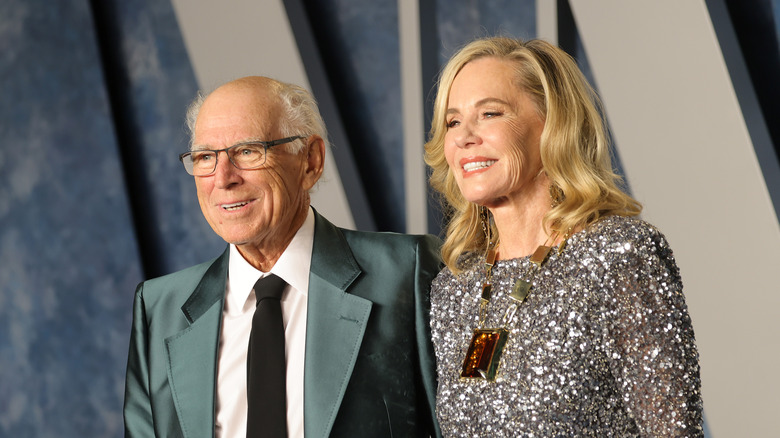 Amy Sussman/Getty Images
We may receive a commission on purchases made from links.
The late singer-songwriter Jimmy Buffett was well known for his interesting mix of island rock and crooning country-tinged vocals. His breezy, Caribbean-inspired rock songs induced visions of swaying palm trees, foamy ocean waves and, of course, a tall, sweating glass of your favorite drink within arm's reach. For a long time, fans have related to his personable lyrics, which offered a peek into his life like a series of snapshots. Sadly, the "Margaritaville" singer died at age 76 on September 1. "He lived his life like a song till the very last breath and will be missed beyond measure by so many," a statement posted to the singer's website read.
Among those who will undoubtedly miss Buffett most are his three children — Savannah Jane, Sarah Delaney, and Cameron Marley — along with his loving wife, Jane Slagsvol. Slagsvol was there with her husband until the final day of his long life and career. Here's everything we know about the woman who was the apple of Jimmy Buffett's eye.
Jane Slagsvol wasn't Jimmy Buffett's first wife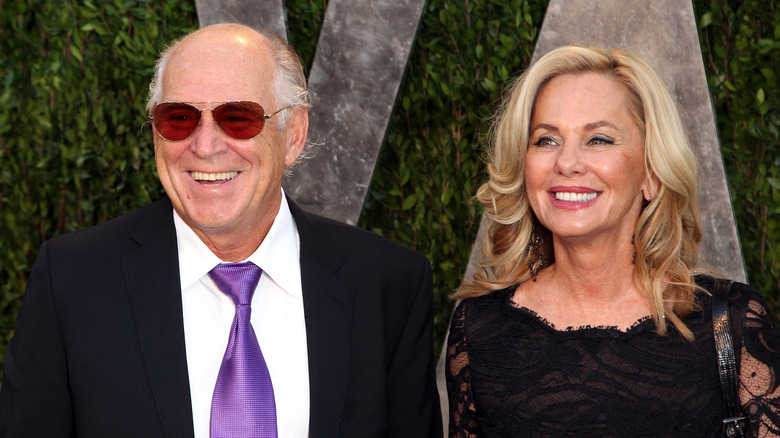 Chris Farina/Getty Images
Jimmy Buffett met Jane Slagsvol in 1976 while he was living in Key West, per the Daily Mail. Slagsvol, who was a bright-eyed student at the University of South Carolina at the time, came to the island paradise to enjoy her spring break. The attraction between Slagsvol and Buffett happened in an instant. A year after meeting, they were married.
But this wasn't Buffett's first marriage. According to his 1998 biography, "A Pirate Looks at Fifty," the singer had been married once before. "I signed a record deal, got married, moved to Nashville," Buffett wrote (via CNN). Buffett was talking about his marriage to his girlfriend, Margie Washichek. Washichek and Buffett dated while he attended the University of Southern Mississippi. They married and then moved to Nashville so Buffett could pursue a career in country music (via Country Thang Daily). After the divorce, Buffett packed his bags and travelled to Key West. This is where he met Slagsvol, who he calls "the right girl" in his memoir.
Buffett's marriage to Slagsvol would also result in a divorce. In 1998, Slagsvol spoke with Time about the split. "I had been with Jimmy since I was a child, through the craziest times, and I didn't have a clue who I was," she said. "So I left. I got sober." It wasn't the end for the "Tampico Trauma" singer and the love of his life. Buffett and Slagsvol remarried in 1991. They remained happily married until Buffett's death in 2023.
Slagsvol inspired one of Buffett's most famous songs
When rockstars are on the road, we imagine there's a ton of partying and drinking happening. While Jimmy Buffett has confirmed that did happen quite often, he still only ever had one person on his mind when he was on tour. That person was his wife, Jane Slagsvol. Buffett said he wrote the song "Come Monday" for Slagsvol, who also made a playful appearance in the song's thrifty music video. Listeners can feel the longing in the lovesick lyrics dedicated to the love of Buffett's life: "I spent four lonely days in a brown L.A. haze / And I just want you back by my side."
Not only did Slagsvol inspire "Come Monday," but she would also help change the trajectory of Buffett's music career. Talking with the Daily Mail, Buffett said that Slagsvol was the driving force behind his band's change in appearance, telling them to clean up their act, in a manner of speaking. Slagsvol wanted them to "look important" before they made their return to the stage, and she helped them create a more put-together style, which was seen from 1977 henceforth.
Buffett now joins the stars we've sadly lost in 2023. But we find it comforting that he will continue to live on in touching lyrics like those in "Come Monday" and in the lives of his beautiful family.