Meet The Young And The Restless Star Melody Thomas Scott's Husband, Ed Scott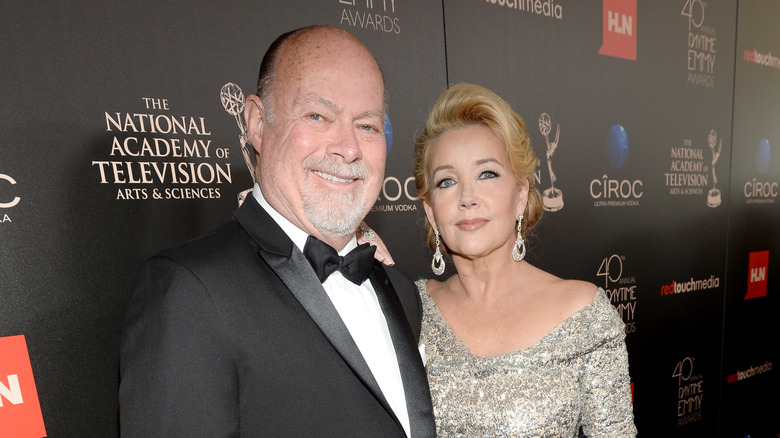 Michael Buckner/Getty Images
Nikki Newman (Melody Thomas Scott) has had a long and illustrious relationship with her husband Victor Newman (Eric Braeden) on "The Young and the Restless." They might look like a power couple today, but several years ago, Nikki had a hard time keeping women like Sharon Newman (Sharon Case) and Ashley Abbott (Eileen Davidson) out of Victor's bedroom. But then again, Nikki had her own dalliances with the likes of Paul Williams (Doug Davidson) and an interesting love triangle that involved both Victor and his nemesis Jack Abbott (Peter Bergman). She's not an angel, either.
Luckily, Nikki's portrayer, Melody Thomas Scott, has a love life that looks nothing like what fans of the show have seen before. That's because she's been happily married to her husband Ed Scott since 1985. In true soap opera style, she met the executive producer on the set of "Y&R." Ed is now a supervising producer on "The Bold and the Beautiful." But that doesn't mean Melody's marriage to Ed hasn't been without its ups and downs. Melody's one daytime television star who has been open and honest about her life, which includes her very traumatic childhood, and of course, her relationship with her husband.
Ed encouraged Melody to tell her story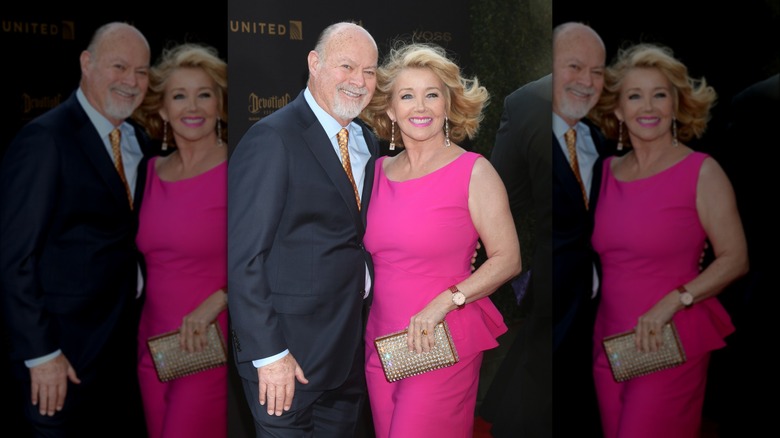 Kathy Hutchins/Shutterstock
Melody Thomas Scott and Ed Scott have been married much longer than any soap opera storyline. Together, they have three daughters: Jennifer, Alexandra, and Elizabeth. Ed is also the co-founder of Save The Earth Foundation. In her book, "Always Young & Restless: My Life on and off of America's #1 Daytime Drama," Melody talks about her unconventional upbringing as a child star in the entertainment industry. She told Variety in 2020 that she was raised by her grandmother, who not only thrust her into the spotlight but also had her own mental health challenges. Melody said that it was her husband Ed who encouraged her to tell the world about her life story. She said, "My husband was very, 'Oh you're going to write a book? Come on, let's do it, let's do it!'"
While Ed certainly played a pivotal role in helping Melody tell her story, the daytime TV star admits that their marriage has had moments of both tugs and pulls. She told Soap Opera Digest in an interview back in 1995, "A marriage is two people who love each other, obviously, and respect each other enough to both be caretakers of the unit they've created. it's swallowing your pride about something if it makes your partner feel better."
And just like Nikki's marriage to Victor, Melody has experienced moments that were less easy than others. 
Melody knows better than to follow Nikki Newman's lead when it comes to marriage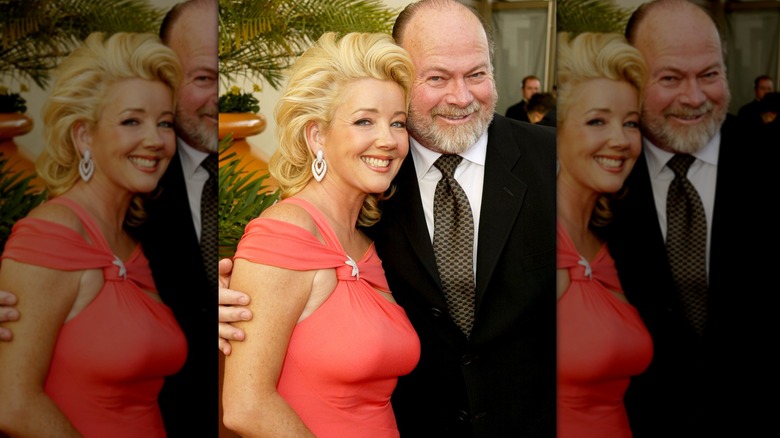 Jesse Grant/Getty Images
In the same interview with Soap Opera Digest, Melody Thomas Scott admitted the only way she could make her marriage to Ed Scott work is if they both put each other on the top of their lists. "It's hard sometimes," Melody admitted. "But I very firmly believe that when you write down a list of priorities, your mate should be No. 1, because a family is based on the bond between the parents."
Well, that rule seemed to work out well for both Melody and Ed, as they are close to celebrating four decades of marriage, according to Soaps.com. However, as far as her character Nikki Newman's on-again, off-again relationship with Victor Newman is concerned, they have gotten married and broken up so many times now that even "The Young and the Restless" fans have lost count. In 2013, Melody told TV Guide that Nikki is someone who simply can't quit Victor, no matter how hard she tries. She said, "She always falls for his bulls**t, but that's what's so charming about her. She goes with her heart, not her head. She's a good example of what not to be."