Here's What Will Happen When Prince Albert Of Monaco Dies
penofoto/Shutterstock
In the years since he took over for his father, Prince Rainier, Prince Albert of Monaco has distinguished himself through his unique vision for the principality's future. As he told ABC's "Good Morning America" shortly after his coronation, "Monaco is a healthy place in which to do business." He also emphasized that the local government is "very strict on any illegal financial transactions," punctuating the fact that honesty would be central to his reign. Albert has been fiercely defensive of Monaco's independence as well, saying "we are an independent sovereign nation like another — like any other country, even though we are small."
Every ruler has the opportunity to craft their own legacy and develop the principality as they see fit, and Prince Albert likely has many years left to build Monaco into the country he believes it should be. But naturally, though, all good things must come to an end — and that goes for Albert's reign as well. When the monarch passes away, the Monegasque crown will pass on to the next ruler, no matter how much Albert will be missed. From death announcements and tolling bells to issues of inheritance, this is what will happen when Prince Albert dies.
Don't expect the palace to gloss over Prince Albert's health situation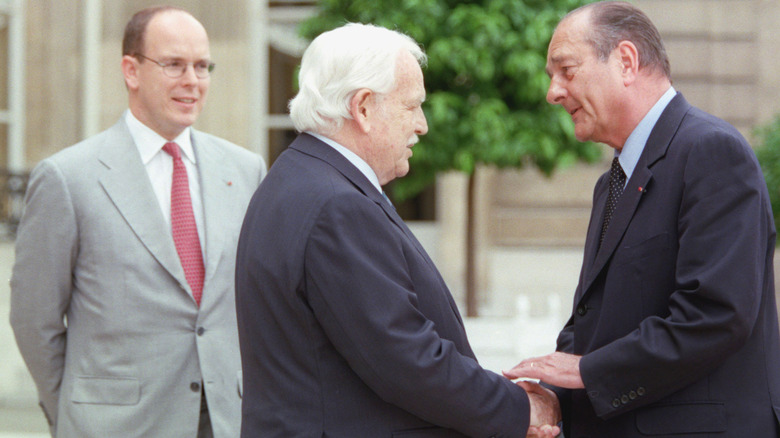 Pascal J Le Segretain/Getty Images
According to some, members of European royal families are not necessarily entitled to the same level of privacy as normal citizens. Per this school of thought, royals receive a certain amount of financial support from taxpayers and, in exchange, open the details of their lives to the public. Of course, this theory does not entirely apply to the Monegasque royal family — the principality of Monaco barely even taxes its residents — but it is true that the House of Grimaldi has historically been very honest with the public about the health of its crowned ruler.
The family proved its transparency back in 2005 when Prince Rainier fell ill with a chest infection, heart failure, and kidney failure. During this time, the palace was quick to update royal fans about the monarch's status and remained refreshingly truthful about his prognosis. Against all odds, Rainier survived almost a full month after he was admitted to the hospital. Even so, however, the palace avoided any rumors of a miraculous recovery, instead telling the press that his health remained "precarious." The same public statement also communicated that "hopes for a favorable outcome remain extremely weak" (via CBC). Because of this history, we can only expect the palace to be just as sincere about the state of Prince Albert's health moving forward. And, when his time does come, we can likely count on the palace to be frank about the situation. 
Monaco will go into mourning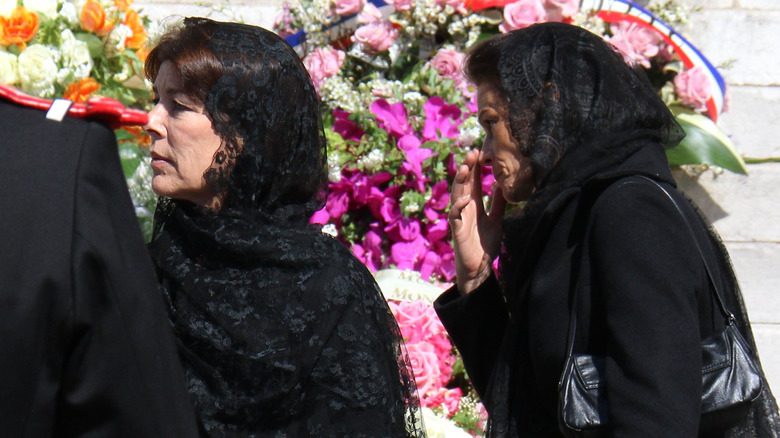 Pool Barson/Getty Images
When Prince Albert does eventually die, Monaco and its royal family will both go into a period of mourning. As reported by NBC News in 2005, Prince Rainier's death set off a month-long period of national grief for the entire principality. Meanwhile, his family would spend a full three months mourning their more personal losses.
In practice, this period of bereavement might mean that life in Monaco will come to a standstill. Shortly after Rainier passed away, church bells across the principality began to toll, spreading news of his death across the region. And, as more and more people came to understand what this meant, they began to close their businesses. At the time, The New York Times reported that enterprises ranging from shops to restaurants to the principality's famous casinos all stopped working out of respect for the late monarch. In fact, the news outlet claimed that "Monaco, in mourning, all but shuts down after its prince dies." 
Of course, when Albert passes away, we can expect the Monegasque people to behave similarly in his memory. However, there will probably also be some differences in terms of procedures. When Rainier died, the palace flags were already at half-mast out of respect for Pope John Paul II, who had passed away just days earlier. This coincidence meant that there was no heavy-hearted lowering of the flag following Rainier's passing. In contrast, Albert's death, barring any coinciding tragedy, will likely be followed by this somber ritual.
Albert will likely have a remarkable funeral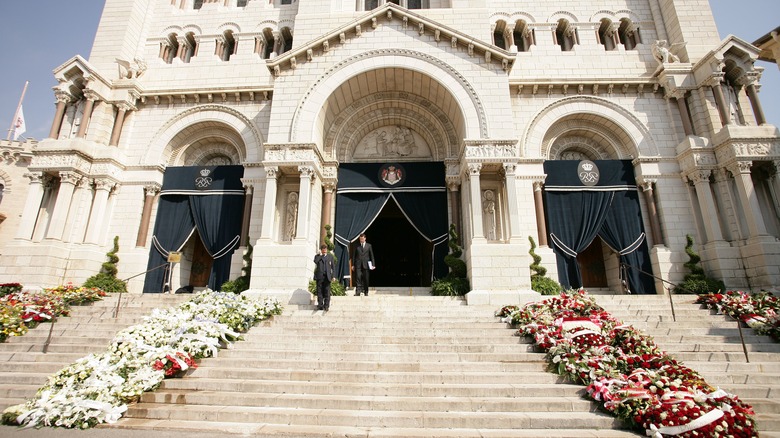 Stephane Cardinale - Corbis/Getty Images
When Prince Rainier died, it was believed that the monarch wanted to be buried without ostentation. At the time, the local Archbishop, Bernard Barsi, told the press, "It will be a simple funeral in accordance with the prince's wishes, similar to the one for Princess Grace" (via Mail & Guardian). That being said, Rainier's funeral ended up being a lavish event attended by fashion designers, politicians, and, of course, princes and princesses from around the world. This means that Albert's funeral will probably be just as memorable — even if he specifically asks for a more low-key event.
According to royal tradition, the religious portion of Albert's funeral will likely start out with the arrival of several big-name figures at the Monaco Cathedral. If his father's funeral is anything to go by, we can expect to see these individuals pull up to the event one by one in black cars. Female guests will be required to wear black hats or even veils that cover their hair. Meanwhile, male guests will mostly wear black suits.
Back in 2005, Rainier opted for an open casket event. However, leading up to the religious portion of the ceremony, his coffin was closed and a Monegasque flag was draped over the top. Then, in a classic royal funeral procession, the local guardsmen carried the box through town with the royal family trailing behind. Albert's funeral might very well include this unique display of public grief, as well.
Albert's funeral might be a high-security event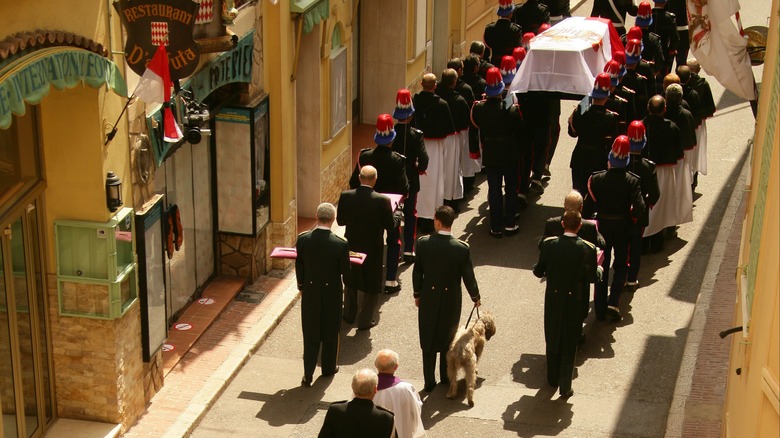 Stephane Cardinale - Corbis/Getty Images
At the end of the day, Prince Albert's funeral will likely be a high-profile event that draws big names from across the world. After all, when Prince Rainier died, the religious ceremony attracted some majorly significant figures, including King Juan Carlos of Spain, Empress Farah Pahlavi of Iran, and the then-president of France, Jacques Chirac. 
Naturally, though, whenever so many important people gather in one place, security needs to be ultra-high. In the past, this has meant hiring a startling number of personnel to keep the guests safe. Indeed, NBC reported that 1,300 police were responsible for keeping the peace at Rainier's funeral. 
Other precautions employed at the time included clearing the streets of any potential threats, such as parked cars. Funeral paraphernalia — like flower arrangements and wreaths — were all searched for bombs before they could enter the Cathedral. While it still remains unclear just how much security will be necessary at Albert's funeral, we can expect the principality to put plenty of safety measures into place. 
The prince will probably be buried beside Princess Charlene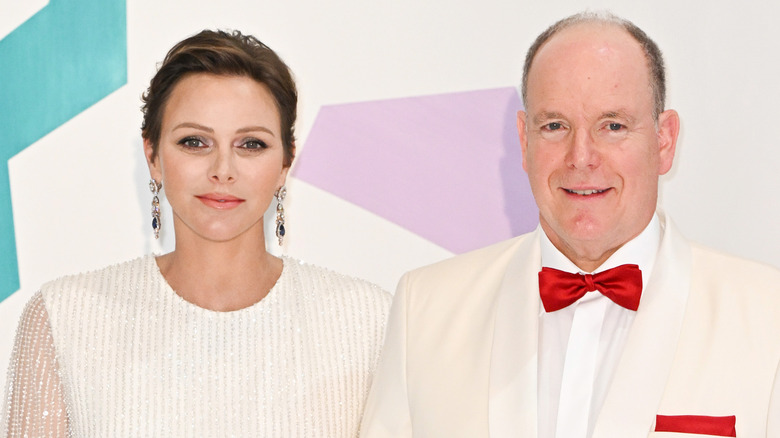 Stephane Cardinale - Corbis/Getty Images
These days, it is believed that Prince Albert and Princess Charlene's relationship is somewhat unsteady. Indeed, as far back as their 2011 nuptials, it was rumored that Charlene did not want to go through with the wedding. In the years that have followed, at least one royal expert has questioned their union — with historian Philippe Delorme telling the French outlet Madame Figaro that he believed the couple to have "an arranged marriage." Later, Voici claimed that the pair only sees each other by appointment. 
Even if these rumors were true, though, we could expect Albert and Charlene to be buried together. Royal tradition dictates that the prince and princess will find their final resting place in the Grimaldi family crypt in the Monaco Cathedral. In the past, Albert's parents, Prince Rainier and Grace Kelly, were also buried side-by-side in this magnificent structure — despite rumors that they struggled with infidelity. 
One 2005 article in the Mirror alleged that Princess Grace had several affairs throughout her marriage to Rainier. The outlet even quoted a TV producer, Robert Dornhelm, who claimed that the Hollywood star was attracted to him since he "was the exact opposite of all the people she normally frequented" (via The Free Library). Ultimately, though, the royal husband and wife were placed beside each other for eternity. Unless they were to get a divorce, it is difficult to imagine a different fate for Albert and Charlene.
Secrets might come out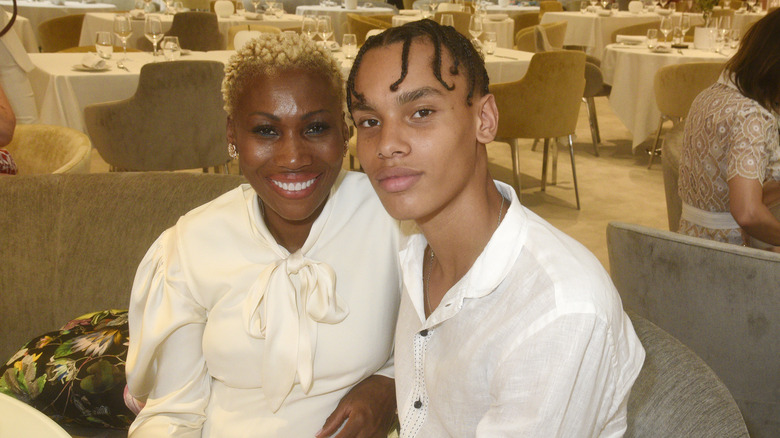 Foc Kan/Getty Images
Whenever a European monarch passes away, scandals seem to creep out of the shadows. Such was the case of Queen Elizabeth II, whose 2022 death seemed to catalyze an outpour of drama. Indeed, within weeks of the queen's passing, her youngest grandson, Prince Harry, breached protocol by starring in a Netflix documentary series that attacked the very monarchy that she had once lived to protect. And, when her own mother, Queen Elizabeth, The Queen Mother had passed just two decades before, things got a whole lot more serious between the not-so-popular pairing of King Charles III and Queen Camilla.
Of course, the principality of Monaco is hardly free from these sorts of dynamics. When Prince Rainier died in 2005, it did not take long for scandal to rock Le Rocher. Indeed, just weeks following Rainier's death, it was announced that Prince Albert had a secret love child named Alexandre Grimaldi. At the time, the French newspaper Le Monde hinted that the timing was planned: "The images of Albert nurturing little Alexandre published by Paris Match make him so likeable that these pages lead some to wonder if the ... scoop might not have been concocted in advance by communication experts."
Because of this history, we can only wonder what secrets will emerge upon Albert's eventual death. Whether that entails financial issues, a secret love story, or even more royal love children, we will have to wait and see.
There could be some drama regarding who takes the throne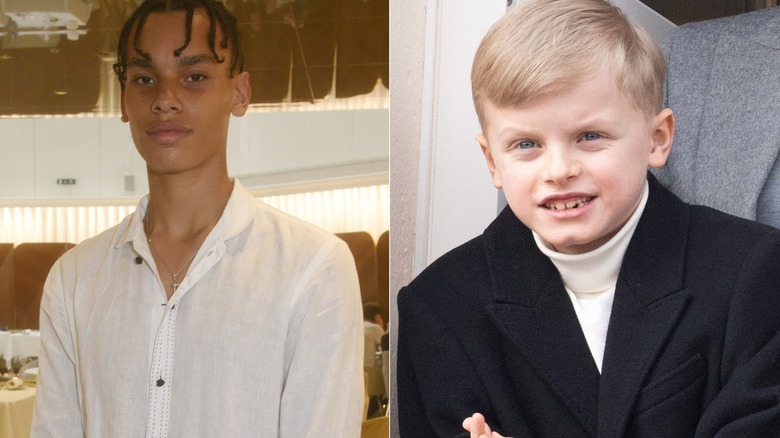 Pls Pool/Getty & Foc Kan/Getty Images
When Prince Albert dies, it is expected that his son, Prince Jacques, will take the crown. After all, Jacques is Albert's oldest legitimate son, and according to the Monegasque Constitution, this makes him the heir to the throne. That being said, it is possible that Jacques will have some competition when it comes to taking over for Albert. 
The young prince has an older brother, Alexandre Grimaldi, who was born out of wedlock in 2003 to Albert and the glamorous former Air France flight attendant, Nicole Coste. By law, Alexandre has been excluded from the line of succession due to his so-called "illegitimate" status. However, in Monaco, there exists a legal precedent for love children taking the throne. In fact, Alber's own father, Prince Rainier, was the illegitimate grandson of the Monegasque ruler, Prince Louis, and a cabaret singer, Marie Juliette Louvet. Perhaps Alexandre could use this piece of history to secure his place in the line of succession.
Interestingly, beginning in 2023, Alexandre became more outspoken about the way he has been sidelined due to his pedigree. Speaking to the French outlet, Point de Vue, the young blue-blood contested his illegitimate status, stating, "Nor am I 'illegitimate' since when I was born, neither of my parents was in another marriage, and they did not commit adultery. Using that word is insulting" (via People).  Whether he will use this argument to contest the throne remains to be seen.
Having — or lacking — an heir will be seen as important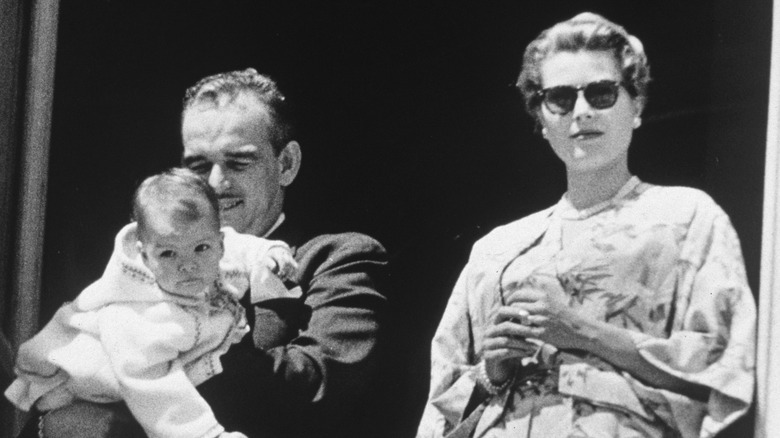 Rene Maestri/Getty Images
If Alexandre Grimaldi does choose to contest his so-called "legitimacy," we can expect that Albert having legitimate heirs of his own will play a central part in the debate. In Monaco, the key responsibility of the reigning prince is to produce an heir who can one day take the crown. Because of this, past attempts to steal the throne have centered on issues of fertility.
Indeed, when Prince Louis died in 1949, his grandson, Prince Rainier, stood to inherit the crown. However, Rainier's sister, Princess Antoinette, felt that she was more deserving of this position, as she was — in fact — older. In hopes of snatching the throne out from beneath Rainier, Antoinette began spreading rumors about the prince's ability to have children. She began whispering that her brother's then-girlfriend, Gisèle Pascal, was infertile and completely unable to provide the principality with the heir it so needed. Of course, the princess also let her own fertility speak for itself. At the time, Antoinette already had given birth to a healthy son. 
In the end, though, Antoinette's scheming did not have the effect that she was hoping for. Rainier and Gisèle broke up, the prince took the crown, and Antoinette became a persona non grata in the royal family. Prince Albert's situation is far less complex, as he and Princess Charlene already have a legitimate son. That being said, the princess' strategy could very well stand as an indicator of how a potential future coup could be staged. 
The next prince will be crowned in a lavish ceremony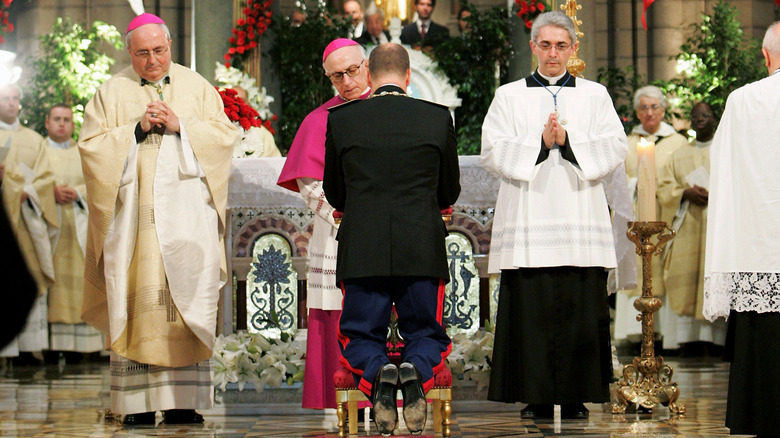 Pool/Getty Images
Regardless of who becomes the next crown prince of Monaco, there will be a luxurious coronation ceremony following Prince Albert's death. Indeed, the next monarch will be celebrated in a multi-event extravaganza that will seal this person's commitment to the crown. When Albert himself took the throne back in 2005, the prince was first legitimized during a special Mass that took place at Monaco Cathedral. After the religious ceremony, fireworks erupted over the principality, and locals enjoyed a celebratory picnic.
Months later, Albert was honored once again — this time in a civil ceremony at the Prince's Palace of Monaco. Following this big event, the newly-crowned prince dined with some of Europe's most prestigious names, including Crown Princess Victoria of Sweden, the Prince and Princess of Venice, and the UK's Prince Edward and Sophie, Duchess of Edinburgh. The next morning, these significant figures gathered once again to attend a Mass meant to honor the principality's national holiday, Monaco Day. 
When Albert passes away, the next crown prince will likely enjoy a similar compilation of events and ceremonies. However, the guest list will probably be much different by then, as Europe's next generation of young royals is already growing up.