Days Of Our Lives Star Martha Madison Chronicled Her Mom's Battle With Dementia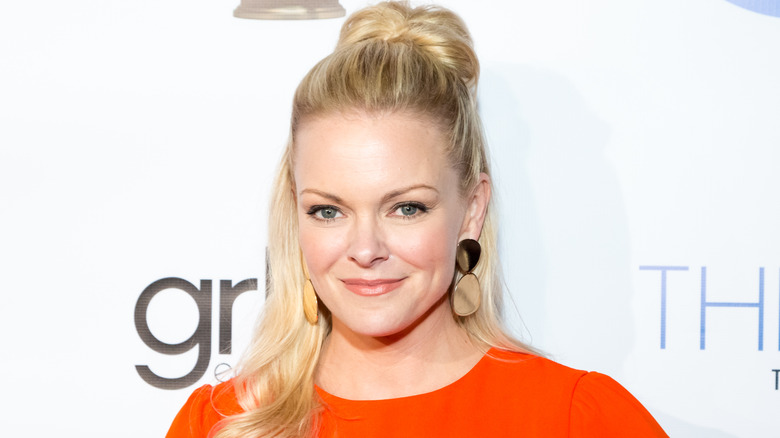 Greg Doherty/Getty Images
As Belle Black on "Days of Our Lives," Martha Madison plays a character who has done everything she can to keep things together. But it hasn't always been easy. As the only child of John Black (Drake Hogestyn) and Dr. Marlena Evans (Deidra Hall), she's almost like royalty in Salem. However, she's barely kept things together in her marriage to Shawn Black (Brandon Beemer) as the two of them have cheated on each other multiple times in the past, according to Soap Hub. Not only that, but their daughter Claire Brady has caused so much trouble in the past that both Belle and Shawn were forced to come home from Hong Kong before she turned Salem upside down, per Soaps.com. Life for Belle has been one heck of a rollercoaster ride, that's for sure.
Off-screen, however, actor Martha Madison's life doesn't looks anything like her character's (thank goodness). But Madison has dealt with real-life hardships of her own due to her mother Barbara Baggs' battle with frontotemporal degeneration, a type of dementia that affects people under 60. Madison chronicled her mother's symptoms for her fans to help bring better awareness to the disease, as it causes both personality and behavior changes — and Madison has certainly witnessed it all.
Martha's mother suffered through a grueling battle
Martha Madison revealed that her mother, Barbara Baggs, first showed signs of dementia back in 2001 when she didn't show up for a party even though her guests had been waiting for her. For Madison, her mother's behavior was unusual at the time. Baggs was a strong woman who had raised her daughters as a single mother and never missed a beat. Yet, her health began to deteriorate during that time, according to Soaps in Depth. She began to suffer from mood swings and was delusional and at one point, and even wanted to end her life. 
Madison and her sister Allison had to make a lot of changes in their lives to accommodate Baggs, who spent many years living in a memory care facility before her death in 2021. Madison even called it a "grueling 18-year battle," but it was one that she and her sister never gave up on. Soon after her mother's death, Madison shared on Instagram that she and her sister had "taken turns lying next to her, holding her hand, thanking her for her love and guidance and reassuring her that she successfully completed her mission here even with the odds so often against her."
In 2018, Madison shared a photo of her mother's caregivers and called them two ladies who are "a bright shiny light in an otherwise dark and challenging situation." That's because there wasn't a day that didn't bring challenges for their family.
Martha feels as though her mother is still with her to this day
While Martha Madison might no longer have her mother around, that doesn't mean she doesn't think of her each and every day. Madison misses her the most during the holidays and especially on days like Mother's Day or her birthday. In January 2022, the actor shared a throwback photo of her and her mom on what looked to be her wedding day. She captioned her post, "She was always my biggest cheerleader and loaded me up with great advice along the way. In our family, we call them 'Mom-isms.' Probably the most impactful for me was 'Just go for it.' Seems simple enough, but when you face scary, hard, impossible-feeling things, and your hero whispers in your ear, 'Just go for it' – You do!"
It seems like Madison still takes that advice to heart to this day as she recently decided to make a huge change in her career by leaving "Days of Our Lives" behind. She explained to TV Insider, "In my opinion, Belle was never meant to be a peripheral character. Don't get me wrong, I am so grateful to have played Belle for two decades, but I'm ready for more. It was just time to leave." There's a good chance that Martha's mother is proud of her doing exactly what she told her to do.