How Susan Boyle Feels About Working For Simon Cowell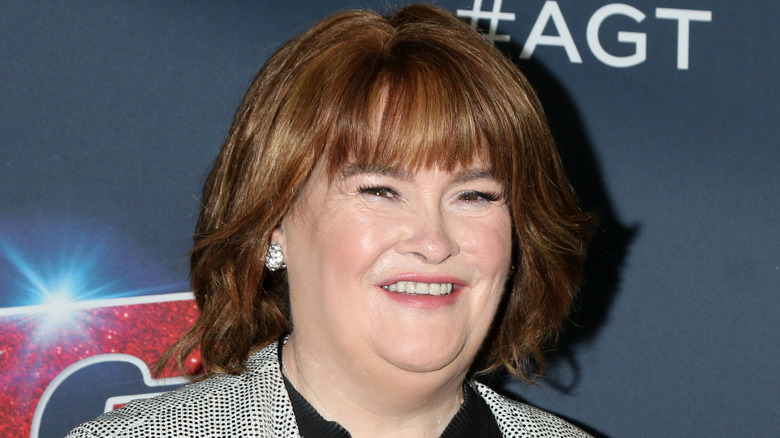 Kathy Hutchins/Shutterstock
Susan Boyle's rendition of "I Dreamed a Dream" made her an instant superstar. Walking on to the "Britain Got Talent" audition stage in 2009, the singer was met with eye rolls — especially from notoriously harsh judge, Simon Cowell. "I was having a terrible, terrible day, and I remember saying, 'I really, really hope she's not gonna sing,' because there were so many bad singers that day and I thought, 'I just can't take another one,'" he remembered years later, per "America's Got Talent." He added, "She is the perfect example of never judge a book by its cover." According to Cowell, the music industry was based on physical appearance just as much as talent, especially in the 2000s. Boyle, a 47-year-old newcomer, didn't fit inside the box.
The aspiring singer didn't win the season, but she did go on to have a successful music career. Cowell signed Boyle on to his record label, SyCo, in 2009. Her debut album, aptly named "I Dreamed a Dream," sold millions of copies. Over the next decade, she and the record executive collaborated on seven studio albums. The self-proclaimed "cat lady" from Blackburn, Scotland, couldn't walk down the street without being recognized. 
Despite Cowell's less-than-friendly reputation on air, Boyle has always spoken highly of the judge. "Simon is the biggest inspiration in my career. He's been my boss for almost 10 years, and I strive to make him proud," she told People in 2019. "He inspires me to continue and strive for perfection."
Simon Cowell calls Susan Boyle his Superwoman
After her 2009 performance on "Britain's Got Talent," Simon Cowell quickly became one of Susan Boyle's biggest supporters. "She is my superwoman," the former "American Idol" judge told Time in 2010, commenting on the success of her second studio album, "The Gift." On her 49th birthday, which she celebrated in a Tokyo skyscraper, Cowell gave Boyle a $10,000 diamond bracelet. Although she enjoys the luxuries that come with being a top-performing artist, the Scottish singer is committed to staying humble. "I just like to be regular Susan Boyle when I'm back at home. I don't ever want to get too big for my boots!" she told People — even after making it big on TV, the singer stayed in her small Blackburn home with her cat, Pebbles, by her side. "I don't ever want to become a diva and I think having a good group of people around you ensures you don't," she explained.
Simon Cowell — aka "The best boss in the world — now regrets the way he judged Boyle. "I can remember vividly how disgusting I was on the day, before you sang — and then what you did, and what happened afterwards," he recalled on an episode of "America's Got Talent," per Metro. Even though she didn't take home the top honor in 2009, he still considers her a "champion." Clearly, she changed his life just as much as he changed hers.
Simon Cowell supported Susan Boyle after a health scare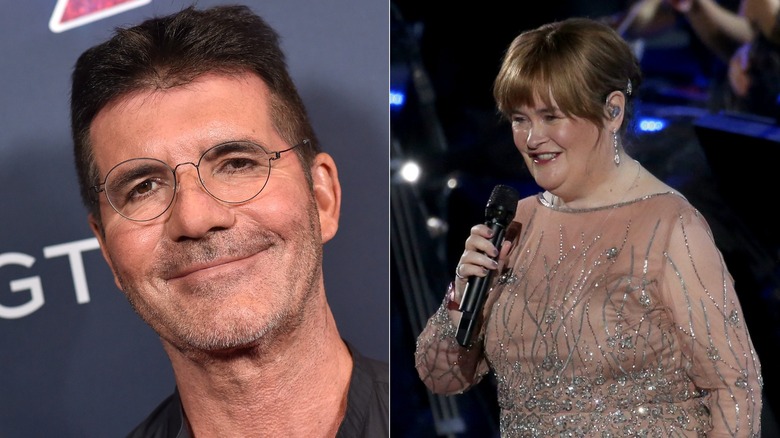 Franco Origlia/Getty & DFree/Shutterstock
From starring in the movie "The Christmas Candle" to traveling around the world as a solo artist, Susan Boyle has lived a lifetime since her 2009 breakthrough. However, she's also no stranger to tragedy. In 2022, she was forced to take a step back from the stage after suffering from a stroke. As one source told The Daily Mail, "She hired a private speech therapist once the crisis was over and she was out of hospital. Since then, she has been seeing him a few times a week plus doing homework in between and also seeing her regular vocal coach." 
Although the Scottish singer originally thought her career was over for good, she "fought like crazy" to be able to sing again. In June 2023, just a year after her health scare, she made a surprise on-stage return, performing "I Dreamed a Dream" at the "Britain's Got Talent" finale. The Grammy-nominated artist, along with the West End cast of "Les Misérables," got a massive standing ovation. Simon Cowell was especially happy to see Boyle again. "Susan, we owe you so much ... I knew you weren't well, but if anyone was gonna come back you were gonna come back because we wouldn't be the same without you," he said.
Although Boyle isn't set to go on tour again any time soon, it's clear her performing days are far from over — she'll always have a home onstage at "Britain's Got Talent."