How Jackie Sandler Felt About Her Husband Adam Kissing Drew Barrymore On Screen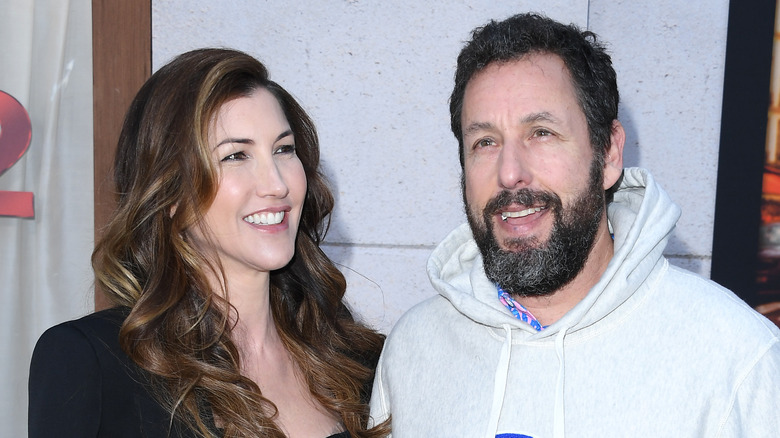 Steve Granitz/Getty Images
When it comes to Hollywood marriages, Adam Sandler and his wife, Jackie, probably have one of the strongest. In June 2023, Adam and Jackie Sandler celebrated 20 years as husband and wife. "Your 'I do' was the best gift of my life," the "Grown Ups" star wrote on his Instagram, posting a snapshot from their 2003 wedding day. Although the actor is typically tight-lipped about his relationship, he did share a few tips with AARP. "Jackie and I like spending time with each other. We try to make each other laugh, try to listen, try to include each other, try to support each other," he said, adding, "We try our best — that's all. And we don't ever think of not being together. We always talk about our future together." Whether they're collaborating on film sets or at home with their two daughters, Adam and Jackie are a team — she's even advised him on what projects to take on. If not for her, for instance, Adam Sandler wouldn't have starred in "Uncut Gems."
Meanwhile, Jackie told Entertainment Tonight that her husband is "extremely loyal." Although part of his job involves kissing his co-stars on screen, this doesn't seem to bother her. It also helps that she "loves the women [he works] with," according to one W Magazine interview. In fact, Jackie doesn't mind giving Adam a pep talk or two when it comes to his smooching scenes with Drew Barrymore.
Jackie Sandler isn't jealous of Drew Barrymore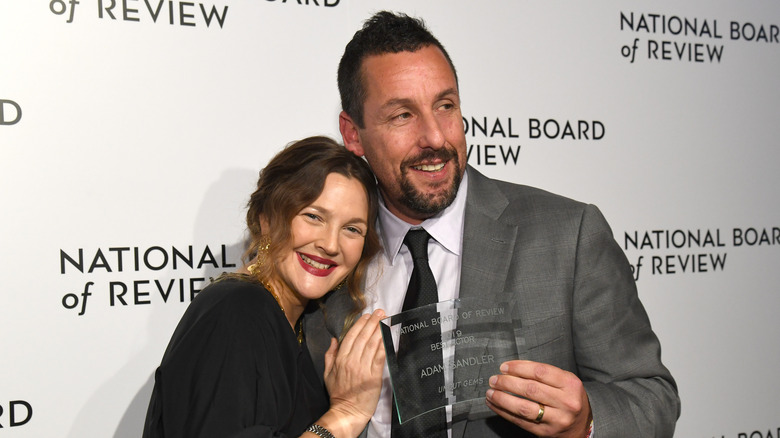 Kevin Mazur/Getty Images
When it comes to Adam Sandler's frequent on-screen love interest, Drew Barrymore, he made it clear that "there's no jealousy at all" on the part of his wife in an appearance on "The Ellen Degeneres Show." In fact, Barrymore has become just as much Jackie's friend as she has Adam's. "It's like the best thing that my wife loves Drew so much," He told Ellen. Although the actors have spent decades collaborating on movie projects, there's never been a hint of romance between them. In fact, Jackie has had to encourage her husband to take the kissing up a notch when he's shooting romantic scenes with other women. "She's just like, 'Get in there!'" Adam joked. "If you are not being romantic enough, she will like berate you behind the camera," laughed Barrymore. Adam even remembers finishing up a few kissing scenes only to see his wife shaking her head in disapproval. What a tough critic.
All in all, Jackie sees herself as doing a service for women. Adam impersonated her, saying, "Just please, for the sake of women, get in there and just look a little more alive," In reality, it's not Adam we have to thank for the romance in movies like "The Wedding Singer" and "50 First Dates" — it's his wife.
Jackie Sandler is also friends with Jennifer Aniston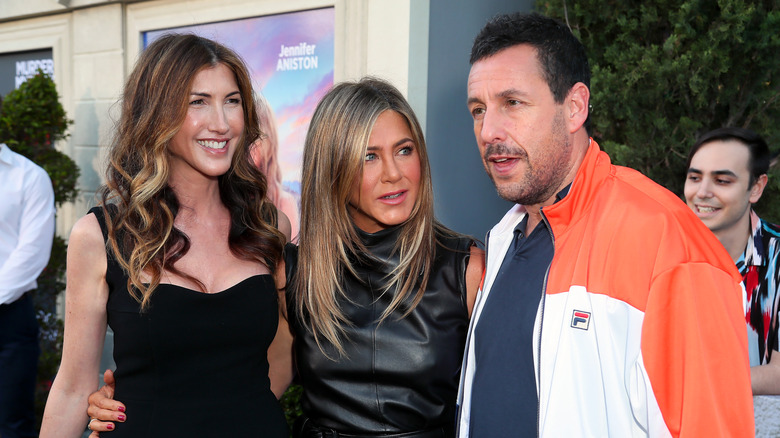 Leon Bennett/Getty Images
Not only is Jackie Sandler a big Drew Barrymore fan, but she's also close with Jennifer Aniston, another one of Adam Sandler's frequent collaborators. "[Jennifer] and my wife have a nice time tag-teaming to try to make me a healthier human being," the "Billy Madison" star told The Hollywood Reporter, adding, "They want me to stretch more — [to] eventually be able to touch my toes, which I'm about 9 inches away from." Aniston attended the couple's wedding in 2003 and, as the "Friends" star revealed to The Wall Street Journal, the Sandlers send her flowers every year on Mother's Day to support her in her fertility journey. "I love this girl, my wife loves this girl, the entire world loves this girl." Adam Sandler said during Aniston's Hollywood Walk of Fame Ceremony.
Just as she does during her husband's romantic scenes with Drew Barrymore, Jackie Sandler encourages Adam to go all-out when smooching Aniston. "She's like, 'Would you give Jennifer some sort of good time with that kiss please,'" the "Uncut Gems" star joked with Access Hollywood, mentioning that he always feels a bit bad for his on-camera kissing partners.
Finally, despite rumors to the contrary, Jennifer Aniston, Drew Barrymore, and Jackie have never competed over Adam Sandler. In fact, the three women even spoofed the rumor while honoring the comedian at his Mark Twain Prize Ceremony, joking that he'd written the same song for all of them.