Fergie & Josh Duhamel's Son Axl Has Grown Up To Be A Perfect Mix Of The Stars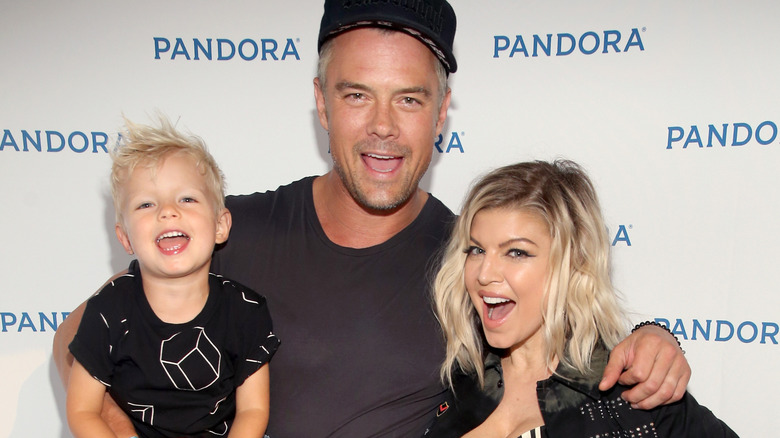 Jonathan Leibson/Getty Images
Fergie helped create the soundtrack to the early 2000s, singing hits like "My Humps" and "Let's Get It Started" alongside The Black Eyed Peas. Her ex-husband, Josh Duhamel, was rom-com royalty, headlining movies like "Win a Date with Tad Hamilton" and "When in Rome." The couple first connected in 2004 on the set of "Las Vegas" — but despite his romantic chops in front of the camera, Duhamel's real-life opening line was pretty awkward.
"I was walking out, and all of a sudden, [Fergie] was walking toward me," he remembered in an interview with People. "I was like, 'Oh boy.' She stopped. And this is so sad, but I said, in this desperate voice, 'You're hot!'" Still, the singer must have seen something special in Duhamel. They married in 2009, renewed their vows in 2010, and welcomed a baby boy, Axl, in 2013. Although the pair eventually called it quits in 2017, Fergie and Duhamel's relationship today is amicable, and the former it-couple is committed to giving their son a stable upbringing.
"To my caring, funny, outgoing, loving, smart, talkative, creative [superhero] enthusiast. Happy 10th birthday punky!!!" Fergie wrote on Instagram in August 2023, sharing a series of snapshots. In one, Axl can be seen riding a mini Bat Mobile. In another, he's rocking a pair of shades and looking effortlessly cool like his mother. What's more, Axl already has a music credit under his belt — his voice can be heard in Fergie's song "Enchanté." Before we know it, he'll be headlining arena tours himself.
Axl Jack inherited his parent's talents
Over the past decade, Axl Jack has gotten a taste of both of his parent's professions. First and foremost, he's inherited his mom's musical talents. "Axl sings around the house all the time," Fergie said on the talk show "Lorraine," adding that he likes to make up songs. That being said, she doesn't want to force him into a music career. His career path will be left entirely up to him. Axl's dad, Josh Duhamel, has a similar mindset. "I just try to expose him to a bunch of different things," the actor told E! News. "I know for sure he's very creative. He's an excellent little drawer. He loves his little drama class where they put plays on but, you know, who knows?" Axl has also shown an interest in following his dad into the acting arena, with Duhamel explaining that "If you were to ask him [what he wants to be] right now, he would say actor, but he's young. I'm not pushing him in that direction."
Despite their divorce, Fergie and Josh Duhamel are on the same page when it comes to Axl's potential future in the entertainment industry. They're both letting their son choose his own path as he gets older, but one thing is definitely out of the question, at least for now. "He's not going to be a child actor. He's not going to be auditioning or getting an agent or anything until he can do it on his own," his dad told Fatherly, adding, "I want him to be a kid." For now, "being a kid" means dressing up for Halloween, taking day trips to Disneyland with his mother (via Instagram), and spending plenty of time outside with Duhamel renovating their lake house. It also means playing sports.
Axl has turned into a sports enthusiast like his dad
Before Josh Duhamel became a recognizable Hollywood face, he was the star quarterback at Minot State University. These days, it seems he's passed down his love of football to his son. "He likes to throw the football around with me a little bit. I try not to be overbearing with him in sports, but I try to let him find it rather than me push it on him," the "Safe Haven" star told People. Given his background on the field, Duhamel explained to People that knows that football can be "a pretty brutal game." Of course, nobody wants to see their kid get tackled. But luckily, based on Fergie's Instagram posts, it looks like Axl's go-to sport is soccer. 
Although he wasn't sure if athletics were ever going to be his son's thing, Josh Duhamel is happy that Axl's shown an interest — at the very least, it's become a bonding activity for the duo. "I just think sports are good for kids," the actor shared, acknowledging, "[He's] not going to be a pro athlete, but it's good for him to learn how to win, how to lose, how to be a teammate, how to work towards something." Fergie is also famously passionate when it comes to sports — her dad worked as a high school football coach, and she somewhat infamously belted The National Anthem at the NBA All-Star Game in 2018.