The Relatable Relationship Woe Jonathan Scott And Zooey Deschanel Have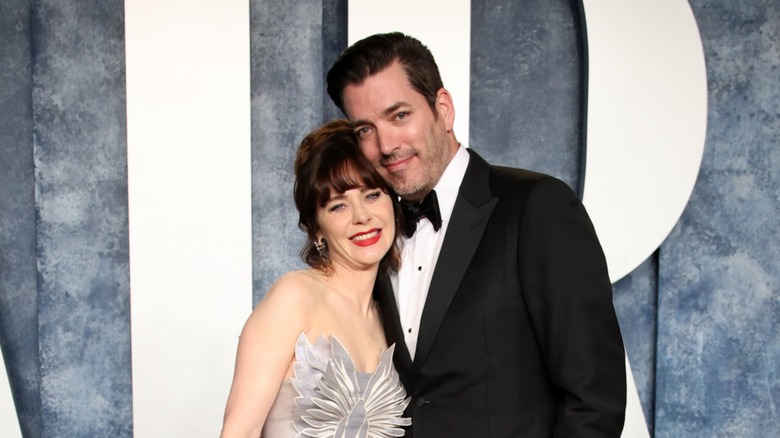 Daniele Venturelli/Getty
Sharing a car with your partner can have upsides, but one of the downsides — especially if you and your partner are vastly different heights — is that the driver's seat is never aligned quite right. Certain celebrity couples understand this struggle, such as Jonathan Scott and Zooey Deschanel. Jonathan is about a foot taller than Deschanel, standing at nearly 6 feet, 5 inches to her 5 feet, 5 inches. He shared a video on Instagram to show the woes of driving in the car after Deschanel has.
In the video, Jonathan starts to step into the car but immediately gets stuck, due to how close the steering wheel is to the seat. He slides out of the car and onto the ground, falling onto his back after losing his grip on the car door. From his position on the ground, Jonathan groans and says, "Zooey." He captioned the video, "Who can relate?! Still love you @zooeydeschanel" with a heart emoji.
JD Scott, Jonathan's older brother, commented on the video: "I can 100% relate to this." Others said they wanted to see Zooey recreate the video showcasing the opposite problem.
Many women prefer taller men in romantic relationships
Jonathan Scott and Zooey Deschanel are not the only celebrity couples with a significant height difference between them. Dax Shepard and Kristen Bell, as well as Sacha Baron Cohen and Isla Fisher, are examples of other celebrity couples with about a foot of difference in their heights.
A difference in height can be an important factor to some people on the dating scene. Sociologist Dr. Jess Carbino built her career focused on the world of online dating. Carbino posits that there may be a few psychological and biological reasons behind gravitating to someone of a taller stature. Typically, women who date men may choose a taller partner over a shorter one based on the assumption that they are healthier. And this may actually be true in some cases, according to a study published in the American Journal of Human Biology. Plus, a taller person may be more likely to be successful and make more money due to the confidence and perception of dominance that often comes with being a tall man.
Whether or not their height difference is one of the things that drew Jonathan Scott and Zooey Deschanel to each other, their relationship seems to be one that will last — even if they have to constantly adjust the driver's seat.
Jonathan Scott and Zooey Deschanel often post about each other on social media
Zooey Deschanel and Jonathan Scott have been dating since 2019 after they met for the first time that August on "Carpool Karaoke." Their relationship was officially confirmed in September 2019, and they've been going strong ever since. The couple has posted many sweet photos and tributes on Instagram since officially becoming a couple.
"[Jonathan's] from a different world," Deschanel told Bustle in an interview from June 2022. "I kept my cards close to my chest. But everything about him was kind of out there because people know him for him. I'm like, 'He's so nice, kind, funny, and smart, why wouldn't I want to tell everybody?'"
On August 4, 2023, Scott shared an anniversary post for Deschanel referencing one of her most popular films. The selfie of them was captioned on Instagram with, "500 days of @zooeydeschanel ... actually it's been a lot more, but who's counting anyway? 4 years really flies by. Happy anniversary baby!!!" Fans wanted to see them get married after that sweet post. A few days later, the couple announced their engagement — and the details are over-the-moon sweet.