What We Expect From Colton Little & Christopher Sean's Latest Days Of Our Lives Comeback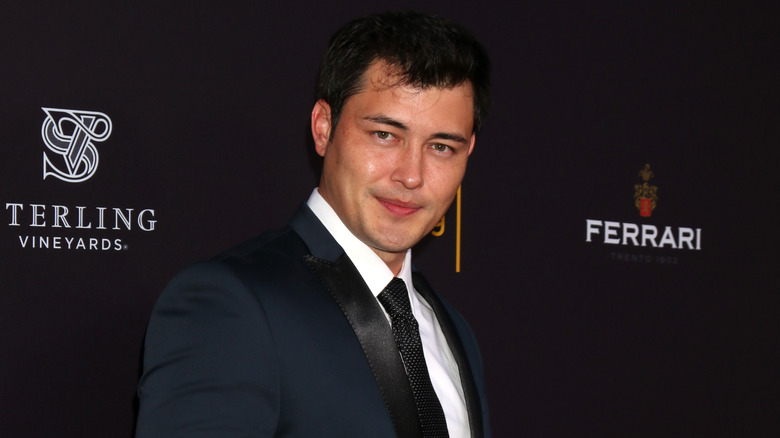 Joe Seer/Shutterstock
Wherever members of the Donovan and Black families team up on "Days of Our Lives," you know danger is lurking around the corner. Andrew Donovan (Colton Little) is the son of legendary ISA director, Shane Donovan (Charles Shaughnessy), while Paul Narita (Christopher Sean) is the son of the equally legendary John Black (Drake Hogestyn). Put them together and you get a dynamic team! When the two reappeared in March, fans were less than thrilled, because much of their relationship had happened off-screen, and we had to listen to them talk about it rather than see it unfold.
However, in May we got more of their story, as Andrew had to fight against bad guys who'd captured him to use as a bargaining chip with Shane in order to have Dimitri Von Leuschner (Peter Porte), his villainous mother Megan Hathaway (Miranda Wilson), and auntie Kristen DiMera (Stacy Haiduk) freed from prison. Fortunately, Shane gave in to the demands and Andrew was freed just in time to go to Paul, whom he believed was in danger. Thankfully, Paul wasn't, and the two had a happy reunion. But now, with the death of Victor Kiriakis (John Aniston) weighing heavily on the citizens of Salem, there are more dangers prowling on the horizon that they're unaware of, and it might take Andrew and Paul's return to help the good guys sort things out.
Could Paul and Andrew solve the mystery of where Victor was when he died?
Soaps Spoilers indicates that dangerous times are ahead for our favorite characters on "Days of Our Lives." Victor Kiriakis died when his plane went down over the Mediterranean Sea after he supposedly visited his son, Bo Brady (Peter Reckell), whom Megan Hathaway (now DiMera) had brought back to life. However, Bo had been shot by his son, Shawn Brady (Brandon Beemer), who mistakenly thought he was going to kill his mom, Hope Brady (Kristian Alfonso), landing him in a coma. Shane Donovan informed Victor's family that the facility Bo was recovering at wasn't near where his plane went down, leaving a big mystery unsolved as to where Victor actually went. Spoilers claim that now Brady Black (Eric Martsolf) and Alex Kiriakis (Robert Scott Wilson) are going to go to Greece, where they find a startling revelation. Could Andrew and Paul be involved in helping to solve the mystery?
Advanced "Days" spoilers also purport that there will be gunshots heard in Salem. Again, Andrew and Paul could be in the thick of things if there are bad guys afoot. All in all, we love seeing this couple together, as their amazing chemistry makes their relationship believable, even if we were robbed of the opportunity to see it develop. Nothing has been reported beyond the return of Christopher Sean and Colton Little, and we'd love to see them perform some derring-do, solve mysteries, and dispatch villains.