Ivanka Trump Hangs Ten After Dad's Arrests In New Surfing Video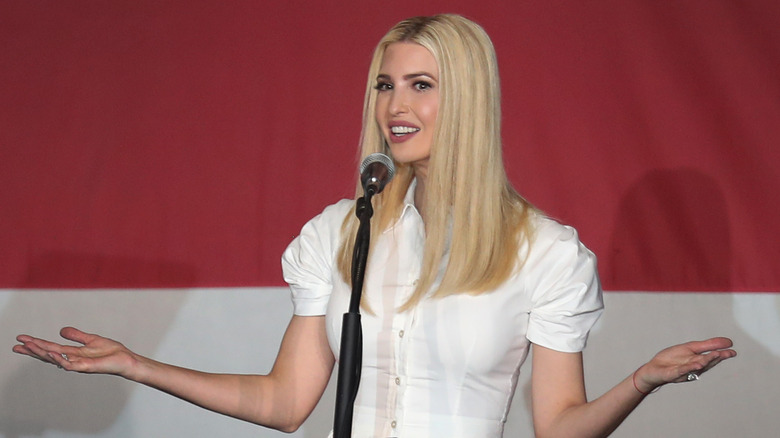 Joe Raedle/Getty Images
What do you do when your dad makes history as the first president to be arrested after leaving office? Believe it or not, as far as Ivanka Trump is concerned, you hit the waves. In August, former president and current presidential hopeful Donald Trump was arrested for his part in attempting to overturn the results of the infamous 2020 presidential election. It's really no surprise that Ivanka has kept her lips sealed on the matter and steered clear of the public eye in the weeks that followed. 
Three weeks after her last Instagram post and just shy of two weeks before Donald's now-famous mugshot started making the rounds, Ivanka took to social media to show the world what she's been up to behind the scenes, and suffice it to say, it's an interesting statement. Ivanka posted a photo followed by a video showing her wakeboarding behind a boat. It would seem that by showing herself enjoying some summertime activities she means to tell the world that she's relaxed and unbothered. More literally, she captioned the post with two "hang loose" emojis flanking a sun emoji, so she may be saying something more like "surf's up."
Ivanka's new Instagram post certainly makes a statement
It's clear based on Ivanka Trump's latest Instagram post that she's a natural when it comes to water sports. Not only was she able to stand up successfully on the waves, but she even managed to smile while doing so, proving that she's a born wakeboarder. This isn't the first time that the 41-year-old former presidential advisor has put out an important statement via social media, so it is possible that she's making an attempt to say a lot with a little through this post. 
Back in November 2022, Ivanka took to her Instagram Story to announce that she wouldn't be involved in Donald Trump's 2024 presidential campaign. As Vanity Fair reported, her statement said, "This time around, I'm choosing to prioritize my young children and the private life we are creating as a family. While I will always love and support my father, going forward I will do so outside the political arena." Assuming that she's stayed true to her word, it seems she may be supporting her father in his difficult time outside of social media and off the record. And if her Instagram post is any indication, she's thoroughly enjoying time at home with her family riding those waves.