The Bold And The Beautiful's Famous Feuds: Brooke And Stephanie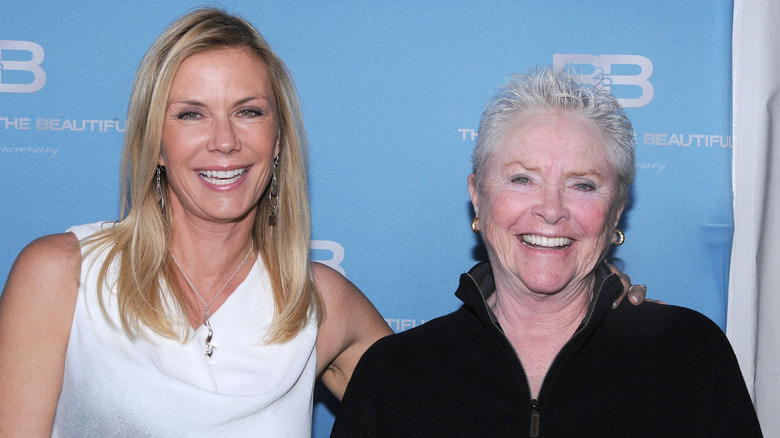 Barry King/Getty Images
As two of the longest-running characters on "The Bold and the Beautiful," Stephanie Forrester (Susan Flannery) and Brooke Logan (Katherine Kelly Lang) have quite the complicated history between them. Their feud has been raging for decades, including, but not limited to: attempted murder, faked medical emergencies, and more than one cat-fight. Brooke has racked up quite the list of sins during her time on the soap, and Stephanie never hesitated to call her out on them.
Both Stephanie and Brooke appeared on the soap from the very beginning, when it premiered in 1987. Stephanie was married to Eric Forrester (John McCook), who was known for having a wandering eye; he became involved with Beth Logan (Robin Riker), one of his past flames in college. As the catalyst for her hatred of Brooke and the Logan family, Eric's affair with Beth sparked Stephanie's jealousy and prompted her to wander as well. Brooke and Stephanie's feud only grew from there.
Brooke broke up Stephanie's marriage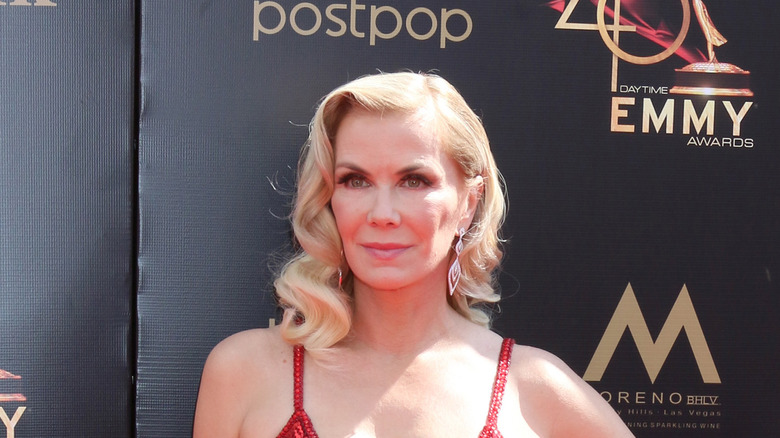 Kathy Hutchins/Shutterstock
Despite Eric's affair, Stephanie and Eric stayed married, with Stephanie determined to keep her husband and work through their problems; however, that didn't seem to work out as well as she had hoped. Eric had another affair, but this time with Beth Logan's daughter, Brooke Logan. Brooke got pregnant with Eric's child and gave birth to a son named Rick Forrester (now Jacob Young). After her divorce from Eric, Stephanie had a stroke that caused her significant memory loss. When her memories returned, she didn't tell anyone; she continued to fake amnesia in order to get back together with Eric and get him away from Brooke. They renewed their friendship, but Eric had already moved on and married Sheila Carter (Kimberlin Brown).
In an attempt to gain leverage over Brooke, Stephanie secretly filmed her son Ridge Forrester (then Ronn Moss) and Brooke having sex in the Forrester Labs after taking a big step for their business. She tried even harder to keep Brooke out of Forrester Creations, even scheming with the rest of the family. When Brooke found out, a fight ensued and Brooke took control of the company, much to Stephanie's dismay.
Stephanie meddled in Brooke's business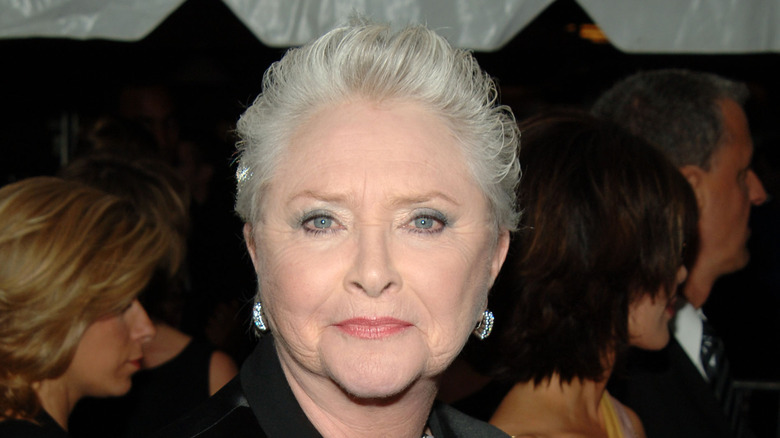 Dimitrios Kambouris/Getty Images
The bad blood between Brooke and Stephanie continued when Stephanie discovered that Brooke had tampered with her paternity test results to show that Bridget (Ashley Jones) was Ridge's child. Stephanie told Brooke to get out of the country and attempted to gain custody of Bridget and Rick. In an act of revenge, Brooke's friend Sheila switched Stephanie's calcium pills with mercury and poisoned her, but it was discovered what she had done and Stephanie recovered.
Brooke attempted to break up Ridge and Taylor (then Hunter Tylo) multiple times, and Stephanie was having none of it. She pestered Brooke to leave the couple alone, but the blonde wouldn't listen. Their arguments culminated in a fight during Brooke's reveal of her new lingerie line at Forrester Creations. Thankfully, Brooke left Ridge alone after that altercation; unfortunately for Stephanie, that only meant that Brooke had moved on to another Forrester brother.
Their feud cooled after Stephanie's health scares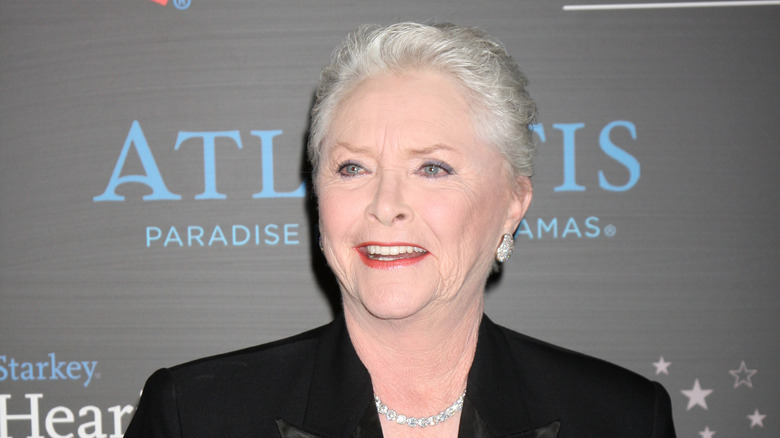 false/Shutterstock
Brooke started dating Stephanie's other son, Thorne Forrester (Winsor Harmon), much to Stephanie's disappointment; she tried to strangle Brooke upon hearing the news that they were together. Things got even worse when Brooke and Thorne announced they were engaged, causing Stephanie to have a stroke. She got used to the idea after a while, but upon finding out that Thorne's ex, Macy Alexander (Bobbie Eakes), had died in a car crash and Brooke was involved, she suffered another stroke.
After that health scare, Brooke tried to mend fences and gifted Stephanie a photo album documenting her life. Stephanie returned the sentiment and tried to help Brooke after she cheated with Bridget's husband, Deacon Sharpe (Sean Kanan), and got pregnant. When Ridge was presumed dead, Stephanie and Brooke grew even closer, commiserating over their shared loss.
However, the feud returned when Ridge was found alive and wanted to get back with Brooke. Stephanie faked a heart attack and asked Ridge to reunite with Taylor, which he did. When Brooke found out Stephanie's deception, she revealed the truth and the whole Forrester family turned their backs on her.
Brooke became Stephanie's unlikely confidante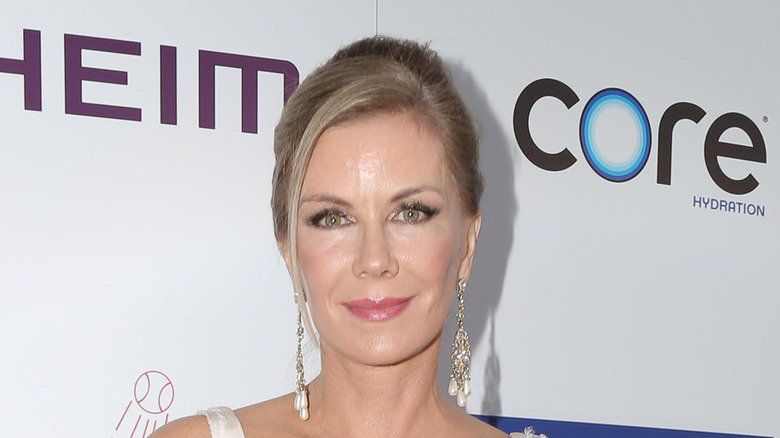 Kathy Hutchins/Shutterstock
Brooke soon got involved with Nick Marone (Jack Wagner) and they fell in love. When Stephanie heard the news that the two were dating, she gave Brooke a gun and told her to shoot herself with it. Angered and offended, Brooke turned the gun on Stephanie and tried to shoot her, but she missed. In order to keep Brooke and Nick apart, Eric decided to remarry Brooke, but they divorced and he soon reunited with Stephanie.
Stephanie interrupted Nick and Brooke's wedding by showcasing the nude photoshoot Brooke had done for her new line at Forrester Creations, hoping it would get her to reunite with Ridge. It didn't work, and Brooke married Nick anyway.
While engaged in yet another argument with Brooke, Stephanie collapsed and was rushed to the hospital where she was diagnosed with stage four lung cancer. Stephanie refused to receive treatment or tell her family and friends about her diagnosis. Instead, she enlisted Brooke to help her fulfill every item on her bucket list.
Brooke saw Stephanie to the end of her life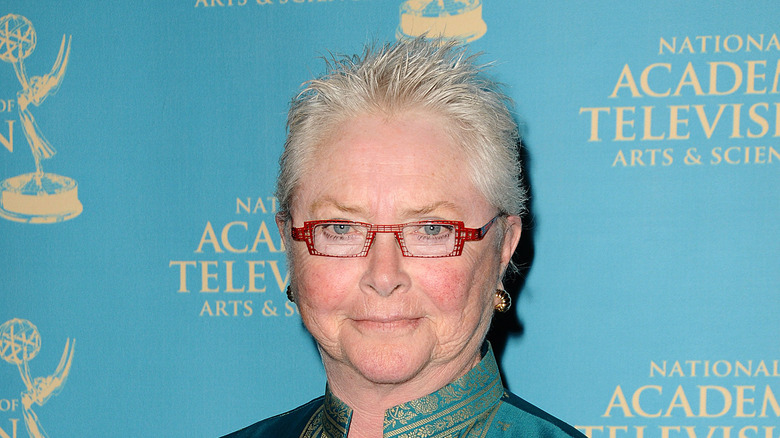 Jason Laveris/Getty Images
While on her quest to complete everything she wanted to do before she died, Stephanie encountered a homeless woman whose grateful attitude inspired something in her. Determined to fight for her life, she decided to move forward with her cancer treatment and made peace with Brooke after so long. However, Stephanie couldn't stop her meddling ways altogether. When Brooke revealed that she might have had sex with her stepson Thomas (Matthew Atkinson) while high, Stephanie bribed Thomas into lying and claiming that they did, in fact, sleep together. This lie pushed Ridge right back to Taylor, but when Stephanie's scheming was discovered, Brooke and Ridge reconciled.
Sadly, Stephanie's lung cancer returned, and this time it was terminal. Accepting her fate, Stephanie made the most of the time that she had left, and ultimately died in Brooke's arms on November 26, 2012. This wasn't the last time Brooke heard from Stephanie, though; during Brooke and Ridge's eighth wedding in 2018, Stephanie sent a message to Brooke, calling her "my sweet little slut from the valley," and asking her to stay loyal to Ridge this time "if that's possible." Apparently, Brooke and Stephanie's feud continues, even beyond the grave.