Arianne Zucker Seemingly Spills The Beans On Days Of Our Lives Axing Talia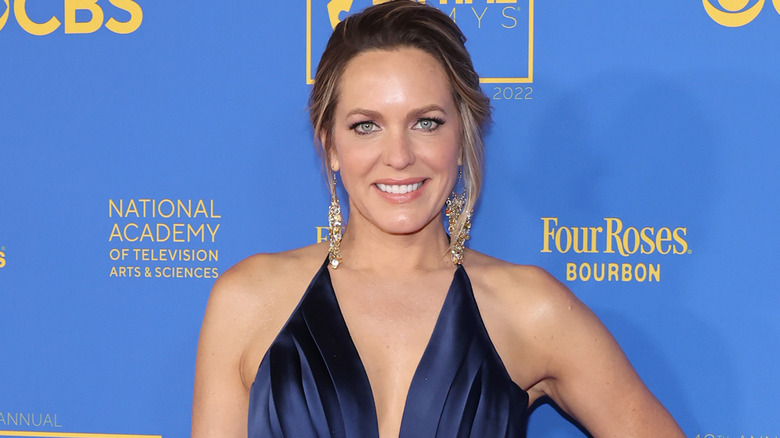 Amy Sussman/Getty Images
When Talia Hunter (Aketra Sevillian) first arrived in Salem on "Days of Our Lives," back in March, fans were intrigued by this young woman whose motivations were murky at best. Under orders from her then-boyfriend Colin Bedford (Jasper Newman), she made life a living hell for Chanel Dupree (Raven Bowen) and her family and has regretted it ever since. Talia is Detective Jada Hunter's (Elia Cantu) sister and she was a doctor who became a baker for some unknown reason. 
There was a lot of mystery to her character, and now we may never get the answers to what Talia's actual background and motives really were. On August 28, 2023, Sevillian posted a series of videos on Instagram that showed her clearly enjoying life, with the caption, "Lately." But what caught our attention wasn't the video so much as a response that was posted. Arianne Zucker (Nicole Walker) wrote, "Why you are still not on our show is beyond me!!!" 
She tellingly added, "You are a beautiful light! To bigger and better!" Fans were caught completely off guard, as there has been no official word from the show about Sevillian exiting. While most of the responses showed the fans' love for her and Talia, actor and model Zoë Taylor-Crane posted the equally cryptic, "You are just the cutest. Miss you and your sweet vibe on set!" So it would appear that Sevillian is out as Talia, but if this is true, what happened? 
The timing of Alaar's firing and Sevillian being let go seems suspicious
As most avid "Days of Our Lives" fans will already know, the show tapes episodes several months prior to them actually airing. This was made abundantly clear when actor John Aniston died in November 2022, but his character, Victor Kiriakis, wasn't killed off until the following August, with the memorial service slated to air on September 7. On August 4, Deadline reported that co-executive producer Albert Alaar was fired after Sony Pictures Television performed an investigation into his alleged sexual harassment. 
It's highly coincidental that, in an interview posted on August 31, Jen Lilley told Soaps.com that she'd been asked to briefly reprise her role as Theresa Donovan, only to find out at the end of her second week that she was being recast. Lilley claimed that despite being told about what was going to happen to Theresa, and that she was promised she'd be able to cram 12 weeks' worth of stories into her four-week run, Alaar reasoned, "Theresa is still going to do all of that ... We're going to do it with a different Theresa."
Now that he's been let go, it seems as if the news is starting to trickle out about mysterious casting decisions that occurred during Alaar's tenure. So, given Arianne Zucker and Zoë Taylor-Crane's responses to Aketra Sevillian's Instagram post, we reckon there may be more to come.