What Merritt Patterson Did Before Becoming A Hallmark Star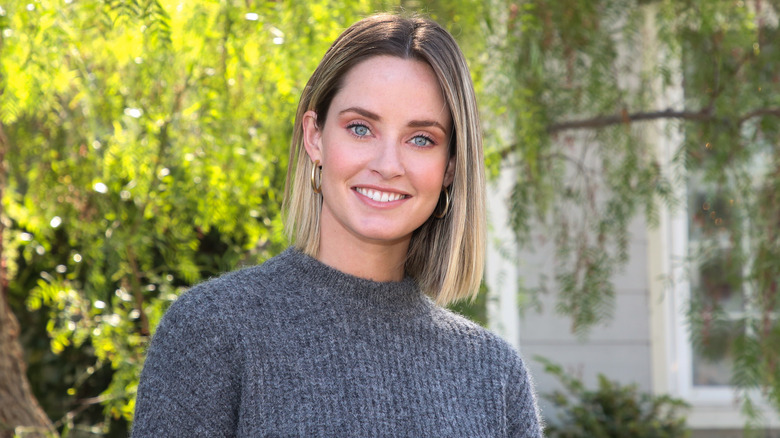 Paul Archuleta/Getty Images
Since debuting on the channel in 2017, Merritt Patterson has appeared in almost a dozen Hallmark flicks, playing the part of the royally lovestruck American and the unsuspecting career woman in movies such as "A Royal Winter" and "The Gingerbread Miracle." Starring alongside leading Hallmark men such as Andrew Walker and Luke MacFarlane, the Canadian has become quite the recognizable face on the family-friendly channel.
While Hallmark fans may know the star from her growing list of rom-com and holiday movie credits, the actor actually has a notable number of roles that predate her feel-good fame. According to an interview with Celebrity Haute Spot, Patterson actually set out in pursuit of a modeling career, but her focus soon shifted to acting when she had trouble landing a representative.
Her early acting credits include brief series appearances, made-for-TV movie roles, and recurring parts in noteworthy television series. For fans of Merritt Patterson, here's a look at what the Hallmark star did before debuting on the heartwarming channel.
Patterson was surprisingly cast as a mean girl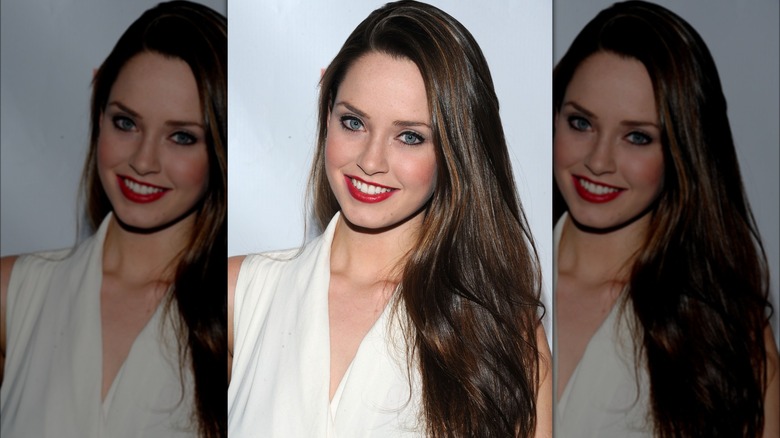 Amanda Edwards/Getty Images
Merritt Patterson's earliest roles include guest appearances in shows such as "Kyle XY," "Supernatural," and "Life Unexpected," but she really started to make a name for herself after landing parts in made-for-TV movies. While fans may be used to seeing her in down-to-earth rom-com roles, the actor actually played mean girl antagonists in Lifetime's "The Pregnancy Project" and the Disney Channel original movie "Radio Rebel."
When asked about her experiences assuming such personas, Patterson reflected positively on the roles. "You know, it's actually a fun role to play. How could it not [be]? I'm not like that in person, so it's a fun chance to get to do that," she said in a Shine On Media interview. "But there are a few scenes in ["Radio Rebel"] where as soon as we yelled to cut it was like 'Debbie, I'm sorry. I didn't mean it!'"
While these may be a far cry from the roles we typically see Patterson in on the Hallmark channel, we can't help but love seeing the British Columbia native flex her acting muscles.
The Hallmark star appeared in several TV series
Besides assuming the stereotypical mean girl role in made-for-TV movies, Patterson spent her pre-Hallmark career in several TV series. In 2013, she landed the major role of Olivia Matheson in the "Pretty Little Liars" spin-off show "Ravenswood," starring alongside Tyler Blackburn, Brett Dier, and Nicole Gale Anderson. While the series was short-lived, only running for one season, it did mark a huge milestone in Patterson's career.
In 2015, the Hallmark star went on to play Ophelia Price in E! Network's first-ever scripted drama series "The Royals." Similarly to her Hallmark flicks "A Royal Winter" and "Christmas at the Palace," the series portrayed her as an American commoner who becomes entangled in a royal romance. In the next year, Patterson also landed a recurring role in the second season of Crackle's drama thriller "The Art of More," acting as the daughter to Dennis Quaid's character, Samuel Brunker.
In general, Patterson has reflected very positively on her experiences as an actor. "It's enhanced my life in so many ways. I am the most happiest on a set. So that feeling, that like pure joy, I live for [it]. So that alone is great," she told GeekRockTV. "You get to meet a lot of really interesting people, really loving people when you form these relationships, and you get to travel. I mean, there's so many great things about it."