Adam Sandler's Daughters Have Grown Up To Be Gorgeous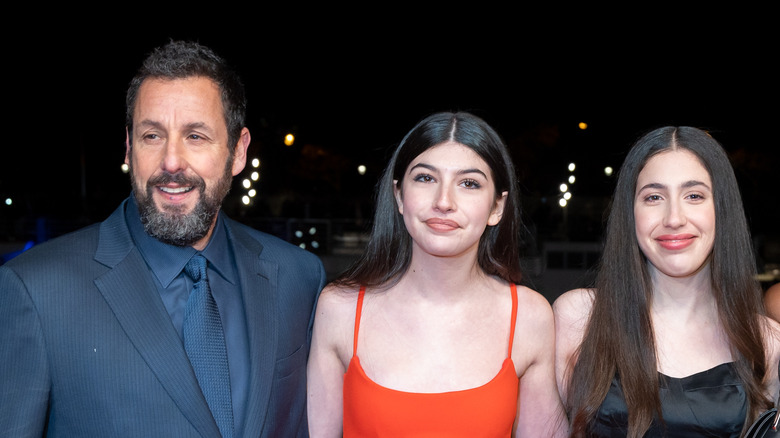 Marc Piasecki/Getty Images
Adam Sandler is a father to two daughters: Sadie Sandler, born in 2006, and Sunny Sandler, born in 2008. Many fans are just now noticing the rising Hollywood stars, thanks to their Netflix breakout in "You Are So Not Invited to My Bat Mitzvah." However, Sadie and Sunny have already amassed 20 credits in films alongside both their father, Adam Sandler, and mother, Jackie Sandler. Now, fans can't help but notice how the little girls from "Grown Ups" have, indeed, grown up.
Outside of their on-screen cameos, the Sandlers have kept their daughters relatively out of the public eye. Now, the teens are entering their own stardom and look beautiful while doing so. However, the public is only getting a glimpse at the girls beyond the screen: Sadie and Sunny didn't do any major press for the film, nor do they have social media accounts (that the public knows of, as of this writing). But as Sadie and Sunny begin to pursue their acting careers, it's no surprise that their dad is with them every step of the way. Playing their on-screen father, Sandler's passion for family affairs shines through in the film. "You Are So Not Invited to My Bat Mitzvah" has now become his highest-rated movie on Rotten Tomatoes.
Sadie and Sunny Sandler are very close with their father Adam Sandler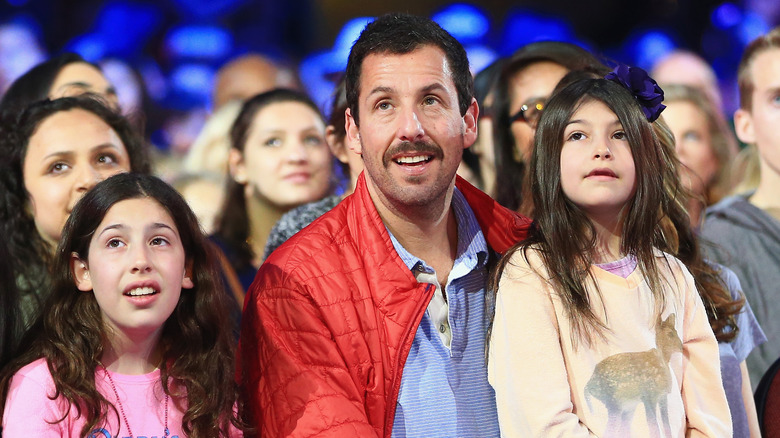 Christopher Polk/kca2016/Getty Images
Adam Sandler shares a close relationship with his daughters and has fully embraced being a "girl dad." So much so, that he even weathered being covered in slime at the Kid's Choice Awards just to make them happy. Sandler also committed to changing his schedule as an A-list actor to commit to being a full-time parent to Sadie and Sunny Sandler. "My kids give me the most joy, but there are life adjustments. I don't go out to meet anyone after 9:30 at night," Sandler told HuffPost. "If someone makes me stay out until 10:30 at night, I'm angry the entire next day because I'm exhausted."
While the actor and comedian-turned-producer no doubt has a busy schedule, it appears that he makes time for his daughters by bringing them to work with him. Outside of acting, Sandler even brought Sunny to sing on-stage during one of his comedy shows, with her sister Sadie joining her a second time (per People). The "Hustle" star has also included his daughters in eight of his films, keeping an eye out for them throughout the entire process.
Sammi Cohen, director of "You Are So Not Invited to My Bat Mitzvah," spoke about witnessing Sandler's commitment as a parent in person. Cohen explained to The Hollywood Reporter: "He's wearing multiple hats — producing, acting, being an actual dad. It's almost inhuman. Nothing suffers — he does it all 110 percent."
Sadie and Sunny Sandler were accused of being nepo babies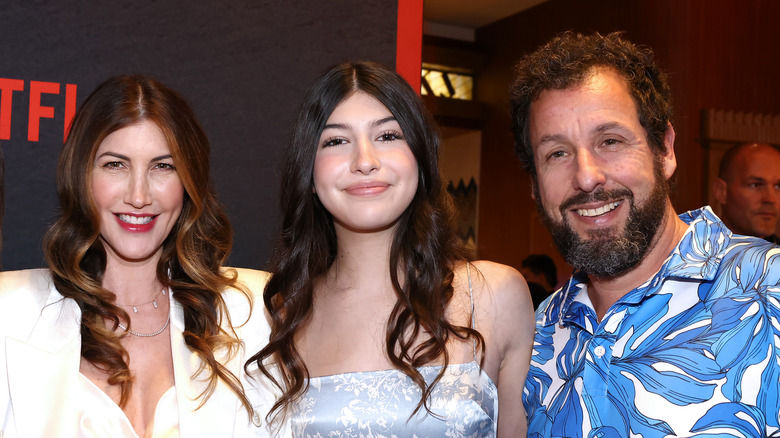 Tommaso Boddi/Getty Images
While Sadie and Sunny Sandler have appeared on-screen for several of their father's films, Adam Sandler noted that they weren't originally fans of acting. "They make it look like I'm forcing them to do it," he said on "The Drew Barrymore Show" (per People). "Meanwhile, they were asking me the whole damn year, 'Can I be in your next movie, Daddy?'"
After this 2020 debut, it appears Sadie and Sunny were ready to truly test out their acting chops. Sadie co-starred alongside her younger sister in "You Are So Not Invited to My Bat Mitzvah," which was released on Netflix in 2023. The film was a family affair, as all four members of the Sandler clan took on roles in the film. Sadie and Sunny play the children of Sandler and his second-time screen wife, Idina Menzel. Sandler's wife in real life, Jackie Sandler, portrays the mother of another child.
However, with conversations surrounding nepotism in Hollywood coming to light, Sadie and Sunny were roped into the conversation. "You Are So Not Invited to My Bat Mitzvah" director Sammi Cohen was quick to defend the two girls, claiming they worked hard for their roles in the film. "But one thing that just sticks out — they work harder than most adults I know," Cohen told The Hollywood Reporter. "They love acting and filmmaking in general. They take such an interest in how the movie is made, and they're both so talented."