How Sophie, Duchess Of Edinburgh's Style Has Changed Over The Years
Max Mumby/indigo/Getty Images
Some royals, like Princess Catherine, frequently make best-dressed lists, and are well-known for their impeccable sense of style. Catherine hit the ground running when it came to finding her own look, but others, like Sophie, Duchess of Edinburgh, don't have it that easy. The duchess had a far more complex fashion journey, going from high-powered PR executive to wife of Queen Elizabeth II's youngest son, Prince Edward. 
The pair first started dating in 1987,and Sophie was working at Capitol Radio in London. It was a royal love story for the modern age, even if it did take Edward many years to put a ring on it. At the time, the future duchess looked every inch the young businesswoman and had yet to find her own sense of royal style. In fact, Sophie didn't find her personal aesthetic until much later in their relationship. 
Choosing outfits can be tricky no matter who you are, but when you're hyperaware that thousands (sometimes millions) of people are going to pass judgment on your ensembles, it must be more than a little daunting. While it may have taken Sophie a little longer than most to nail down her aesthetic, her style evolution – from '90s gal about town to Duchess of Chic – is something to behold.
Sophie kept it casual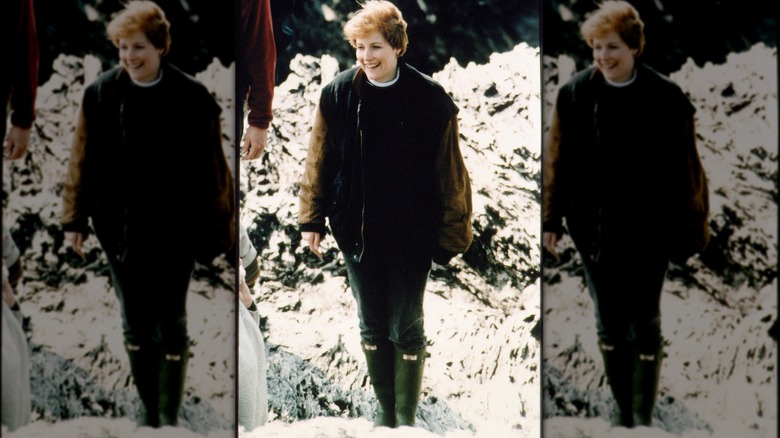 Mathieu Polak/Getty Images
Although Sophie, Duchess of Edinburgh, met her prince charming, Prince Edward, back in the late '80s, it was a few years before they struck up a romance. When they first met, Edward was actually dating Sophie's friend, but thankfully (at least for them), it didn't work out. In 1993, they reconnected and quickly became Britain's new favorite couple. While photographs of Sophie from these early days are scarce — all eyes were still on Princess Diana at this time — there are a few that give us some insight into the duchess' casual style. 
In 1994, Sophie was spotted out relaxing with friends and enjoying a walk in the countryside wearing a dark jumper with brown sleeves, and of course, the great British outdoor staple — Wellington boots. Her hair was worn in a short style, giving her a tomboyish appearance. In fact, Sophie resembles a young Princess Diana in this early snap, with her blonde bixie, a beaming smile, and a sense of playfulness. 
This look, with its muted colors and shaplessness, was very reminiscent of Sophie's fashion sense at the time. Though she was Edward's gal pal, she had yet to really make her way into the royal fold — or start dressing like a member of the House of Windsor. She was still largely out of the public eye, but that would change over the next few years. 
Sophie embraced the trends with a royal twist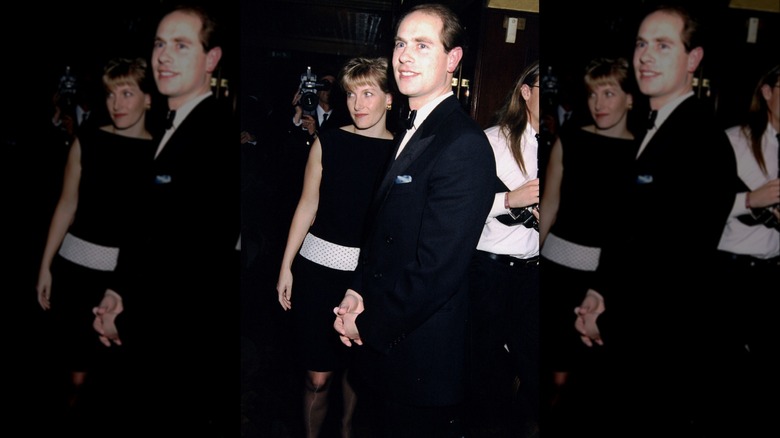 Dave M. Benett/Getty Images
Fast forward a couple of years and Sophie's relationship with Prince Edward had been going long enough to be deemed serious. In fall 1996, the two put on a united front to attend a friend's birthday party in London. Sophie opted to wear a little black dress to the event.
The dress was reminiscent of the time as it was sleeveless and featured both a boatneck and drop waist. Sophie kept it modest, though, with the hem just above the knee and semi-sheer pantyhose beneath. As for jewelry, she went minimalist with chunky gold hoops. It was a simple look, but one that matched nicely with Edward's sharp black tuxedo. Her fresh-faced makeup looked stunning, giving her a youthful glow. 
At this point in her fashion history, Sophie appeared to want to blend in and not stand out from the crowd, preferring darker colors with few accents over bolder statements. It was a worthy choice that gave us a glimpse into Sophie's future potential, laying the groundwork for some of her best royal looks yet to come. 
Sophie embraced royal headwear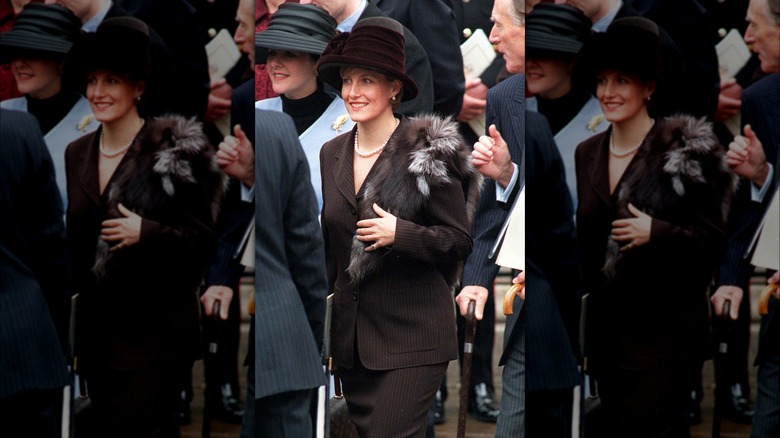 Ken Goff/Getty Images
In 1997, Princess Diana, who'd divorced King Charles the year prior, died in a tragic car accident alongside her boyfriend, Dodi Al Fayed, leaving Prince Harry and Prince William without a mother and the world without its dedicated philanthropist. It was a tricky time for the House of Windsor to navigate, but towards the end of the year, the family came together to celebrate Queen Elizabeth II and Prince Philip's 50th wedding anniversary at Westminster Abbey. It was the first time the family had gathered at the Abbey since Diana's funeral some months prior. 
It was a happy occasion, with many royal couples in attendance, including Sophie, Duchess of Edinburgh, and her beau, Prince Edward. Sophie wasn't officially part of the family yet, but she had become a staple at royal events.
While you might have expected Sophie to wear a cheery color, she opted for an oversized brown pinstripe suit with a (hopefully faux) fur stole. She topped off the earthy look with a tall brown hat and pearl jewelry. This was an interesting outfit, to say the least, but this wasn't Sophie's best era. However, her hat choice proved that she could flaunt a headpiece with unabashed confidence, which boded well for the future. After all, if royal ladies love anything, it's a good hat!
Sophie started testing the waters (and made a splash)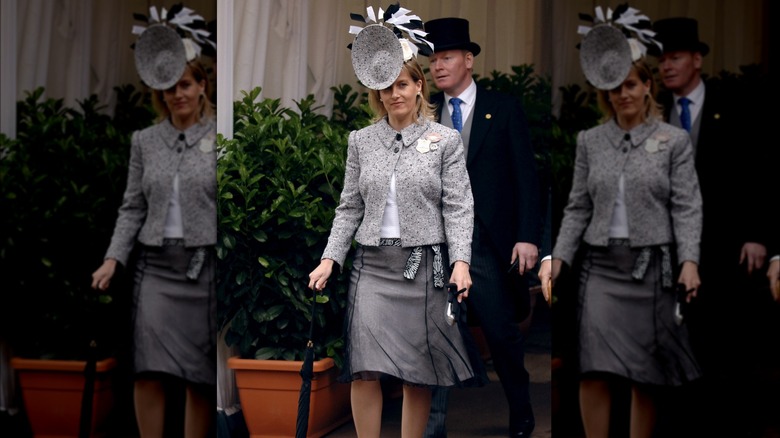 Anwar Hussein/Getty Images
In 1999, Sophie Rhys-Jones was no more; instead, she became Sophie, Countess of Wessex, upon tying the knot with Edward. And unlike Edward's siblings, the pair continued to remain happily married. In 2005, Sophie could be seen attending one of the biggest events in the palace's calendar, the Royal Ascot. Royal ladies always push the boat out for the horse racing event, picking their best frocks and wearing their most outrageous hats. 
Sophie didn't disappoint, wearing a speckled gray short jacket with a matching fascinator complete with a spray of black and white feathers. She coupled it with a white shirt and a plain grey knee-length skirt with a net overlay — and of course, an umbrella to combat the famous English weather. Though Sophie still opted for a reserved, muted color, this outfit was more daring than some of her early looks. 
As a tried and tested member of the British royal family, Sophie perhaps felt comfortable enough to peer out of her shell, showcasing more of her own personal style. With the '90s far behind her, the 2000s were Sophie's opportunity to move with the times and refresh her wardrobe — an opportunity that she grasped with both hands over the coming period.
The Duchess of Edinburgh's maternity wardrobe felt very '90s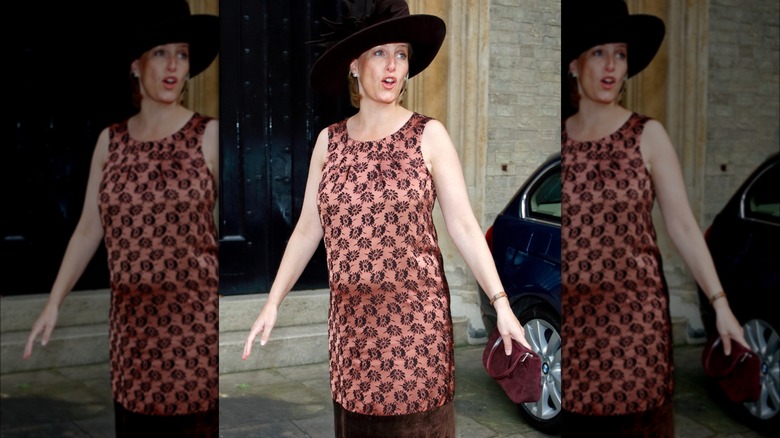 Max Mumby/indigo
Sophie, Duchess of Edinburgh, and Prince Edward welcomed two children together after they tied the knot. First, their daughter, Lady Louise Mountbatten-Windsor, was born in 2003. Their son, James, Earl of Wessex, was born several years later in 2007, making him Queen Elizabeth II's youngest grandchild.
When Sophie was pregnant with her final child, she attended the wedding of Louis Buckworth and Cara Delevingne's big sister, Chloe. For the romantic event, Sophie opted to stick to what she knew — earthy tones; however, the outfit did offer a playful twist. The copper, patterned dress featured brown velvet trim and was paired with a striking wide-brimmed brown hat with black feathers. Sophie chose a deep burgundy purse but kept her other accessories very minimal, wearing only earrings and a thin bracelet. Unlike other members of royalty, Sophie seems to prefer basic jewels over big diamonds. This look certainly harks back to her '90s fashion.
Sophie glowed in white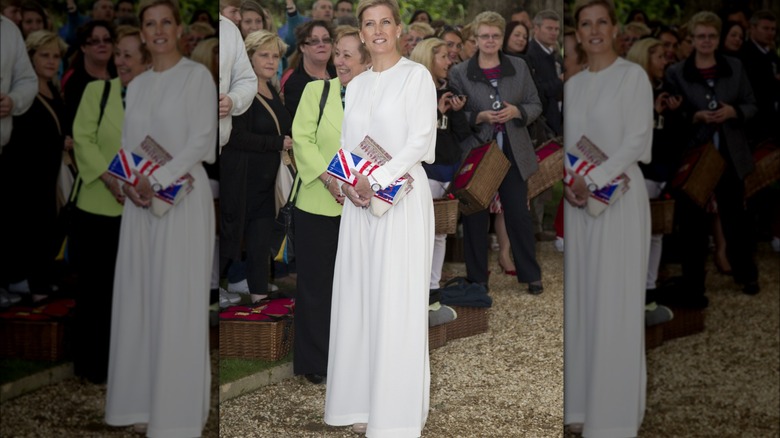 Anwar Hussein/Getty Images
Let's face it: For her first decade and a half in the royal family, Sophie didn't exactly win any style awards. Though there were glimpses of potential, her ethos seemed to be not to draw attention to herself and let other, more senior members of the family shine instead. However, by the 2010s, there was a noticeable shift in Sophie's style. In 2012, the then-Countess of Wessex showed up to the Diamond Jubilee celebrations at Buckingham Palace wearing elegant wide-leg white pants with a matching long-sleeved top. But the cherry on top was arguably her patriotic choice of purse. 
The clutch bag featured a Union Jack pattern, which was more than fitting for the event. Sophie wore her blond tresses in a simple style, pulled back from her face, and she accessorized with a simple watch with a white band. This bright white outfit was a taste of what was to come.
She embraced more fitted ensembles and bolder hues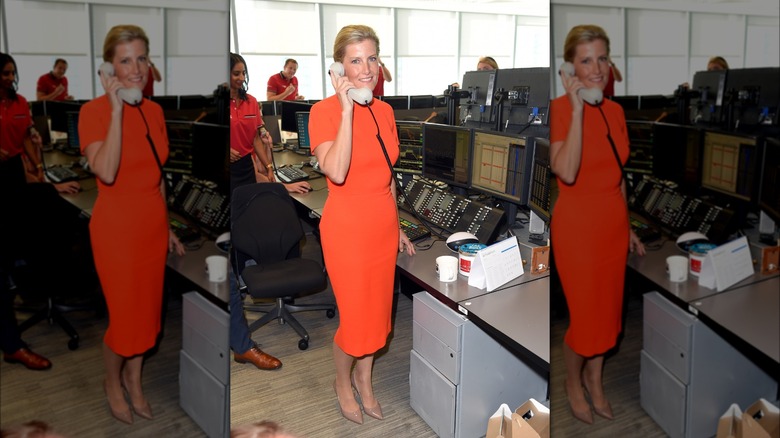 Karwai Tang/Getty Images
In 2015, Sophie attended BGC's charity day at the offices in London to commemorate the many who were killed in the horrific attacks on New York's World Trade Center, according to the BGC Group's website.
Sophie brought sunshine to the charity event, not only with her outfit but with her glowing smile and subtle, dewy makeup. The duchess must know that while her fashion choices have become more daring, her confident demeanor is her true asset. As for her outfit, though, Sophie donned a stunning bright red-orange form-fitting dress. Although its length and cut retained modesty, the Victoria Beckham ensemble looked sensational, proving that Sophie is well and truly done with fading into the background. Sophie paired the daring dress with a nude pump by Gianvito Rossi. 
In 2019, the dress made headlines again when Victoria Beckham rereleased the dress on its website for a cool £990. 
Sophie looked chic in blue at the wedding of Prince Harry and Meghan Markle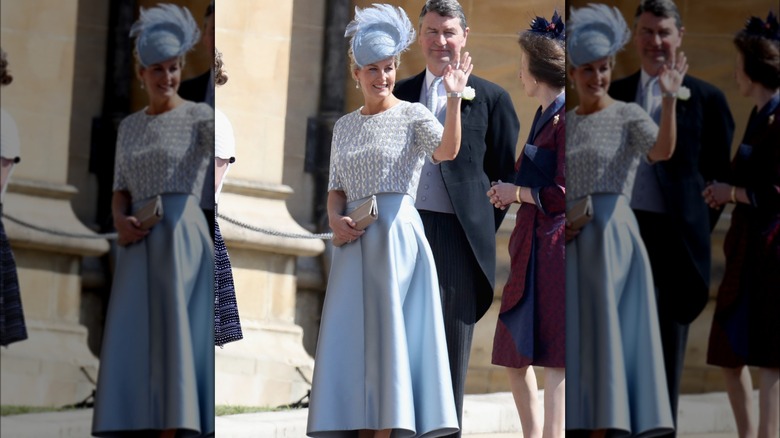 Chris Jackson/Getty Images
By the time Prince Harry and Meghan Markle married in 2018, Sophie had (thankfully) ditched the drab shades of browns and coppers for beautiful pastels. For this particular event, she paired a textured white and gray top with elbow-length sleeves and a blue silk organza midi skirt by Suzannah. Of course, one can't attend a royal wedding ceremony without a particularly delightful hat. In this case, Sophie opted for a Jane Taylor feathered fascinator that pulled the entire ensemble together elegantly. 
It was clear that Sophie's classic yet modern style was a win for the then-countess, who appeared to be making up for lost fashion points with this one. Sophie kept her jewelry simple, as is her norm, yet sophisticated with simple pearl drop earrings and a watch. Her purse, a simple grey clutch, provided a pop of color.
Color blocking for Christmas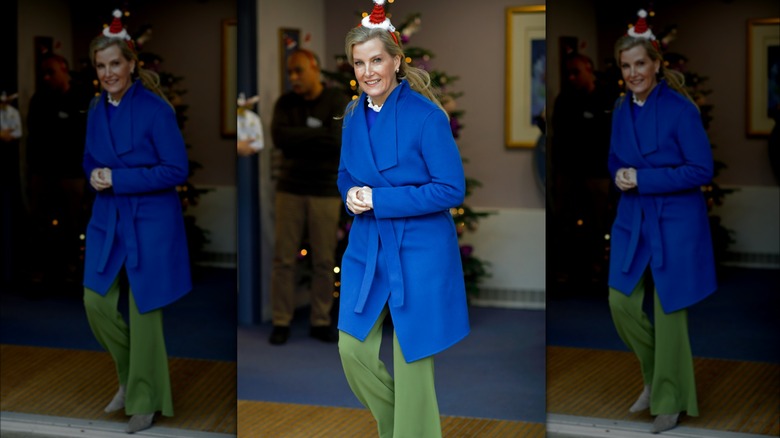 Pool/max Mumby
When you think of Christmas, you probably see images of bright red and deep green. However, Sophie, Duchess of Edinburgh, donned a different holiday color palette in 2021. Proving she was no longer afraid to go bold, she wore a striking cobalt blue coat with a matching sweater and olive green flared pants. The small Christmas hat headpiece she wore really said "ho, ho, ho." Sophie didn't wear it for a stroll about town but for a visit to the Disability Initiative on December 1, otherwise known as the UN International Day of Persons with a Disability. While there, the mother of two was able to partake in lots of fun activities, from wreath-making to chocolate sculpting. It made sense that Sophie opted to be practically stylish instead of overtly glamorous. 
Compared to Sophie's previous event outfits, this bold color-blocking aesthetic pushed the envelope while still being appropriate. Long may Sophie's kaleidoscope of color continue! 
She chose an LBD for a somber day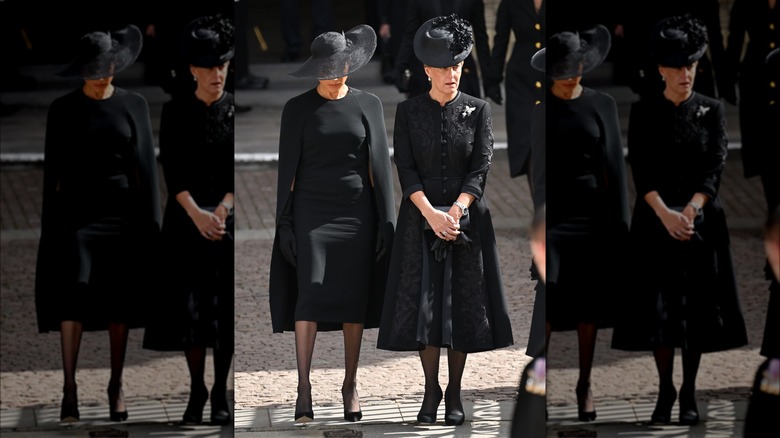 Karwai Tang/Getty Images
When Queen Elizabeth II died in September 2022, it marked a huge period of change for Britain at large, as well as the royal family. They lost their matriarch, their driving force, a mother, grandmother, and friend. While they mourned privately, just like any other family, they also had to present a united front to the public fpr Elizabeth's funeral, held on September 19, 2022. 
Sophie, though now a dedicated fan of colorful looks, stuck to royal protocol by wearing all black. The fitted coat dress was still incredibly beautiful while remaining respectful. By designer Suzannah London, the outfit was embroidered with an elegant floral pattern, giving it some depth. Sophie wore her headpiece at an angle and donned clustered earrings and a diamond brooch, which she doesn't often do. Perhaps this was her way of honoring the monarch, who often wore brooches. The duchess finished off her look with high-street designer L.K. Bennett pumps paired with sheer black tights.
The Duchess of Edinburgh arrives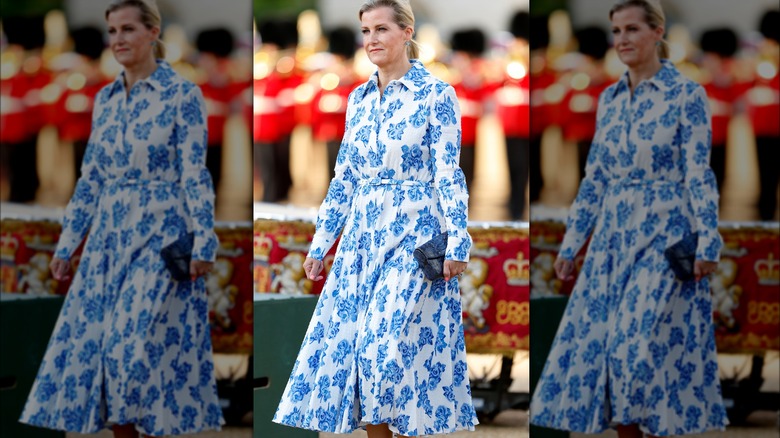 Max Mumby/indigo
She started out as a PR girl, living life in London. Then, she became Sophie, Countess of Wessex, the wife of Prince Edward, mother of two, and dedicated senior royal. In 2022, after the death of Queen Elizabeth II, Sophie, Duchess of Edinburgh, arrived. While her style has been steadily elevating over the past decade, Sophie isn't done blossoming. Her style is going from strength to strength, as evidenced by her stunning floral dress by New Zealand-based designer Emilia Wickstead. The duchess wore the striking outfit to an event at the Horse Guards Parade in July 2023. 
The shirt style, pulled in at the waist by a matching belt, suited Sophie perfectly. The bright blue florals made sure she was seen, and as it was a solo engagement, all eyes were on her. If there ever was a full-circle moment, this is it. The Marion Dress, as it is named, was the right choice for Sophie as she embarks on this new chapter of her royal journey. Sophie accessorized with a navy blue clutch, blue flower earrings, and a pink manicure. She opted for a pair of Prada nude heels, which didn't take any of the attention away from her outfit.