How Kate Middleton's Style Has Changed Through The Years
Max Mumby/indigo/Getty Images
Catherine, Princess of Wales, has undergone an incredible style evolution over the years, transforming from a quaint commoner into a style icon and a cornerstone of the royal family. The world has watched Catherine's style change and evolve as her life has unfolded in front of the cameras — each article of clothing, shoe, and accessory carefully scrutinized by tastemakers and coveted by fans and haters alike.
Although most of Catherine's looks are hits these days, the future queen hasn't always struck the right chords with her ensembles and, unfortunately, receipts exist in the form of photographs. However, her fashion missteps are eclipsed by her impeccable taste born out of an aesthetic she cultivated for herself, thereby establishing the signature look that she's known for today.
Yes, Catherine's personal style has transformed alongside her role within the royal family, and each new look she debuts sets tongues wagging and copycat designers scrambling to capitalize on whatever she touches.
Catherine stepped out in a sheer dress for a charity fashion show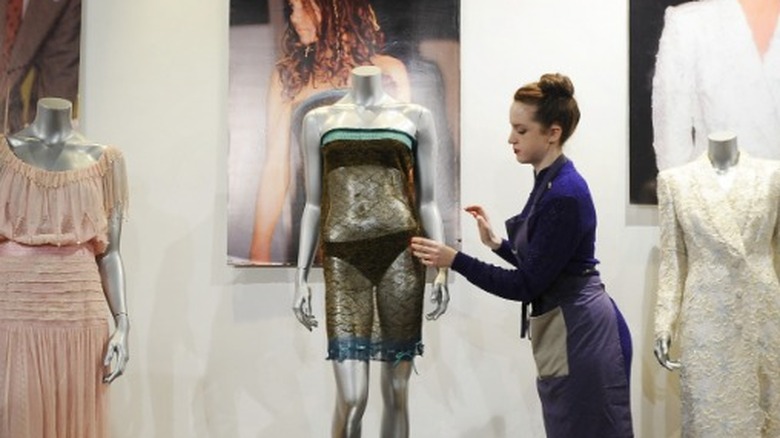 Paul Hackett/Getty Images
Photos from Princess Catherine's time in school suggest that she didn't stray very far from mandatory uniforms or a prep school look until 2002. That's when Catherine appeared in a risqué transparent dress for a charity fashion show at St. Andrews University. This event has been credited as the moment she caught Prince William's attention and led to them making the jump from being just friends to an item. 
The fashion show also marked the starting point for Catherine's fashion evolution, as she experimented with a variety of looks to determine her personal style. Around this time, the cameras were fixed on her every move, thanks to her association with the prince, but this often worked out well for the designers of the outfits she wore. The designer of Catherine's iconic fashion show dress, Charlotte Todd, for example, later sold the dress at auction for an eye-watering sum of $125,000, cementing the notion that anything Catherine wears turns to gold. 
Catherine kept it casual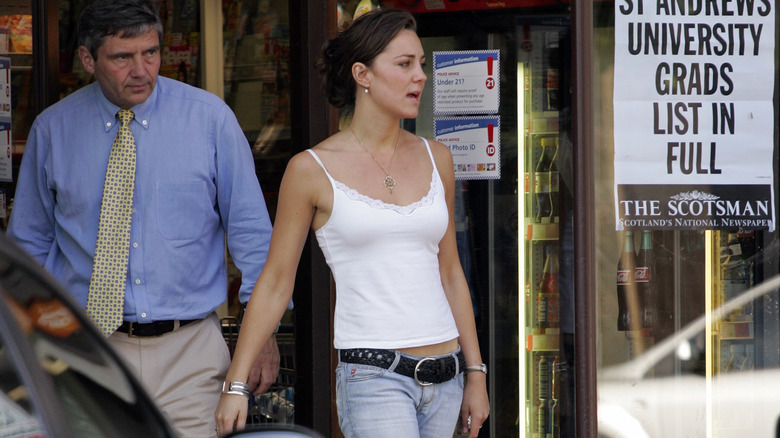 Max Mumby/indigo/Getty Images
In 2006, Princess Catherine worked as an accessories buyer for the U.K.-based clothier Jigsaw, and it appears her style at the time was a reflection of the brand for which she worked. By 2007, Catherine and Prince William were on a break, and photos showed Catherine keeping her selection of fashion casual yet just sexy enough. Was it to show the prince what he was missing? We'll never know for sure.
Regardless, Catherine was often snapped wearing jeans paired with leather belts (like in this 2005 picture from her time at St. Andrews), a variety of boots (both flat and heeled), as well as the occasional halter top. 
Her time working for Jigsaw also played a large role in developing what would become her signature fashion style. The clothing label is known for its classically tailored pieces with stylish cuts — casual yet fashionable enough to transition into multiple settings fairly effortlessly. If this sounds like a sneak peek into what Catherine's signature style would evolve into, that's because it is!
Catherine began to dress the part of a royal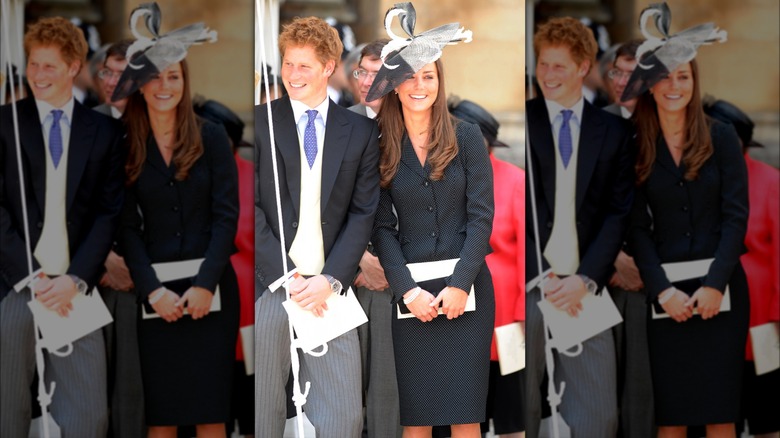 Pool/Tim Graham Royal Photos/Getty Images
When things were officially back on with Princess Catherine and Prince William, Catherine appears to have transitioned into a much more sophisticated look befitting of a future queen. Gone were the bare shoulders, short skirts, slouchy jeans, and clunky shoes. Catherine ramped up her wardrobe with expertly tailored looks, monochromatic colors, and an enviable selection of handbags. 
Catherine appears to have taken seriously her experience working in fashion and the knowledge that her every look would be scrutinized by media from all over the world, and she armed herself with looks that didn't falter. Her impeccable knack for royal fashion caught some serious attention in 2008, when she landed a spot on Vanity Fair's best-dressed list. The outlet specifically gave a nod to this Order of the Garter outfit and Philip Treacy hat.
Clothes can tell a story, and the more Catherine refined her style, the more she seemed to anticipate the weight of the role she was transitioning into.
Catherine debuted her iconic engagement announcement look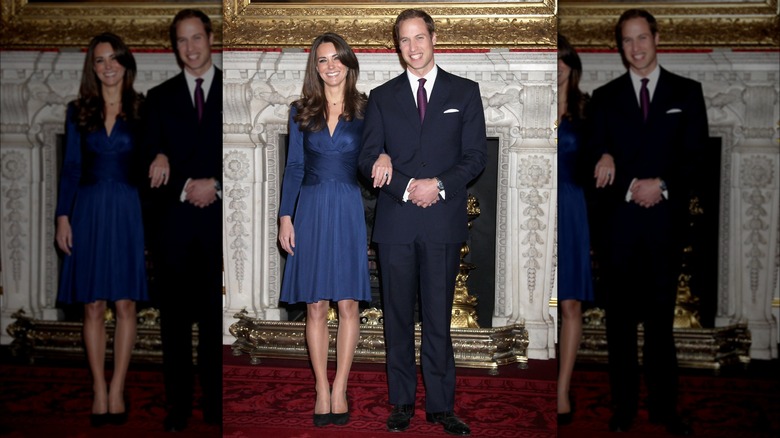 Chris Jackson/Getty Images
In Prince William and Princess Catherine's engagement photos from 2010, the royal-to-be donned a stunning blue dress by designer Issa. Before long, the dress sold out and brands launched copycat dresses around the world. But this ensemble also cemented Catherine's signature look of mid-length dresses, tailored fits, stylish shoes (no more Uggs for her), and delicate accessories. Also worth noting was that the blue dress perfectly matched her blue sapphire engagement ring, a ring that famously belonged to Princess Diana.
Now that Catherine was officially destined to become a duchess and have a wedding that millions of people around the world would watch, she dressed the part. Catherine has been seen wearing similar dresses and colors in the years since, but her engagement photo shoot ensemble is what began the "Kate effect" — her ability to influence fashion in a huge way — and it is still one of her most iconic looks.
Catherine dons flowing floral dresses from time to time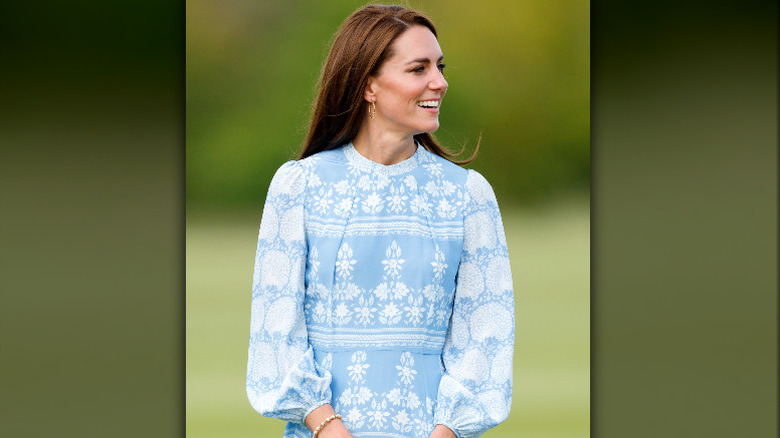 Max Mumby/indigo
Even though Catherine, Princess of Wales, has established a signature look for herself, it appears that she makes sure she never lets her style get too samey or completely predictable. She does so by adding in pieces that color outside the lines of expectations while still maintaining her typical demure style.
Flowing dresses, often with floral patterns, have made their way into Catherine's wardrobe rotation, including this one from 2023's Royal Charity Polo Cup. These delightful dresses demonstrate a different side of Catherine's personality, one that's more relaxed compared to the more serious and guarded persona she normally adopts when making public appearances.
A person's sartorial choices can reveal a lot about their personality, and these more laid-back frocks Catherine wears no matter the season suggest that it's not all business all the time with the princess. She knows how to let her hair down, so to speak, when appropriate.
Let's talk about Catherine's fascinating hats and fascinators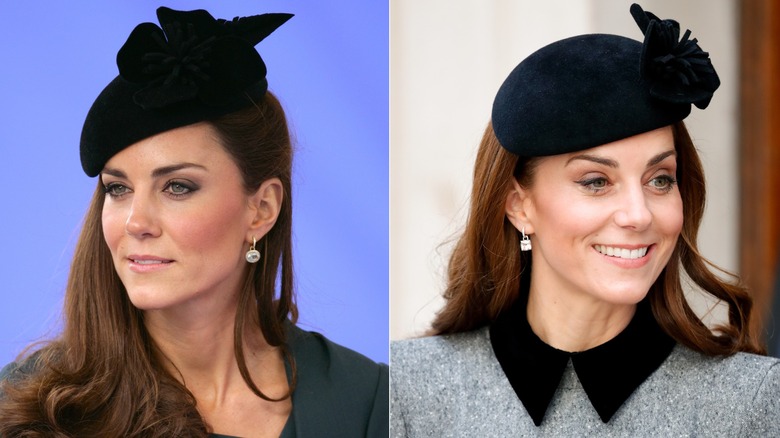 Max Mumby/indigo & Max Mumby/indigo/Getty Images
Wearing a fancy hat goes hand-in-hand with being a royal, and it seems Princess Catherine never misses an opportunity to visit a milliner. But there's more to Catherine's stunning array of hats and fascinators than just looking stylish. As a princess, Catherine has to adhere to the royal family's dress code, which dictates that women wear head coverings when attending formal events.
That doesn't seem to be a problem for Catherine, whose choice of headwear has consistently been impeccably matched with whatever outfit she's picked for the occasion. To boot, the hats are typically expertly color-matched with the dominant color of her ensemble and decorated with accouterments like netting, lace, beads, or feathers.
Even though Catherine and her styling team have chosen some pretty incredible creations by the likes of designers Philip Treacy and Jane Taylor, Catherine has reworn this simple and elegant black hat by Lock & Co. several times — an indication that even though the duchess has a limitless number of options at her disposal, she still has her favorites. 
Catherine leans into pieces that elongate and flatter her frame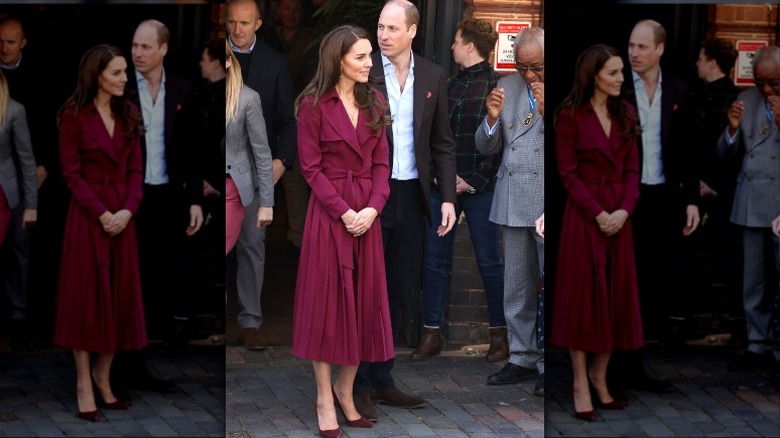 Neil Mockford/Getty Images
Princess Catherine is known for wearing pieces that elongate and flatter her athletic frame, and like many of her wardrobe choices, she likes to wear the same designers over and over. One of the looks that Catherine has been snapped in repeatedly is in an A-line silhouette for her dresses. 
In fact, this has become one of her signature looks, and Catherine still has the golden touch when it comes to her fashion choices. According to Hello Magazine, this gorgeous Karen Millen dress reportedly sold out within hours of Catherine being photographed in it. 
Once again, dozens of replicas that were sold at a variety of price points were quickly produced, and shoppers from all around the globe rushed to purchase them. Though Catherine's dress was a deep shade of red that bordered on jewel tones, replicas popped up everywhere in a variety of colors for eager shoppers.
Catherine rewears select pieces over and over again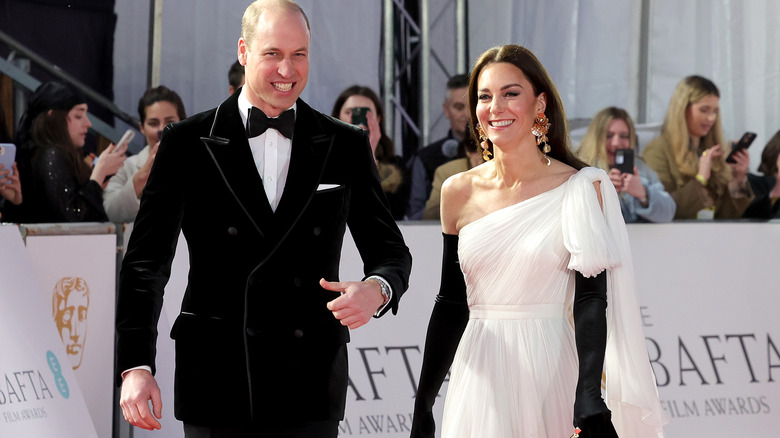 Chris Jackson/Getty Images
As previously mentioned, when Princess Catherine finds a look or a designer that she likes, she tends to wear both the pieces and the labels more than once, including this rework of an Alexander McQueen gown for the 2023 BAFTAs. Catherine is known for her exquisite taste but also for her preference for designers like McQueen, Chanel, and the more casual LK Bennett. 
In fact, LK Bennett was one of the earliest brands Catherine was photographed in when she became a member of the royal family, and the Greta wedge shoe from the brand she was snapped wearing in 2011 made its U.S. debut to a deep waiting list (per Racked). And not only did fashion house Alexander McQueen design Catherine's famous wedding dress, the label is known for making many of her custom evening gowns she wears to galas and big events. 
Catherine is also known for keeping shoes for a long time. Her famous Penelope Chilvers Long Tassel Boots still make a frequent appearance on her feet.
Catherine wears the colors of her country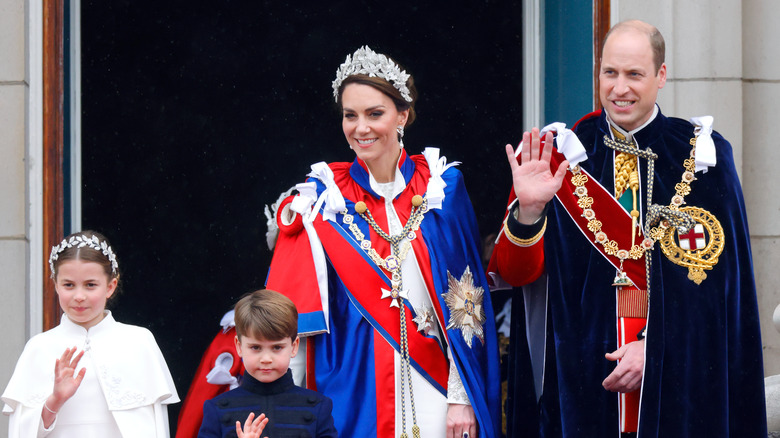 Max Mumby/indigo/Getty Images
As the future queen of England, Princess Catherine makes a point to wear the colors of her country in her attire often, the distinctive red, white, and blue of the U.K.'s Union Jack and the red and white of England's flag, or the Saint George's Cross. Now that she's the next in line to be the queen, Catherine has been stepping up her royal duties lately and attending many events on behalf of the new king, Charles III. 
On Charles' coronation day at Westminster Abbey, Catherine looked simply regal, dressed head-to-toe in the colors of her country as she came to support and honor her father-in-law. The look was designed once again by fashion house Alexander McQueen.

For the coronation celebration in Scotland a few months later, Catherine wore a royal blue coat dress by Catherine Walker & Co and a matching Philip Treacy hat. In keeping with Catherine's style, this look was a repeat from both Easter 2023 and the 2022 Commonwealth Day service.
Catherine's clothing for official royal duties usually skews business-casual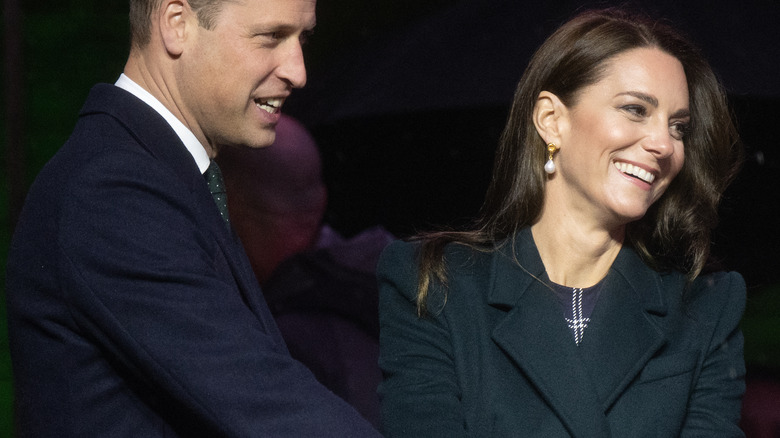 Samir Hussein/Getty Images
While Princess Catherine's choice of clothing for King Charles III's celebration in Scotland was a regal, colorful look that also honored the late Queen Elizabeth II by incorporating the queen's beloved Japanese pearl choker into the ensemble, not every outfit Catherine wears for official royal duties is this grand.
Many times when Catherine is traveling to meet with heads of state or other important persons including dignitaries and politicians, she opts for business-casual attire that consists of matching blazers and skirts as well as smart-looking footwear with a matching clutch or handbag. When meeting with such company, Catherine's wardrobe choice tends to lean toward more serious colors, like navy, dark green, and black (like this sharp fit she wore during her November 2022 trip to Boston), with occasional pops of color. 
But that's not to say that the outfits aren't stylish: Catherine is sure to put her signature polish on every look to ensure each impression is a favorable one regardless of the company she's in.
Catherine's style as a mom of three is still chic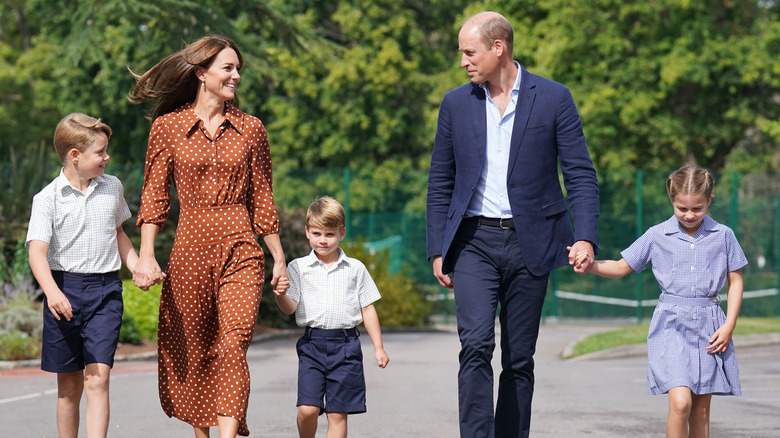 Pool/Getty Images
For all the work Princess Catherine puts in as a member of the royal family, she still makes time for the three most important people in her life: her small children, Princes George and Louis, and Princess Charlotte. Catherine and Prince William have been praised by royal fans for being hands-on parents, and Catherine can often be spotted picking her small children up from school.
The busy royal mom of three will handle pickups and drop-offs to and from school, and reports of Catherine keeping her look uber-casual are abundant. On a 2022 visit to Lambrook School, she wore this polka-dot dress by Rixo.
But even though Catherine may throw her signature locks into a messy ponytail in order to get her kids on time, she is just as frequently spotted out with her kids wearing casual combinations of jeans and flowy shirts, proving that the royals are, at times, just like us.
Catherine always opts for neutral makeup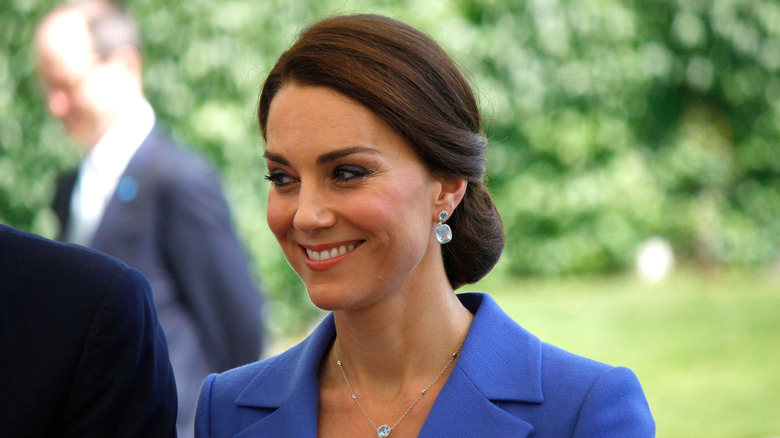 360b/Shutterstock
One thing that's remained consistent about Princess Catherine's signature look is her neutral color palette when it comes to her choice of makeup. She might have dabbled with bolder makeup choices when she was younger, but now that Catherine has morphed into a revered style icon, she tends to gravitate toward the same look for most occasions, which consists of a clean, natural look. 
Catherine doesn't go too heavy on the lips or eyes but always looks perfectly put together, no doubt thanks to guidance from her predecessor, the late queen. Of course, everyone knows that the royals must adhere to a dress code, so Catherine's choice of makeup may also have something to do with the strict guidelines set in place by the late queen. Per Vogue India, these rules include things such as keeping nails short and neat, wearing understated eye makeup, and not wearing bright lip colors. 
Catherine has kept her hairstyles consistent over the years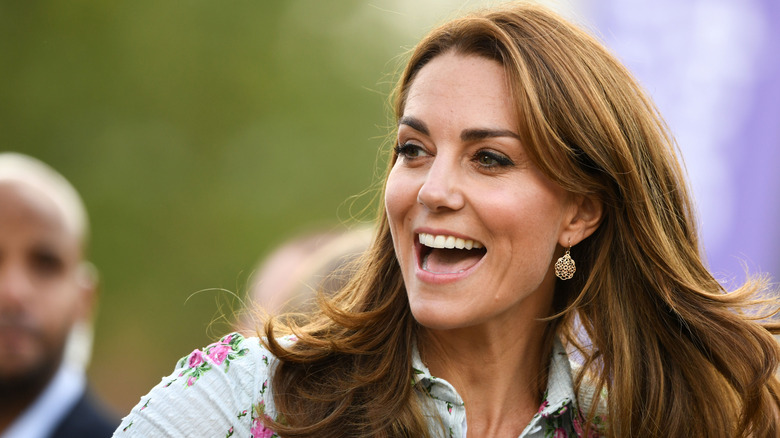 LINGTREN.COM/Shutterstock
One of Princess Catherine's most enduring features over the years is that of her hair, which looks amazing in any royal hairstyle. She often wears her hair long and loose but will on occasion pin it back, particularly when she's wearing a hat. It's part of the look that she's cultivated over the years to be fashionable yet make it look effortless with her signature shoulder-length, structured curls. 
Catherine has also been spotted wearing her hair in stylish updos, particularly for formal occasions or those related to royal duties, but her long hair is most often spotted down and falling just below her shoulder blades. 
In fact, there are a number of hairstyles that members of the royal family are forbidden from having, which again lends itself to the rationale as to why Catherine's hair is almost always perfectly coiffed in public. 
Catherine makes travel look glamorous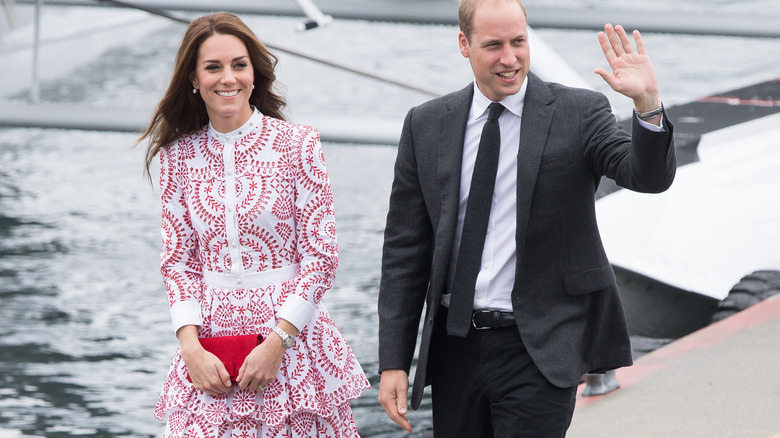 Samir Hussein/Getty Images
While most people try to travel in clothes that will be comfortable for long flights and lines at the airport, Princess Catherine's travel style has consistently impressed, whether she's taking a short flight to a neighboring country in Europe or visiting a country in the Commonwealth on the other side of the world. For instance, she wore this Alexander McQueen dress during a 2016 visit to Canada. But her impeccable travel style comes down to another set of royal family rules centered around travel. 
Not only must members of the royal family be prepared for any occasion at any time (like an unexpected funeral), but they must pack for formal occasions as well as with the knowledge that their arrivals and departures will be captured by media outlets from around the world. 
Since Catherine's windy mishap on the Calgary runway in 2011, she's often opted for more form-fitting clothes, leaving less chance for another wardrobe malfunction and more wardrobe choices that showcase her ever-evolving style.