What We Know About Jelly Roll's Wife, Bunnie XO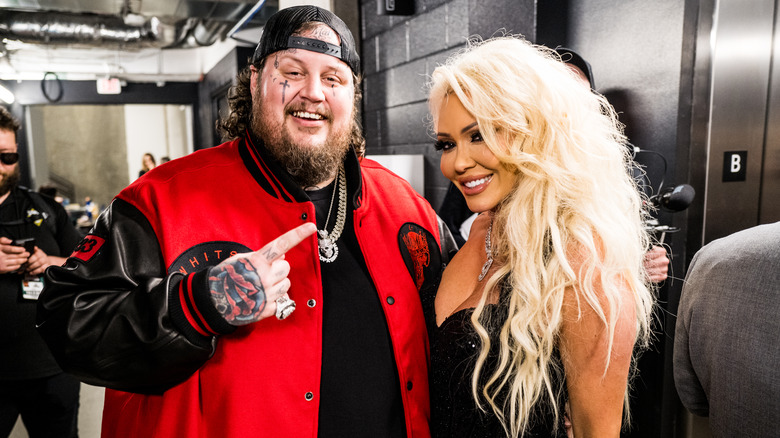 John Shearer/Getty Images
Jason DeFord, aka Jelly Roll, is best known for his career as a country music artist and songwriter. The Nashville-born star has had a tough life, but that didn't stop him from pursuing his dreams. On the contrary, he drew inspiration from his past to create music that people could relate to. The one person who has supported him over the years is his wife, Bunnie DeFord. She helped Jelly Roll get custody of his daughter, Bailee Ann, and raise his son, Noah, who were both born from previous relationships.
Also known as Bunnie XO, the blonde bombshell is a former sex worker turned entrepreneur. The two met each other in 2015 and fell in love at first sight. "When I met her, I was like living out of a '96 van, and I was doing $100-a-night shows. I was dead broke, and she just kind of took to me," the country singer confessed in an interview with Bert Kreischer. Back then, Bunnie was a high-end escort caught in an abusive relationship.
Jelly Roll and Bunnie XO tied the knot in 2016, and their relationship is still strong. "This woman has truly changed my life in every way possible," the artist wrote on Instagram. Her wit and determination have inspired him throughout the years, giving him the strength to overcome adversity. 
Bunnie XO built a successful career all by herself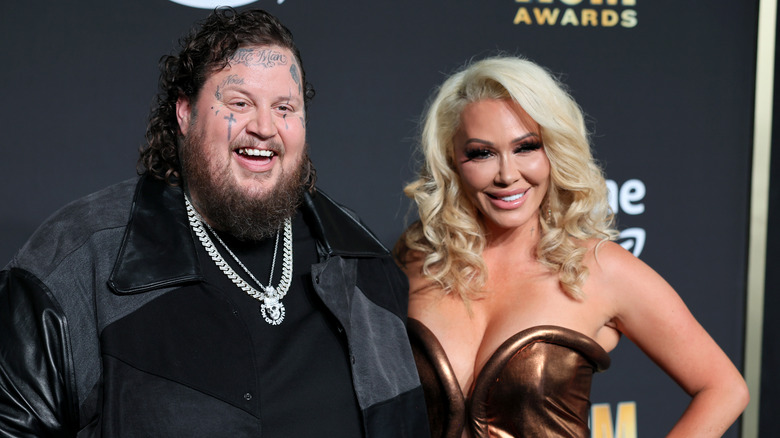 Theo Wargo/Getty Images
Jelly Roll's wife was repeatedly accused of being a gold-digger, but nothing could be further from the truth. At the time she met her future husband, she was making thousands of dollars per night. "I had sugar daddies who gave me half a million dollars. I've had cars bought for me ... diamonds, [and] jewelry," she admitted on the Dumb Blonde podcast. Bunnie XO also said she took her job seriously and lived on her own terms, despite the criticism she received.
Her determination to succeed in life allowed her to switch careers and build a thriving business. Today, she's a model, entrepreneur, and podcast host with thousands of fans worldwide. The Dumb Blonde podcast, which was launched in 2020, addresses sensitive topics like sex work, trauma, and spirituality, and she's not afraid to speak her mind. One success leads to another, so Bunnie decided to start new ventures, including an online store selling branded merch.
"She wanted to build her own empire to empower women and share her story in hopes that it could motivate others to believe that they could change their lives and be happy," confessed Jelly Roll on Instagram. The country star who almost passed out meeting Gwen Stefani also says his wife did everything all by herself with no help from him. Moreover, she made time to help him grow his music career and raise two wonderful children. 
Jelly Roll's wife proved to be a great mother
While there are plenty of things that people without kids don't understand, Bunnie XO proved to be a good mother. The Dumb Blonde podcast host doesn't have children of her own, but she takes great care of her stepkids, Noah and Bailee Ann. In 2022, Jelly Roll thanked her on Instagram for being next to him every step of the way and raising Bailee as if she were her own daughter. "There's a little girl who came into my life, and she stole my heart, and I don't want her to feel like she ever has to sell her body to support herself," Bunnie confessed in her podcast (via The Things).
The social media star also has a close relationship with the mothers of her stepchildren. At some point, she introduced Noah's mother, Melissa, to her Facebook fans. "It takes a village to raise these babies, and, luckily, we have her as a part of the family," she wrote on Facebook. Not surprisingly, her husband's Facebook page has quite a few family photos where we can see how much the kids love Bunnie.
At the same time, she's her husband's biggest fan and best friend. "She helped me get my music career really up and going," he admitted on the King and the Sting and the Wing Clips podcast. The two also have an open relationship, but this aspect has only strengthened their marriage, allowing them to express themselves freely.