Relationship Timeline: Donald Trump Jr. And Kimberly Guilfoyle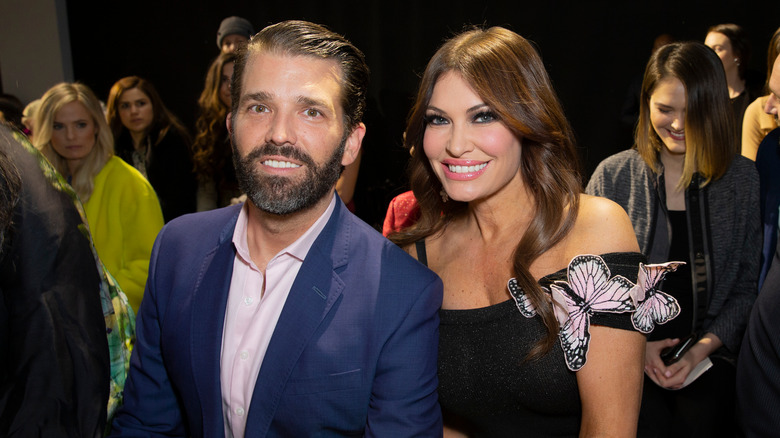 lev radin/Shutterstock
When it comes to romantic relationships in the Trump family, drama is more or less expected. Former president Donald Trump has said "I do" three times, and he was rumored to have been unfaithful in each of those marriages. Not only that, but sexual misconduct charges have plagued the politician for decades, and he and Melania are reportedly headed toward divorce, per The New Yorker. But he's not the only one with a controversial private life. President Trump's eldest son, Donald Trump Jr., has also had his fair share of marital ups and downs.
Don Jr., who's become famous for platforming conspiracy theories on his "Triggered" podcast, was married to Vanessa Trump (formerly Vanessa Hayden) from 2005 until their divorce in 2018. "After 12 years of marriage, we have decided to go our separate ways... We have five beautiful children together and they remain our top priority," the couple said in a joint statement at the time, per CBS. As Vanessa once told The New York Times, it was Donald Trump Sr. who introduced her to her husband... twice. "I'm at this fashion show," the former model remembered, continuing, "Donald Trump comes up to me with his son: 'Hi, I'm Donald Trump. I wanted to introduce you to my son Donald Trump Jr.'" In some cases, it helps to have a playboy father as your wingman.
After over a decade of marriage, however, Vanessa Trump found out Don Jr. was (reportedly) cheating with singer and "Celebrity Apprentice" star Audra O'Day. Although Trump Jr. never commented on the affair, O'Day didn't hold back in confirming the rumors in interviews. Now, Junior is engaged again, this time to Kimberly Guilfoyle.
Donald Trump Jr. and Kimberly Guilfoyle met in 2007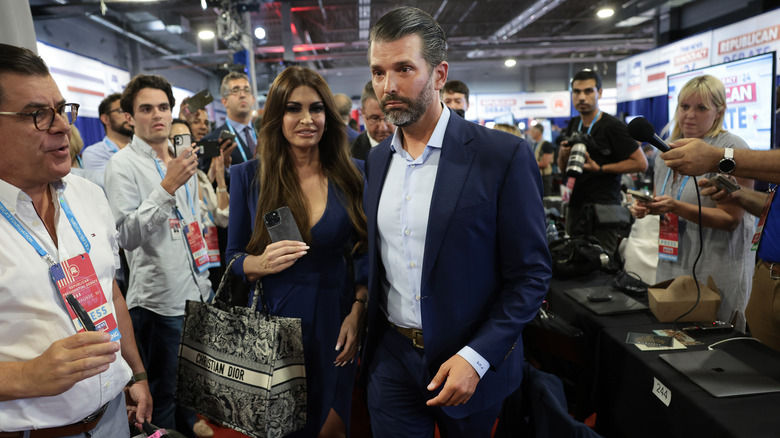 Win Mcnamee/Getty Images
When Donald Trump Jr. and Kimberly Guilfoyle first met, Barack Obama was still an Illinois senator, Don Jr.'s dad was a reality star, and the iPhone had just been invented. Suffice it to say, it's been a slow burn for the MAGA it-couple. Trump and Guilfoyle operated in similar New York City circles in 2007, and their kids even attended the same private school. At the time, Trump was happily married to Vanessa. Guilfoyle, meanwhile, had recently tied the knot with businessman Eric Villency after divorcing California Democrat (and current governor) Gavin Newsom. Suffice it to say, romance wasn't yet in the air for the couple.
In 2007, Kimberly Guilfoyle was a Fox News host and outspoken conservative — she had previously worked as an attorney in California but moved to New York after her first marriage came to an end (she divorced her second husband in 2009). In 2018, the TV personality was ousted from Fox after sexual harassment charges came to light at the height of the #MeToo Movement. According to one former employee, Guilfoyle engaged in a series of inappropriate workplace behaviors, requesting massages and showing off explicit pictures of her sexual partners, per The New Yorker. These allegations didn't affect the host's budding relationship with Don Jr., however. That same year, Guilfoyle and Trump went public with their romance. 
The MAGA couple kept their engagement a secret
In June 2018, the former Fox host and Don Jr. soft-launched their budding romance on Instagram after attending a Poison concert together. When they're not rocking out to '80s and '90s music or kissing on the campaign trail, the couple likes to go hunting and fishing. Fair warning, they even have lovey-dovey nicknames for each other: "Pooh Bear" and "Junior Mint."
In 2020, just a few years after leaving Fox, Guilfoyle became the financial chair of the Trump Victory Committee, officially blending her personal life with business, per The Hill. Reportedly, this was also the year that Don Jr. secretly proposed. "Don and Kim got engaged on New Year's Eve 2020 — which is Don's birthday," an anonymous source told The Daily Mail after news broke to the public in 2022, adding, "They've been together for almost four years now and have been friends for 15 years." The pair later made the move from New York to Florida, house hunting in Jupiter. "They've kept it private for the past year as they settled into life in Florida," said the same insider.
It's unclear when and where the couple will officially tie the knot — for all we know, they already have. In the meantime, Guilfoyle is embracing their "traditional" relationship. "I go out of my way to make sure he has everything he needs – making coffee in the morning, cooking our favorite meals, doing our [family's] laundry, and caring for our home," she told Metropolitan Palm Beach Magazine (via Ok!).