Brooke & Bridget Take Italy! B&B's Katherine Kelly Lang And Ashley Jones Reunite On Vacation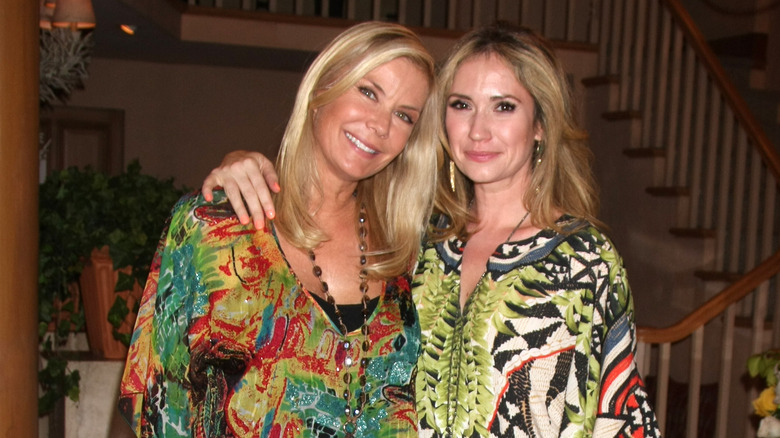 Kathy Hutchins/Shutterstock
Katherine Kelly Lang's "Bold and the Beautiful" character Brooke Logan was at the forefront of a story this year in which she and Taylor Hayes (Krista Allen) buried the hatchet after several decades of feuding over Ridge Forrester (Thorsten Kaye) — only to have their freshly-minted friendship fall to pieces when Brooke got back together, yet again, with him. Meanwhile, Brooke's daughter, Bridget Forrester (Ashley Jones) has been hardly seen since 2012. She came and went a few times since then, and the last time we saw her was in 2021 when she returned home to help Hope with a paternity issue. 
Interestingly enough, Brooke and Ridge's reunion occurred when they were in Italy in June 2023. Lang herself recently returned there, this time with her good friend, Jones. On Instagram, Lang posted several pictures of their trip, as well as a couple of videos, depicting the beautiful architecture in the city of Florence. "Ashley and I have been enjoying Florence! Such a beautiful city!" she captioned the post. Fans loved the photos, noting that both the women and the scenery were beautiful. Several viewers from Italy also chimed in with loving responses, including one that wrote, "Bentornata in Italia," which means "Welcome back to Italy."
Lang and Jones also had another fun Italian opportunity that they shared with their adoring fans.
Lang and Jones did a photoshoot for an Italian designer
Aside from visiting Florence, "The Bold and the Beautiful" stars Katherine Kelly Lang and Ashley Jones also partook in a fashion shoot, of which Lang posted several stunning pictures on Instagram on September 8, with the caption, "Backstage @impero_couture, sneak peek of what we are shooting! Always so wonderful working with Luigi [Auletta] and his team! And @ashleyaubra and I are having a blast!" 
Luigi Auletta is a famous Italian fashion designer who is president of the renowned company, Impero Couture. Auletta also posted a photo of him with Lang and Jones on Instagram. He wrote about how some political turmoil in his native country should be met with a positive attitude and hope for a better 2024. Then he lovingly addressed the actors, stating, "All I have left is to tell you...GOODBYE...it seems like a sad word, but it actually means, until the next meeting, God willing." He explained they only had 2 days left to hang out together, adding a testimonial from the soap stars that said, "We are a big family and this is of great value in difficult times."
One adoring fan, acknowledging that Lang and Jones' off-screen bond translates to on-screen chemistry, responded to Lang's post with the remark, "Love the friendship you two have all from playing TV mom & daughter. Best chemistry, so realistic as Brooke & Bridget. Please get Bridget back for good."