How DAYS' Bill Hayes Once Went From Tonight Show Audience Member To Special Guest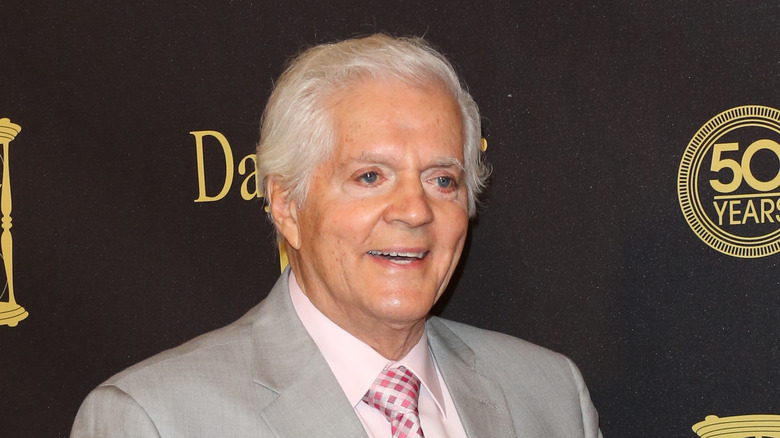 Paul Archuleta/Getty Images
Very few daytime actors are as legendary as Bill Hayes, who has played Doug Williams on "Days of Our Lives" for more than 50 years. Famous for his long-running part on the soap, Hayes is also well-known for his singing career and multiple appearances in various Broadway shows. With his very successful career, Hayes has been interviewed on many talk shows, but one particular time, Hayes wasn't supposed to be the featured guest.
In 2017, it seemed like any other filming of the "Tonight Show" with Jimmy Fallon. As the show went to a commercial break, Fallon went and mingled with the audience members, chatting with them about how they got to come to the show. Hayes' grandson got Fallon's attention and shared that his grandfather had been on the "Tonight Show" three times before, prior to Fallon's hosting. Hayes was brought up to talk to Fallon and share about his impressive career in Hollywood.
Bill Hayes opened up about some of his career highlights
Bill Hayes' grandson couldn't help but brag about his grandfather to Jimmy Fallon, telling him all about his legacy in Hollywood as the "longest-living television actor in the world." Once Fallon insisted that Hayes come up to the stage, he was given a mic and the two men joked around, with Fallon telling Hayes that he was just immediately ready for the camera. Hayes opened up about his career and how he started in show business. He explained that he started working on NBC in the late 1940s, and soon landed a recurring singing role on "Your Show of Shows" with comedian Sid Caesar. To Jimmy's surprise, Hayes also dished about his one-hit record.
"And I have a hit record," he told Jimmy in the interview. "'Ballad of Davy Crockett' is my record." After much cheering and applause, Hayes joked, "It was the best record of 1955. If they'd been doing Grammys then, I would've had a Grammy for it."
Bill Hayes is no stranger to making history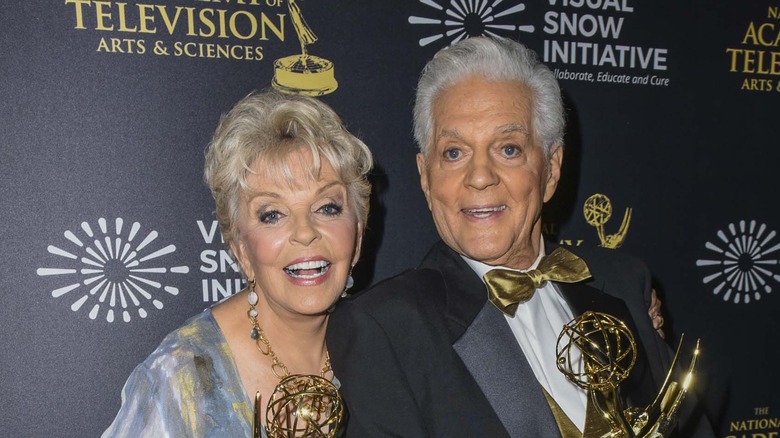 Vivien Killilea/Getty Images
With his long career, it's no wonder that Bill Hayes has broken a few records along the way. Aside from his singing career, Hayes fell in love with his on-screen love interest from "Days of Our Lives," Susan Seaforth-Hayes. The two got married in real life as their characters Doug and Julie Williams made their relationship official, and both supercouples have amassed quite a loyal fan base. In fact, it's precisely their popularity with fans of "Days of Our Lives" that earned them another distinction within the world of soap operas.
In 1976, Bill and Susan Seaforth-Hayes were featured on the cover of Time Magazine's soap opera issue. As one of the earliest soap opera supercouples, Doug and Julie were the perfect fit for the cover. However, the cover held more significance to the world of daytime drama; the Hayes' were the first and only soap opera actors to ever be featured on the cover of Time Magazine. It seems like the Hayes family is just destined to make an impression.