The Most Challenging Scenes To Film On Days Of Our Lives, According To Susan Seaforth Hayes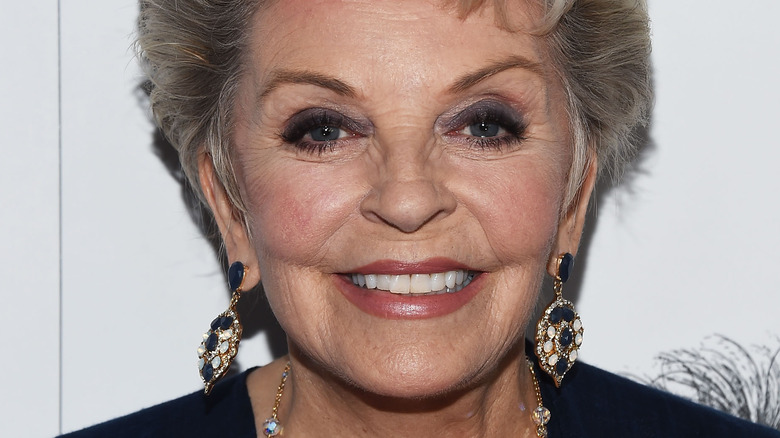 Amanda Edwards/Getty Images
Susan Seaforth Hayes has been a staple on "Days of Our Lives" for decades. The actor first debuted as Julie Olson in 1968, and she's been bringing the drama to Salem for more than 50 years, per TV Insider. Susan has been a favorite among fans for years, and her on-screen romance with Doug Williams — played by her real-life husband, Bill Hayes — is one of the most memorable in the NBC soap's history. On a show where super couples, like John Black (Drake Hogestyn) and Marlena Evans (Deidre Hall), and Bo (Peter Reckell) and Hope Brady (Kristian Alfonso), have taken center stage, Doug and Julie have been a driving force when it comes to committed relationships.
Of course, Doug and Julie's relationship is a reflection of Susan and Bill's real-life romance. When the couple's characters finally tied the knot on television, the pair was allowed to write their own vows for the episode, per Soap Opera Digest. In honor of their actual marriage, the duo opted to use the same vows they recited to each other at their real wedding.
Susan's relationship with Bill is just one of the ways that "DOOL" has changed her life for the better.
Susan Seaforth Hayes is the longest-running cast member on Days of Our Lives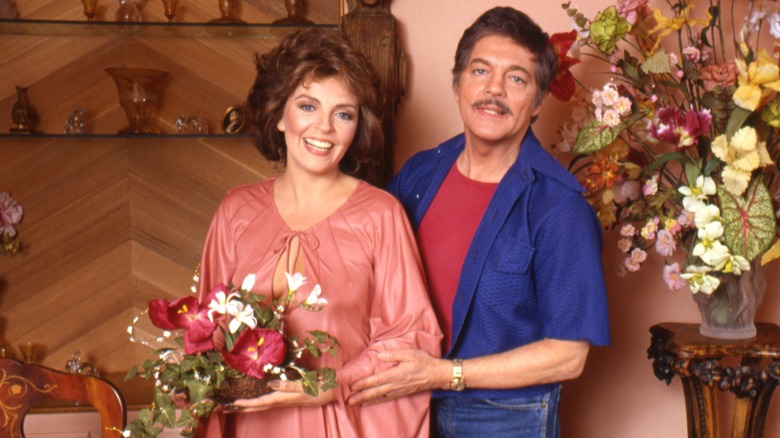 Donaldson Collection/Getty Images
Susan Seaforth Hayes' name will forever be synonymous with "Days of Our Lives." The actor has spent most of her life working on the soap opera and is even the longest-running cast member on "DOOL," per TV Insider. For her part, Susan has gushed over her time on the sudser. Back in 2018, while celebrating her 50th anniversary on the show, the actor admitted that she was thankful for the show, which gave her a marriage, among other things. "'DAYS' has given me friends all over the world and a continued enthusiasm for life. I look forward to the show going on and on and getting to be a part of it," she said, per Soap Hub.
Susan also knows that she and her husband Bill Hayes' characters, Doug and Julie, are holding down the cast as the pillars of the Horton family. Of course, Susan says Julie inherited the chance to be the family matriarch from her late grandmother, Alice Horton (Francis Reid). "Julie has inherited some of the mantel of Alice. She is still a passionate character. It's fun to play," she said.
However, it hasn't been all weddings and grandmothers for Susan and her on-screen persona, as there have been some difficult times on-set for the actor over the years.
Susan Seaforth Hayes opens up about a very difficult moment on-set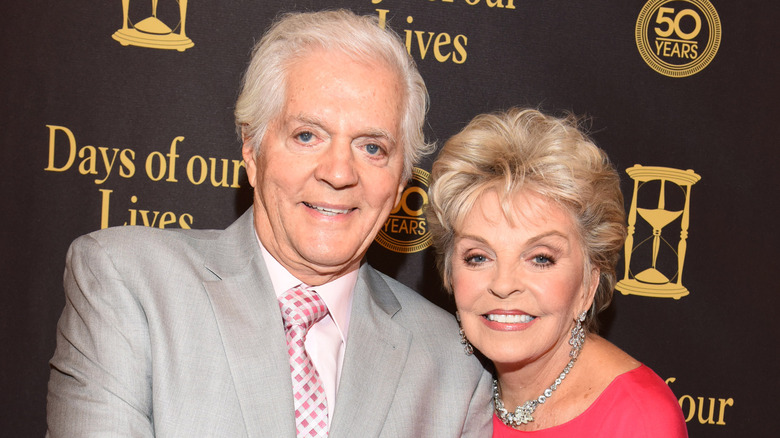 Vivien Killilea/Getty Images
During her time on "Days of Our Lives," Susan Seaforth Hayes has seen a lot of drama, including a messy love triangle between her character Julie, Doug, and Julie's mother, Addie Horton. While the actor is a seasoned vet that knows how to deliver a line and bring the intensity in any scene, things can get difficult on-set. During a recent chat with her co-star, Suzanne Rogers, Susan admitted that some of the hardest scenes she has ever filmed pertain to the recent health of her character, as well as the character of her real-life husband, Bill Hayes, according to Soaps.
"The difficult ones have come more recently," she confessed. "As our characters have matured a lot, our health is always in jeopardy." Susan went on to explain that there was a scene where Doug was thought to be dead. The scene hit her hard because she had to see her husband, Bill, in a casket as his character Doug. Bill celebrated in 96th birthday in June 2021 and still remains a working member of the soap's cast, per Soap Hub. "They had him laid out in the Horton living room in a coffin. It was absolutely terrible for me."
Although things can get tough on-set, fans love the fact that Susan and Bill both continue to bring the love and drama to the soap after all these years.