The Stunning Transformation Of Rebecca Romijn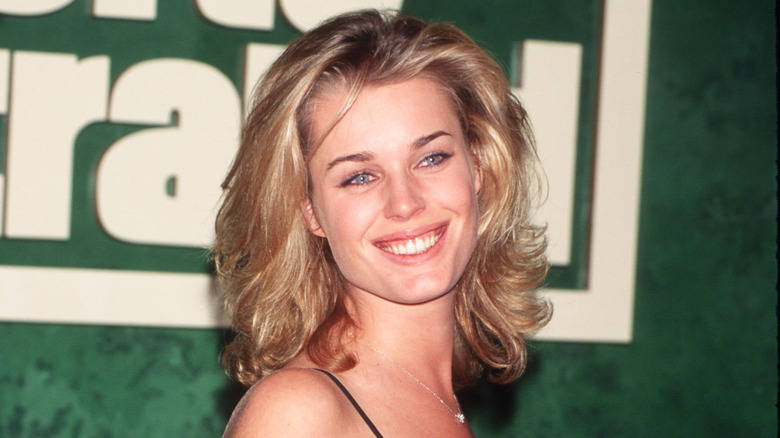 Evan Agostini/Getty Images
Whether you know her from her modeling days, her role in the "X-Men" franchise, or as the host of "The Real Love Boat," you're probably familiar with Rebecca Romijn in some capacity. The 5'11" bombshell started modeling in 1991 and quickly became a celebrated figure on the catwalk before transitioning into a successful acting career in the late '90s and early '00s, so she has been a household name for some time.
Making the shift from modeling to acting was a big change, but Romijn's career isn't the only thing about her life that has changed over the years. She has also been through a lot of personal transitions. Born on November 6, 1972, Romijn has come a long way from her childhood as a budding stage star in California. From her early career on the runway to becoming a successful actor, wife, and mom, it has been an exciting few decades for Romijn, and fans have been witness to her stunning transformation.
Rebecca Romijn always knew that she wanted to perform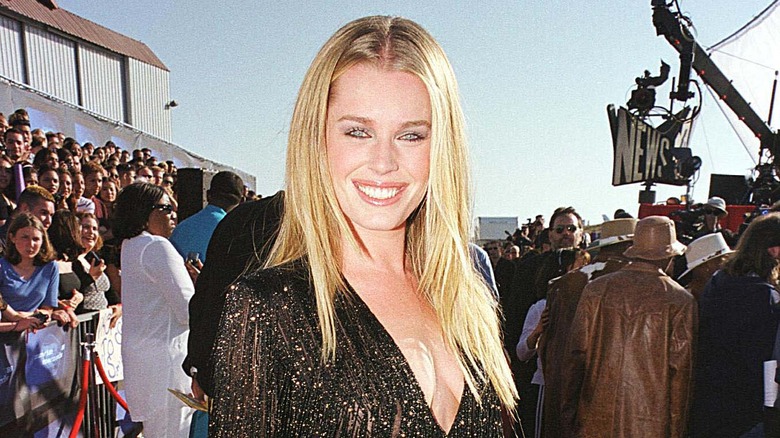 Jeff Kravitz/Getty Images
Rebecca Romijn loved the performing arts from a young age and had a special fondness for musical theater as a kid. "By the time I got to high school, I was doing all the school musicals, I did a lot of Gilbert and Sullivan shows," she said in an interview with Review Graveyard. "I sang in choruses and choirs including the Oakland Youth Chorus."
While the budding star may have loved to act, she never envisioned herself as a professional actor. Instead, after graduating from Berkeley High School in 1990, the young singer headed to the University of California, Santa Cruz, where she put her choir and musical theater training to good use as a music major. While she likely would have thrived had she stayed on that path, she didn't stay in school for long. She dropped out of college after just one year and decided to pursue a different career: modeling.
She became a successful model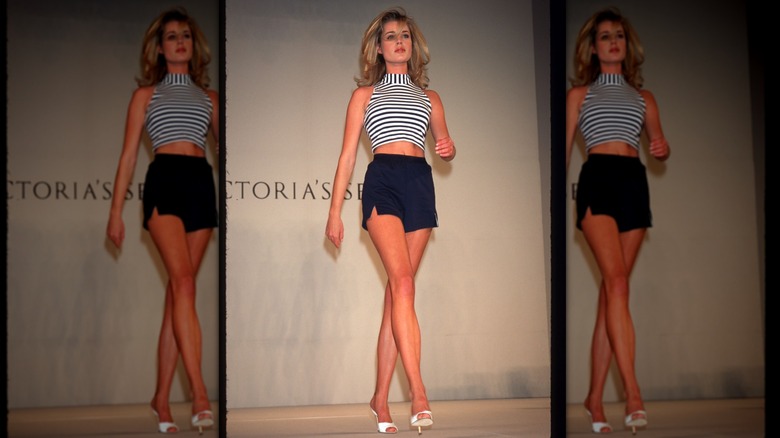 Evan Agostini/Getty
Rebecca Romijn's modeling career took off quickly after a scout was so impressed by her photos that she was sent to Paris to work in 1991. While she had never expected to become a model, she told Review Graveyard that moving to Paris changed everything. Not only did the already bilingual model (she spoke English and Dutch thanks to her father, who was from the Netherlands) learn French, but she also learned about fashion and makeup — an area in which her knowledge was lacking. As she explained to IGN, "My mom didn't wear makeup ... I showed up in these ripped-up jeans and sandals, surrounded by all these girls and their sexy, black model uniforms and their high-heels, running around the cobble-stoned streets of Paris; and I had some catching up to do. I didn't know anything."
Romijn was a quick study, though, and rose to fame on the catwalk working with brands like Bebe, Victoria's Secret, La Perla, and J. Crew. She also became a successful cover model, posing for several magazines including Sports Illustrated, Self, and Shape.
She had a decade-long relationship with John Stamos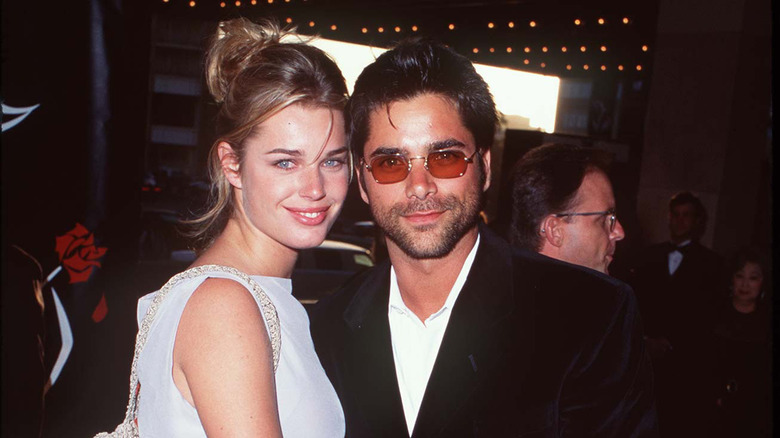 Steve Granitz/Getty Images
At the same time that Rebecca Romijn's modeling career was taking off, her love life was heating up. She began dating "Full House" star John Stamos in 1994 after meeting him at a Victoria's Secret fashion show. They got engaged on Christmas Eve in 1997 and tied the knot the following September, just a couple of months shy of Romijn's 26th birthday. 
For a while, they were a Hollywood power couple, but their relationship wasn't built to last. Their divorce was finalized in 2005 and deeply affected Romijn. "Going through a divorce is terrible, it's awful," she said years later on "The Talk " (via People). "I was with him for 10 years. Divorce feels like a failure and there were a lot of things that I had to let go of that were very sad."
Despite the heartbreak, Romijn looks back on her years with Stamos with affection. "I have a lot of fond memories of him," she admitted. "A lot of things about him that I miss."
A guest role on Friends launched her acting career
Although Rebecca Romijn achieved success as a model, as the '90s wore on, her interest in her fashion career waned. She found herself looking for a change, although she was afraid to voice her true desires. "I've never been one to make plans, because I never wanted to disappoint myself ... I heard models all around me planning on becoming the next big actress, the next big movie star, and I never once said out loud that I would want to do that," she admitted to IGN.
It wasn't until she landed a guest role in a Season 4 episode of "Friends" that Romijn was certain she wanted to get back to her acting roots. Romijn played Cheryl, who dates Ross (David Schwimmer) until he breaks up with her because of her messy habits. Romijn recalled being nervous in her first paid acting gig but said that she had a blast on set. "It was a great experience and almost like working with live theater as you are relying on a live reaction, which is like an energy rush and scary," she told Media Village. "I remember walking out of the soundstage at Warner Bros. that night going, 'It's official. This is exactly what I want to be doing.'"
Other roles quickly followed that 1997 gig. The following year, Romijn made her film debut in "Dirty Work" and appeared as herself in 1999's "Austin Powers: The Spy Who Shagged Me."
She fought hard against typecasting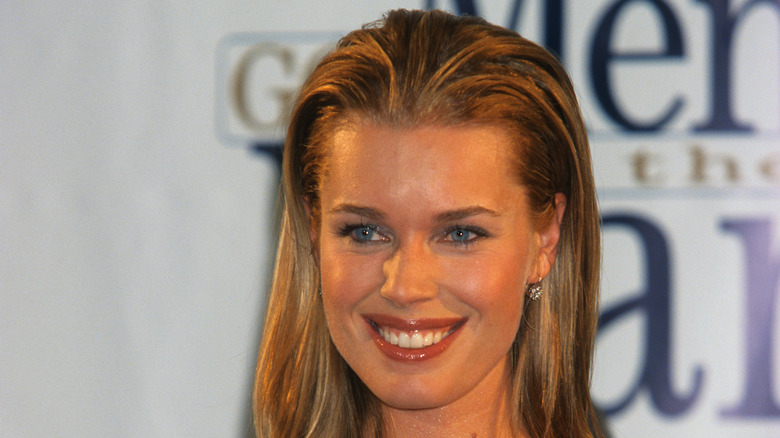 Mitchell Gerber/Getty Images
Making a successful transition from modeling to acting wasn't easy for Rebecca Romijn. Even harder was getting roles that allowed her to show off her wide range. Her role as Cheryl in her guest spot on "Friends" played up her beauty, but Romijn fought hard to avoid typecasting, not wanting to be seen as just a beautiful figure. "I've become really good at turning down the boring, pretty girl roles, the trophy wife, supermodel, beautiful girlfriend roles," she told IGN. "I mean, playing somebody who's perfect holds no allure for me, whatsoever. It's just boring. I'd rather play somebody who's a little broken. Who's got a darker side."
She joined the "X-Men" franchise as Mystique in 2000, playing a shapeshifting mutant who is as beautiful as she is dangerous. A couple of years later, her role as con artist Laure in 2002's "Femme Fatale" showed what she could do with grittier fare. But Romijn wasn't done showing the world the depth of her talent.
Rebecca Romijn flexed her comedy chops in Pepper Dennis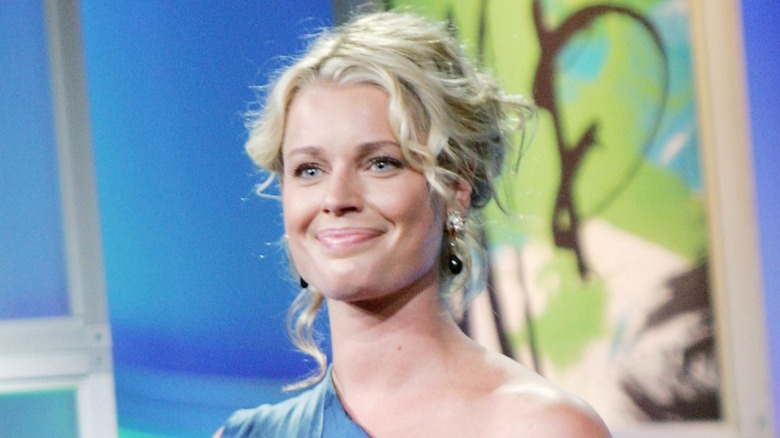 Kevin Winter/Getty Images
By the mid-2000s, Rebecca Romijn had established herself as a versatile actress, but there was still more up her sleeve. While her guest role on "Friends" as well as an eight-episode arc on the sitcom "Just Shoot Me!" had shown that she was capable of comedy, landing the lead role in the dramatic comedy "Pepper Dennis" in 2006 gave her a bigger chance to explore her comedic chops. 
In an interview with AOL Television's Sean Doorly that was reposted on his website, Romijn explained that she hadn't been sure she wanted to commit to a TV show, but that she couldn't resist the chance to play a quirky TV reporter who is trying to navigate her work life and her love life — and a few other complications. "I was looking for anything that would get me excited," she said. "I was reading scripts from the film world and I was reading television scripts. Nothing like this was coming my way in the film world and I hadn't had a chance to do comedy before. I read 'Pepper Dennis' and by page two I was like this girl is crazy. I want to get involved with this."
Alas, the show didn't go over well with critics or audiences and it was canceled after just 13 episodes.
She 'jumped at the chance' to join the cast of Ugly Betty
Rebecca Romijn went on to join the cast of "Ugly Betty," a show about an underdog working in the fashion industry — a storyline reminiscent of Romijn's own early career. She appeared in 33 episodes of the show from 2007 to 2008 playing the character of Alexis, a trans woman. While the role would have been better portrayed by a trans woman rather than a cis woman — something Romijn later acknowledged herself — getting the character on TV at all was a struggle.
Romijn explained to The Independent that the show's execs were reluctant to feature a trans character, and casting Romijn as Alexis is what convinced them to give the storyline a shot. "I jumped at the chance," she said. "I never would be cast in that role today, but I do feel like it helped open doors for the trans community. I'd like to think that, anyway. I don't want to pat myself on the back too much."
The more problematic parts of the storyline, such as using the character's dead name and the inclusion of offensive jokes that probably wouldn't fly today, have been criticized since the show aired, but Romijn said she was committed to portraying Alexis as authentically as she could. "I really wanted to do that character justice — and make her as hot as possible," she said.
She married her second husband, Jerry O'Connell, in 2007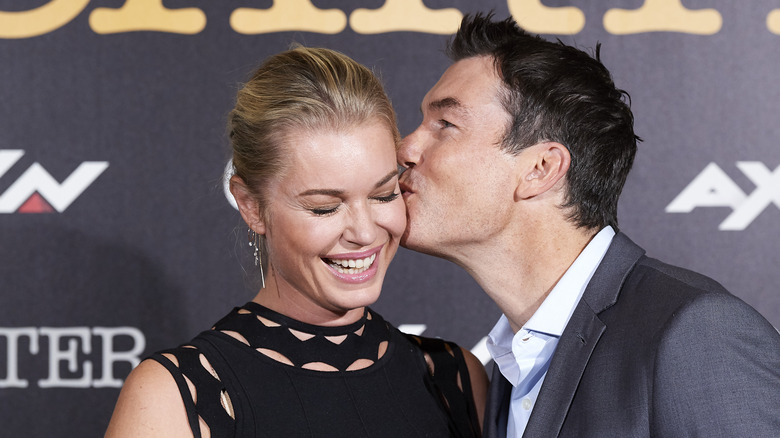 Carlos Alvarez/Getty Images
Rebecca Romijn found love again with "Stand By Me" actor Jerry O'Connell. The couple first met while Romijn was still with John Stamos and, though they connected upon that first meeting, nothing happened between them until Romijn and Stamos split. They met again at a Maxim party in Las Vegas in 2004 and quickly became inseparable. The following year — the same year that Romijn's divorce from Stamos was finalized — they were engaged. "Jerry is amazing, fantastic," she told Review Graveyard in 2006. "He is always in a good mood, all the time and he has a fantastic amount of energy. We get on so well."
The couple were married in 2007 and have been going strong ever since. While the two celebs seem like a match made in heaven, O'Connell considers himself the lucky one. "I'm shocked every day that I have Rebecca as my wife," he told Page Six. "It's why Rebecca wins every fight."
Rebecca Romijn dealt with infertility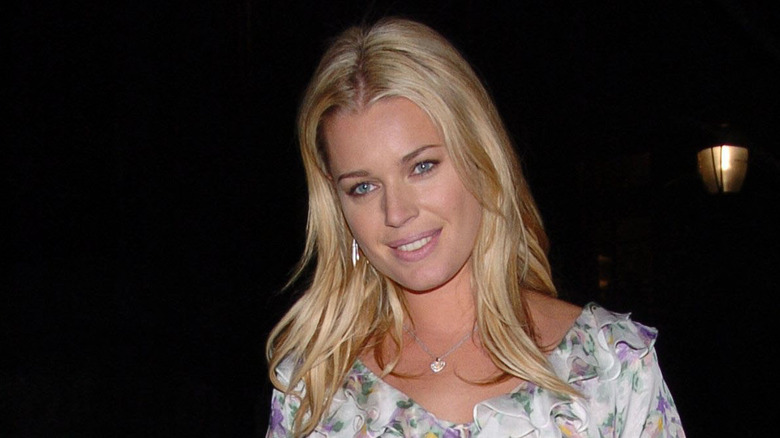 Lawrence Lucier/Getty Images
After accomplishing her professional goals and finding love with Jerry O'Connell, Rebecca Romijn still had one dream that remained unfulfilled: becoming a mother. Fans speculated that she and her ex-husband John Stamos parted ways because she wanted to remain childfree, but the actor stressed to Page Six (via HuffPost) that the rumors were completely unfounded. "I desperately wanted kids," she said. "I was never a girl who dreamed about what her wedding day would be like, but I've always dreamed about decorating my baby's nursery."
In a 2006 interview with Review Graveyard, while she was engaged to O'Connell, she talked about her desire to start a family as soon as possible. "It is actually getting to the point where I get tears in my eyes when I see a pregnant woman," she admitted. "You know it is time to have a baby when you get tearful if you see a pregnant woman. Family is a priority for me."
Getting pregnant wasn't easy for her, though. One of the many celebrities who have struggled with infertility, Romijn underwent fertility treatments in order to finally conceive. After taking the fertility drug Clomid — a process she didn't enjoy, saying, "I think when you start messing with your own hormones, it's crazy-making" — she turned to Chinese acupuncture and successfully conceived at the age of 35. "I know my life will never be the same — but in the best way possible," said the happy mom-to-be to Page Six.
She balances her career and motherhood
Rebecca Romijn and her husband, Jerry O'Connell, welcomed their twin daughters, Dolly Rebecca Rose and Charlie Tamara Tulip, on December 28, 2008. Romijn relished becoming a mother, juggling her career and child-rearing duties, which she splits with O'Connell rather than hiring a nanny. "That's what real life is," she told Redbook. "Once you start paying somebody else to do the grunt work, who are you?"
While her career sometimes requires shooting on location away from her girls, Romijn is also happy to parent full-time when it's her husband who needs to travel. She admitted to People that having twins is a lot of work, saying, "It's hard with twins because it prevents you from being too much of a helicopter mom, You've got two at the same time to take care of, and the one who needs you the most is the one who gets you."
Still, Romijn makes sure her kids get the attention they need and it's clear they're her priority. "It's an honor to raise them," she told her husband on "The Talk," which he co-hosts (via Yahoo). "They make me so proud."
She has a lot of thoughts on the changing modeling industry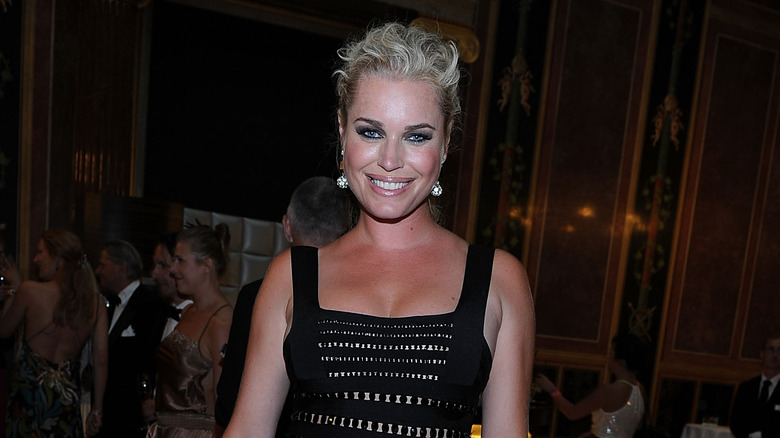 Jason Kempin/life Ball/Getty Images
The modeling industry has changed a lot since Rebecca Romijn ruled the runways in the '90s. Some of those changes are good, such as the industry becoming more accepting of models of diverse backgrounds; Romijn told Entertainment Tonight that she's a fan of curve model Ashley Graham — who has undergone a stunning transformation of her own — saying, "Women don't get sexier than Ashley Graham — she is just as hot as can be."
Romijn isn't on board with the rise of the influencer, though, telling the outlet in 2016 that influencers-turned-models like Kendall Jenner and Gigi Hadid aren't the real deal. "I know a lot of people — legitimate fashion people — can't stand it," she said. "Hate it that these, you know, social media stars are now the supermodels in fashion. They are not true supermodels."
Romijn is also in favor of setting 18 as the minimum age to be a model, warning Fashionista of the dangers of exploitation in the industry. "I think some models are too young when they start working," she said. "And I think that a lot of parents trust that they'll be in really good hands and sometimes they aren't."
She hosted a reality dating show with her husband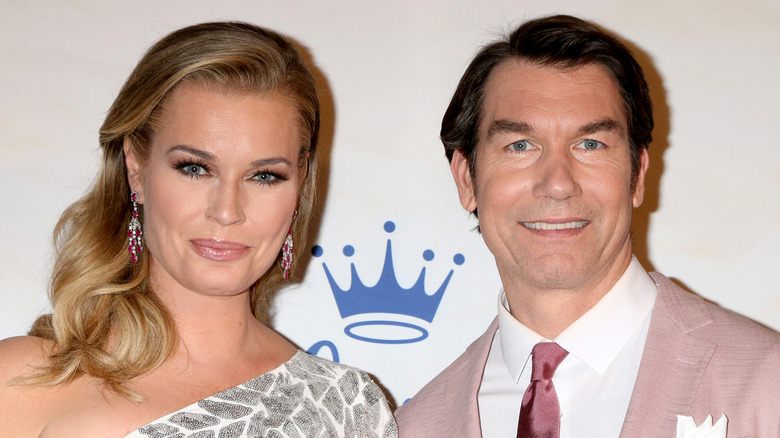 Kathy Hutchins/Shutterstock
Rebecca Romijn's TV talents don't stop with acting. She's also been a reality TV host, helming the body painting competition "Skin Wars" throughout its run from 2014 to 2016. In 2022, she and her husband, Jerry O'Connell, brought their real-life relationship to a reality TV dating show: "The Real Love Boat." Based on the classic TV show "The Love Boat," which aired from 1977 to 1987, the reality show's contestants try to find love on a Mediterranean cruise while competing in challenges for a cash prize and a free cruise.
"It really is sweet, it feels like an event cause it's people who have found love and are looking for love for the second time, and we have a lot of people on our show who fit into that category," Romijn told Entertainment Tonight of the show. "They've had a hard time with love. They've had that love before and they're trying to find it for a second time, we have some nice stories."
Rebecca Romijn isn't afraid of growing older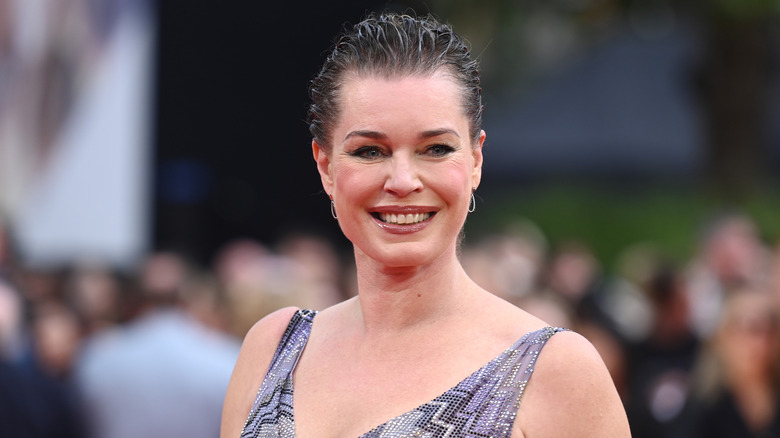 Stuart C. Wilson/Getty Images
Bodies change, but it's not easy for everyone to accept. Many understandably fear the process, and age-defying treatments are common among celebrities. Rebecca Romijn is fine with the ways her body has changed over the years, though. After she had her twins, she told Redbook that she didn't mind gaining weight, viewing it as part of the process. "When you're a new mother, your body doesn't belong to you for a while," she said. "You have to check your vanity at the door."
That attitude has carried over into other body changes, including wrinkles. In 2019, a 46-year-old Romijn told People that she isn't afraid of growing older and that she wants to set a good example for her daughters, just as her own mother did for her.  "I admired my mom's laugh lines," she said. "I find peace in that and hope that when my daughters look at me, they do too."
And why wouldn't she be happy getting older when the years have been so good for her? After all, she's still happily married to Jerry O'Connell, raising her twins, and thriving in her career. More recent notable roles include starring as Eve in "The Librarians" from 2014 to 2018, appearing as Miss Ross in 2022's "Sleep No More," and portraying Una-Chin Riley in "Star Trek: Strange New Worlds" beginning in 2022. And bikini photos posted on Instagram in August 2023 show the star is aging gracefully in her 50s; fans praised her pics, with one commenting, "as beautiful as ever."