Meet General Hospital Star Maurice Benard's Wife Paula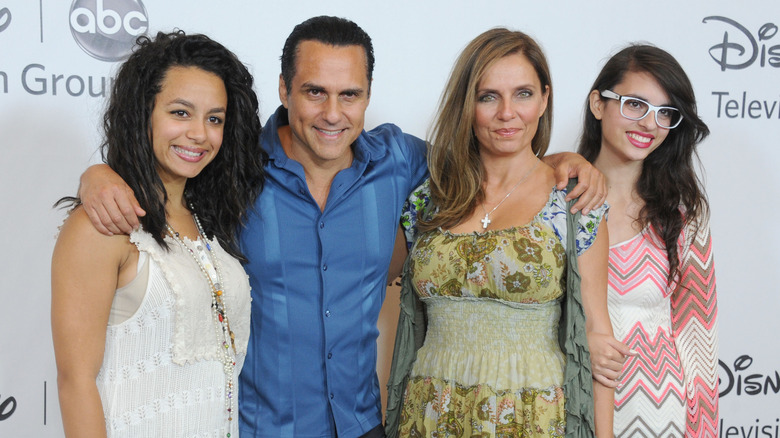 Gregg Deguire/Getty Images
"General Hospital" star Maurice Benard has made a name for himself as the tough-talking mob boss Sonny Corinthos on the hit ABC soap. Just like the mob family on the fictional daytime television show, Maurice values his real-life family just as much. Maurice's journey with adoption has melted the hearts of fans everywhere. He also talks about how proud he is of his family and how much they mean to him.
Maurice has also been very honest about his mental health struggles. Thankfully, there is one person who has managed to help him throughout the years, and that's his wife Paula Benard. According to Soaps in Depth, they have been married since 1990 and have four children together. Paula is also an executive producer and someone who knows the entertainment industry just as well as her famous husband. But their relationship over the years has not been easy. Luckily for Maurice, Paula's strength and determination along with deep love and understanding for him are just a few of the reasons why they are still together today.
Paula Benard has always been by Maurice's side
In his book, "Nothing General About It: How Love (and Lithium) Saved Me On and Off General Hospital," Maurice Benard talks about the good, the bad, and the downright ugly moments in his past. He admitted in an interview with Soap Opera Digest that he had a long and difficult battle with his mental health and his bipolar disease so much so that his family had suffered through a lot while trying to help him. Recalling one of his breaking points, Maurice told the publication that there was one time that he was dealing with his anxiety, depression and a manic episode that truly turned into a dangerous situation. He said, "I got through it... I mean, there was stuff in there, like when I threatened to kill [wife Paula during a breakdown]. It's not easy to talk about, but it was needed."
In his YouTube series, "State of Mind," Maurice interviewed Paula back in 2020. She admitted that dealing with his bipolar illness is something that she "didn't sign up for," but has managed to be there through the good times and the bad because of her strong love for him. "I just do whatever we have to do to manage it," Paula said. "When times are hard, then we dig deeper and figure out what we need to do. But to me, it's almost a question that shouldn't even be asked."
Maurice and Paula Benard are enjoying the good life
Despite everything they've gone through in the past, Maurice Benard and his wife Paula Benard are stronger now than ever before. Together, they are still raising their family and enjoying the perks of being grandparents. The actor often shares behind-the-scenes photos with his grandkids on social media.
Maurice has also made it pretty clear that he still loves his bride just as much as he did the first day that he fell in love with her. Maurice often shares throwback photos of them together to celebrate the special milestones in their lives. For their 33rd anniversary in August 2023, Maurice shared a sweet message to his bride along with photos of them. "Through the highs and lows through the peaks and valleys, what I have learned is, we will always have each other!!! Love you baby. Happy anniversary," he captioned the post.
On their wedding anniversary the year before, Maurice even proclaimed on Instagram that he wanted to pass away first because he never wanted to spend a day without her. Now if that's not love, we don't know what is.