General Hospital Star Maurice Benard's Journey With Adoption Will Melt Your Heart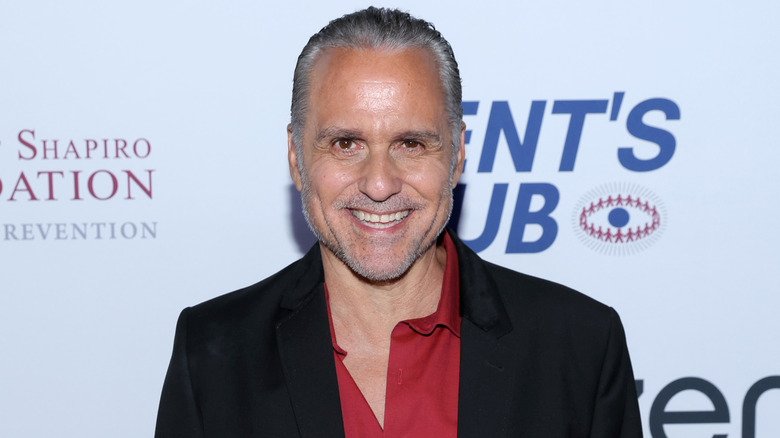 Rich Polk/Getty Images
"General Hospital" star Maurice Benard (Sonny Corinthos) is very proud of all his children, both on-screen and off. He always has a lot of praise for his fictional kids, Chad Duell (Michael Corinthos), Dante Falconeri (Dom Zamprogna) and Kristina Davis (Kate Mansi). He even loves to do impressions of his on-screen stepdaughter Josslyn Jacks (Eden McCoy), leaving his fans in stitches while he's at it. Maurice is so good with children that he even received praise for a "General Hospital" scene in which his character, Sonny, was simply hanging out on the couch with his youngest daughter, Donna Corinthos (Scarlett Brielle). The moment certainly warmed hearts. 
Off-screen, Maurice is just as close and comfortable with his adult children: Cailey, Cassidy, and Joshua Benard. His son Joshua has even starred in a few episodes of "General Hospital" alongside his dad, per Soaps.com. But Maurice and wife Paula Benard have another daughter who fans often don't hear about — Heather. Their adoption journey is definitely like a daytime television storyline of its own, but with a heartwarming twist. Heather is actually Paula's half-sister and joined the Benard family back in 2008, per People.
Maurice Benard and wife Paula adopted Heather at age 15
Sonny Corinthos is a man with many secrets, but his portrayer, Maurice Benard, is an open book. He shares his life stories and mental health struggles on his weekly YouTube series, "State of Mind." Back in 2021, Maurice had a very special guest on the show: his daughter, Heather Andersen. During their chat, Maurice opened up about how he and his wife Paula Benard adopted Heather amid a life that could have easily looked like a heartbreaking soap opera storyline. 
That's because Heather's biological mother was a prostitute and Heather herself was "born on drugs," according to Soaps In Depth. Heather credited her adoptive parents with giving her a life that she wouldn't otherwise have. She also said that Maurice and Paula were two people who set a very good example as parents, which is probably why she felt so comfortable with them, despite her own traumatic experiences. 
Maurice then recalled the first time Heather asked Paula if she could call her 'mom.' The actor told his daughter, "You didn't see me; I just turned my head, and I couldn't talk. You guys hugged... It was one of the most beautiful things I've seen." Even though Maurice plays a mobster like Sonny, who is tough as nails on "General Hospital," he's nothing like that in real life. Maurice could not help but come to tears when he was reunited with Heather after not seeing her for a very long time.
Maurice Benard's reunion with Heather flooded a room with tears
Maurice Benard did not get to see his daughter, Heather Andersen, for several long months back in 2022. That's not because they were estranged, but because Heather had to leave home due to her work with the Air Force. In March 2023, "General Hospital" fans got to see a side of Maurice that they'd never seen before when he was in tears after he reunited with his daughter on the "Tamron Hall Show." It was such an emotional moment that Hall herself couldn't hold back either. According to Entertainment Weekly, Hall told the daytime television star, "You're not the only one who made a special trip today. She wanted to be here — because I know it was rough getting on that plane and coming here — your daughter, Airman First Class Heather Andersen." 
But then again, Maurice knew there was a special connection with Heather from the moment she became a part of his family. He told People in 2008 that he and his wife Paula Benard decided to adopt Heather because they wanted to "give her everything that she couldn't have had before." And if there's one thing that Maurice gives, it's a whole lot of love. When speaking about his family and the dynamic between him and his kids, he told Soap Opera Digest in 2016, "We're a tight family; we're like friends. We love each other. I get emotional even talking about it."