Meet Jenna Lyons' New Girlfriend, Cass Bird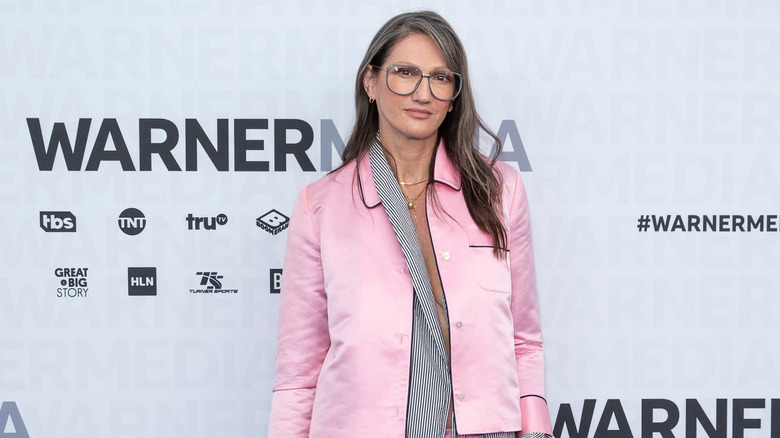 lev radin/Shutterstock
"The Real Housewives of New York City" star Jenna Lyons is climbing the ranks as one of the most adored Housewives. With a highly successful background in fashion as former J. Crew president and creative director, Lyons has made a stunning transformation to reality television. She is giving her supporters an intimate look into her current life and past, which has admittedly made her much more guarded. One aspect of her life that fans are still curious about is her relationship with her partner, Cass Bird. 
While it's unclear when Cass and Lyons initially met, the fashion curator confirmed their romance to the New York Times in June 2023. Both women share several things in common, including lengthy past relationships. Lyons was married to ex-husband, artist Vincent Mazeau, from 2002 to 2011, welcoming a son with him before they split. Cass and her former partner Ali Bird initially met in 1997 and would get together years later, remaining a couple for 14 years.  Throughout that time, they welcomed two children, a son, Leo, and a daughter, Mae. 
Despite the fact that Cass and Ali still have a working relationship, Lyons and Bird became Instagram official in July 2023, when Lyons shared a photo of Cass. The new lovers also spent Labor Day 2023 with one another, which Cass documented on her IG page. Seemingly proud to show off her partner, Cass is much more than just the girlfriend of a Bravo housewife. 
Cass Bird is an established photographer
Cass Bird's profession in photography has afforded her many opportunities. She kicked off her time behind the lens, filming her upcoming friends in entertainment. Her first paid gig was with TV Guide. When 2003 rolled around, she photographed musician JD Samson's "Lesbian Calendar," which helped thrust her work into the spotlight. By 2005, she'd worked with several companies, including Nike and Converse, as well as showcasing her pictures in galleries.
Since then, her career has continued to thrive. Bird has been the mastermind behind multiple prestigious magazine shoots, such as Reese Witherspoon's July 2023 Harper's Bazaar spread and Issa Rae's Elle Magazine cover in October 2022. In addition to her still imagery, Bird has also dabbled in filmmaking. She has shot a short video for Orbitz in 2021, highlighting the love within same-sex couples. The year prior, Bird filmed an interview with a former human trafficker as part of a project with Open Door Foundation Romania, a non-profit that helps trafficking victims.
Cass Bird likely won't appear on The Real Housewives of New York City
Even though Jenna Lyons and Cass Bird are not hiding their relationship, neither seems eager to have it play out for viewers. During a July 2023 episode of "The Real Housewives of New York City," which aired one month after Lyons confirmed she and Bird were an item, the Love Seen founder said she would not be filming with her partner. According to her, Bird decided she did not want their union to be in the public eye, a decision that Lyons wished to honor. In the past, Lyons' personal life was the topic of debate when she was outed by the New York Post in 2011 for being in a lesbian relationship with her former girlfriend, Courtney Crangi. 
At the time, she had not told her loved ones about her sexuality and was in the middle of a divorce from her ex-husband, Vincent Mazeau. This likely motivates Lyons and Bird to keep their relationship away from the masses. With Bird also having a star-studded occupation of her own, keeping her personal matters off-camera is probably for the best.