Hallmark Star Tyler Hynes' Secretive Relationship History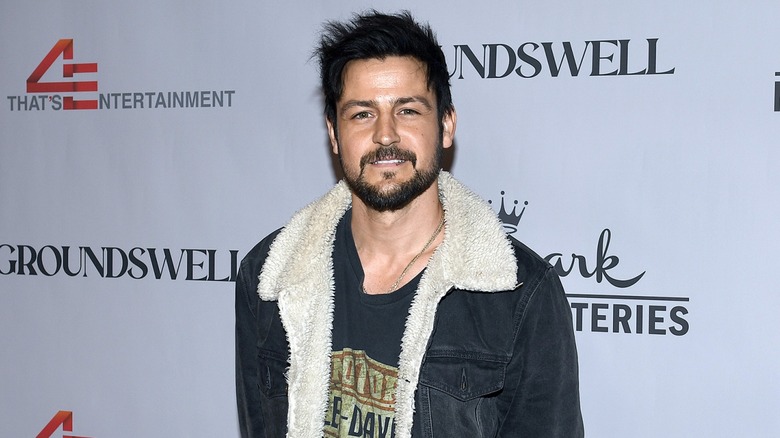 Michael S. Schwartz/Getty Images
Since his Hallmark Channel debut in the 2018 movie "Falling for You," Tyler Hynes has been capturing the hearts of the network's audience. Despite being one of the most beloved stars on one of America's most popular television channels, Hynes has somehow managed to keep his relationship history and current affairs completely out of the limelight. That wouldn't be as surprising if the actor, for example, had no social media presence or wasn't as popular as he is. However, given that he's a fan favorite at Hallmark (according to a Just Jared poll) and considering his large Instagram following, it's quite hard to believe there's no real information on anybody the star might've been romantically involved with.
As Hynes stays focused on his career (other than acting, he's dabbled in producing and directing), rumors about his potential love interests keep swirling but always remain unfounded. Nonetheless, he has given us a glimpse of his state of mind when it comes to love by describing his criteria for the perfect first date. Considering that Hynes is (allegedly) single at the moment, we assume nobody has been able to fulfill his requirements.
Hynes allegedly dated an Instagram model
The claim that Tyler Hynes dated Racquel Natasha is the most substantial piece of information on Hallmark's favorite's love life, but it was never officially confirmed by either of them. Natasha is an Instagram model and influencer of Portuguese, Indian, Chinese, and Guyanese descent, according to an interview she did with Mood for Thought, but she was raised in Canada from a young age. The "Three Wise Men and a Baby" actor allegedly posted a photo of her on his Instagram account sometime in 2017, as per Blurred Reality, but deleted it soon after and has never commented on the topic.
Hynes is Canadian and splits his time between Canada and the U.S., so it would make sense for him and Natasha to bond over the Great White North. Still, there are no signs of any connection between the two, at least not on their social media accounts. As of this writing, Hynes is reported to be single, but given his private ways, he could very well be tangled up with someone and just hiding it. According to some, it could even be a Hallmark co-star of his.
Fans wanted to see him with Hallmark colleague Erin Krakow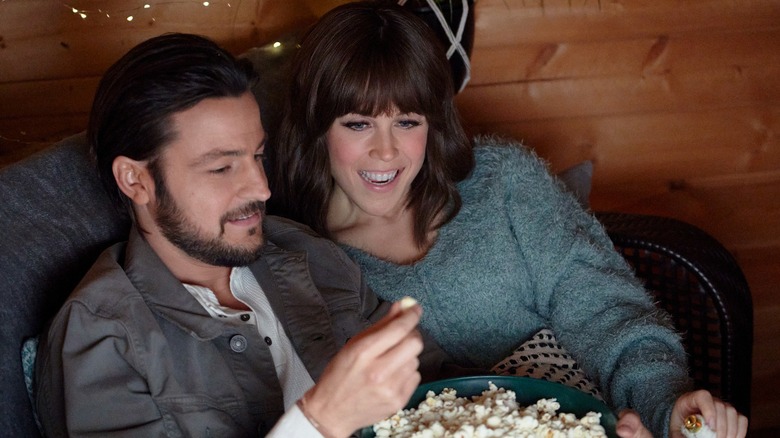 2021 Crown Media United States LLC/Luba Popovic
After seeing the couple's on-screen energy in Hallmark's "It Was Always You," many started to wonder whether Tyler Hynes and Erin Krakow are dating in real life. "Maybe a sequel off screen ... in real life. The chemistry with [Krakow] was extraordinary," a comment said under Hynes' Instagram post. Another read, "They are so great together. I only wish they were together in real life." Unfortunately, the Hallmark power couple remains wishful thinking, as the two stars are definitely not a couple. While they do act like they're falling in love very well, it hasn't really happened (at least not yet).
Krakow was actually the one to request Hynes for the part of David (whom her character, Elizabeth, ends up with), despite not having worked with him prior. Hynes commented on her advance in an interview with ET, saying, "I'm very thankful she did [ask for me] because we had a very nice time." The two hit it off before ever meeting in person, Hynes shared, as they exchanged silly text messages to get more comfortable with each other before filming started. Krakow admitted their connection felt effortless, which is exactly what translated onto the screen. Honestly, it does sound like some serious real-life chemistry, but we wouldn't get our hopes up for anything more than a great friendship between the two.