How Steve Harvey Subtly Shut Down Rumors His Wife Marjorie Cheated On Him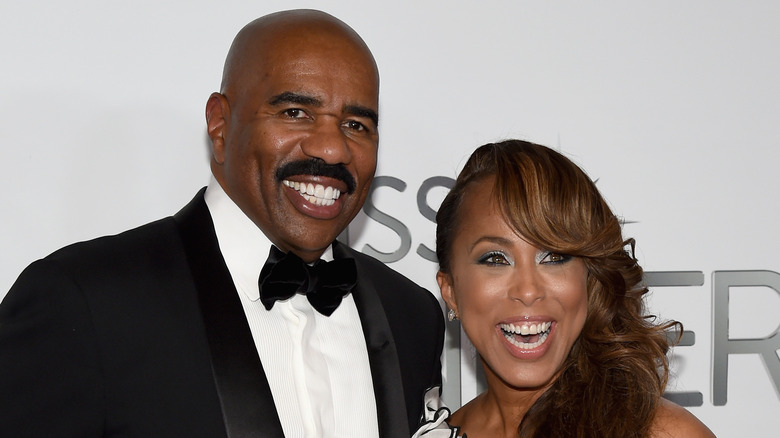 Ethan Miller/Getty Images
In late August, rumors that Steve Harvey's wife, Marjorie Harvey, had cheated on him began to circulate on social media and quickly went viral. It's unclear how the rumors started, but, according to Entertainment Weekly, an unconfirmed report surfaced that claimed that Marjorie had been caught stepping out on her husband and was seeking a divorce. Both Steve and Marjorie, who have been married since 2007, have spoken out publicly about the reports, and they have vehemently denied any wrongdoing. 
"Before I get started, just let me say I'm fine. Marjorie's fine. I don't know what y'all doing but find something else to do because we're fine. Lord have mercy," Harvey said while speaking in front of an audience at Invest Fest 2023 in Atlanta, Georgia (via TikTok). Around the same time, the "Family Feud" host took to Twitter to share an article that was written about his wife. The title of the article is "10 Times Marjorie Harvey Proved She Was a Style Maven." Along with a link to the post, Harvey wrote, "Is it any surprise that I wake up grateful and happy every day?" 
That very same day, Marjorie took to her Instagram feed to respond to the rumors that she had been unfaithful. 
Marjorie Harvey called out the 'lies' in a candid post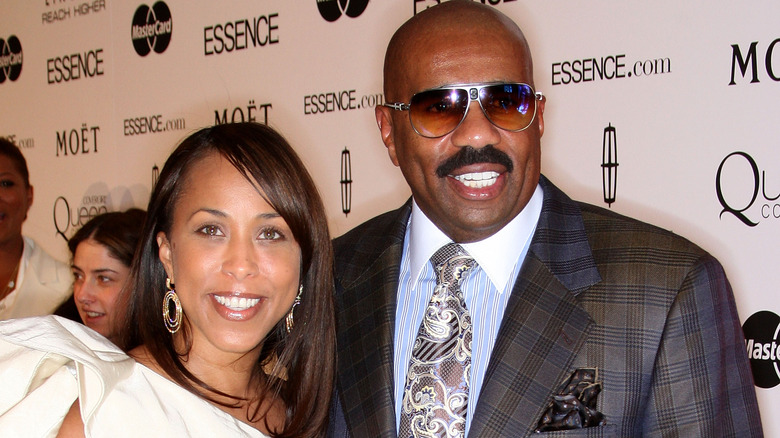 Frederick M. Brown/Getty Images
Marjorie Harvey and Steve Harvey rarely find themselves in the news, let alone the tabloids, so the story of an extramarital affair seemed to really take off. According to the Daily Mail, one of the main rumors that was circulating about Marjorie was that she cheated on her husband with a member of the couple's security team. The person in question wasn't named and no other specific details were revealed in any online reports. Shortly after the rumors started taking off, however, Marjorie penned an Instagram caption in which she denied any and all  claims that she had cheated on Steve. 
"My husband and I don't usually stop to address all the foolishness and lies that have been spread about us," she wrote. "However to whom much is given much is required. I understand that with my platform comes some sort of responsibility to those that may not be as strong as we are. Read and share this with your love ones that may not know how to properly cope," she added. The majority of the comments on the post were in support of the couple and many social media users applauded Marjorie for speaking up for herself and for her marriage.
Steve Harvey defended his wife on his radio show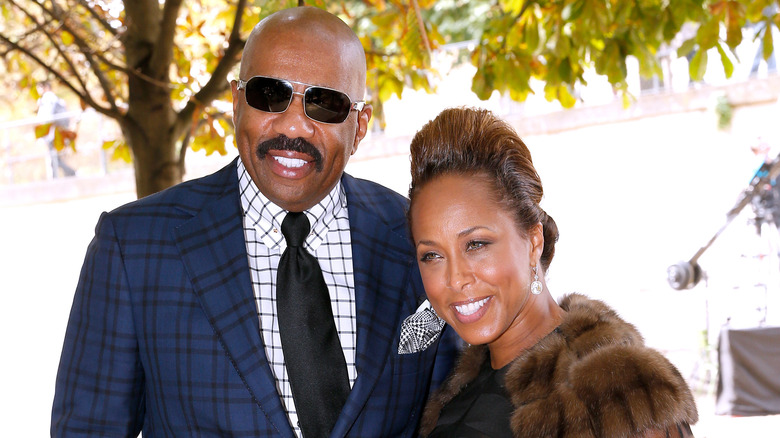 Bertrand Rindoff Petroff/Getty Images
While Steve Harvey and Marjorie Harvey are undoubtedly ready to move on from the cheating rumors, Steve took an opportunity to speak out about his wife on the September 11 episode of "The Steve Harvey Morning Show." "The woman I married is a good woman. She's the best thing to ever happen to me. She's God-fearing, she's loyal, she's faithful, and she's a kind and loving person. I don't care what nobody say — and y'all quit talking about she was in my other marriage and ruined it. She didn't. She was nowhere around that," Steve said.
Steve and his wife first met at a comedy club in 1990 but didn't start seriously dating until a decade and a half later, according to People magazine. The report indicates that it was actually Steve's bodyguard who is responsible for getting Steve and Marjorie back in touch. In the time since, they've gotten married, blended their families, and have been each other's biggest supporters through thick and thin. It seems that these cheating rumors truly have no merit and likely won't even be a blip on the radar for these two lovebirds (and we're so relieved).