What We Know About Olivia Rodrigo's Controversial Ex-Boyfriend, Zack Bia
After Olivia Rodrigo released her second studio album "GUTS" on September 8th, 2023, fans of the singer started speculating about the potential inspiration behind the record's 12 tracks. The California native's debut album "SOUR," which launched in May 2021, was largely rumored to be influenced by her relationship with her "High School Musical: The Musical: The Series" co-star Joshua Bassett.
In this way, fans have been looking to the star's subsequent relationships in an attempt to identify the real-life influences for her sophomore album. This includes her brief but controversial relationship with Zack Bia, whom she began dating in February 2022. While the connection only lasted a few months, with the relationship ending by August 2022, it's rumored to be the inspiration for her lead single, "Vampire."
In this way, many fans have been taking a moment to investigate the music executive and his Hollywood background. For all your questions, here's everything we know about Olivia Rodrigo's controversial ex-boyfriend Zack Bia.
Zack Bia is an influencer, professional DJ, and music producer
Zack Bia was unexpectedly launched into fame as a 19-year-old college student in 2015. After he was mistakenly assumed to be a member of rapper Fetty Wap's entourage, the New York native was singled out by a Los Angeles club promoter, which served as the catalyst for Bia's entry into the business. If you're unfamiliar, club promoters are hired by venues to market events and curate a crowd, working to maintain a club's desired reputation and vibe.
While Bia started out as a low-level promoter, he eventually went on to work with the high-profile hospitality company H. Wood Group, where he became connected with stars like Luka Sabbat and Dominic Fike. Most notably, Bia was befriended by legendary rapper Drake, who featured the club promoter in a since-deleted post on his Instagram page in 2017 and then in the music video for his song "Money in the Grave."
It's through the sign-offs of such notable celebrities that Bia was launched into mainstream fame, eventually turning this social clout into professional success by pursuing professional DJing, which really popped off during quarantine with the virtual DJ sets he hosted on Instagram, and launching his own record label. In 2018, he founded Field Trip Recordings, which has since signed artists such as Yeat and SSGKobe.
Olivia Rodrigo's 2023 album is rumored to be about Zack Bia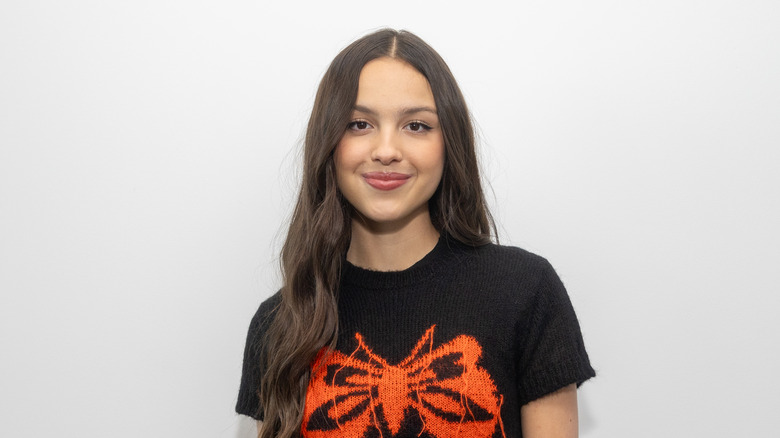 Emma Mcintyre/Getty Images
Olivia Rodrigo and Nick Bia began dating in February 2022 following the "Good 4 U" singer's rumored relationship with film producer Adam Faze. As mentioned, the romantic connection lasted only a few months, with the pair allegedly splitting by August 2022. At the time, Rodrigo's rumored relationship with the professional DJ was particularly controversial with fans, as Bia is seven years older than the then 19-year-old.
Rodrigo hasn't confirmed any speculation about the inspiration behind her "GUTS" songs, but she has revealed that the tracks were largely influenced by her experiences following her debut album. She discussed her songwriting process with the New York Times, saying, "I had such a desire to live and experience things and make mistakes and grow after 'SOUR' came out, I kind of felt this pressure to be this girl that I thought everyone expected me to be" (per People). "And I think because of that pressure, maybe I did things that maybe I shouldn't have — dated people that I shouldn't have."
Based on this, as well as lyrics referencing an age gap relationship, avid listeners of Rodrigo have speculated that the song "Vampire" is based on her controversial relationship with Bia. While we don't think we'll get any confirmation on this theory anytime soon, we can't help but enjoy the bop either way.