The Stunning Transformation Of Isla Fisher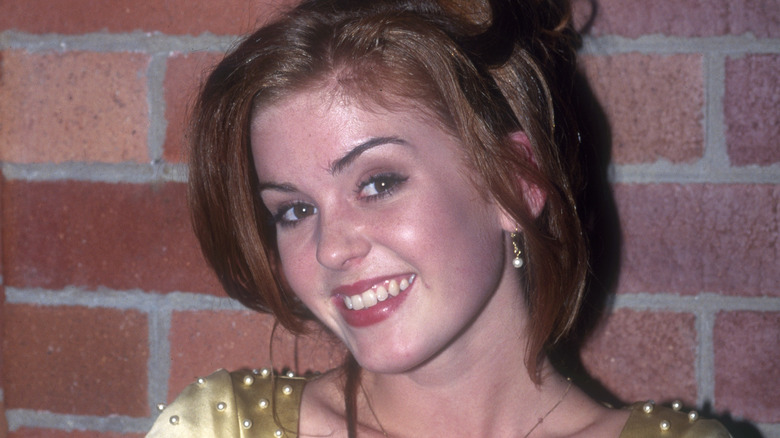 Peter Carrette Archive/Getty Images
Based on her bold performances in flicks like "Wedding Crashers," "Confessions of a Shopaholic," "Now You See Me," and "The Great Gatsby," it may be hard to believe that actor Isla Fisher can be a fearful person at times. "I've always been a little bit scared. Even now when I walk downstairs, I can have the image of me falling down and cracking my two front teeth or something," she once told Digital Spy. "I'm just a bit of a nervous nelly. I don't think that's really changed."
While she may feel like a "nervous nelly," Fisher sure has overcome those nerves. From an early age, she figured out how to let her true self shine. Or, as she cheekily put it in a 2009 interview with Entertainment Weekly, "I've always been confident tapping into my inner idiot." From the new kid in school to Tinseltown star, this is the transformation of Isla Fisher.
Isla Fisher moved around a lot due to her father's United Nations job
Isla Fisher had an eclectic childhood. Her family hails from Scotland but she was born in Oman — though she spent most of her formative years in Australia, so she considers herself an Aussie. Both of Fisher's parents are Scottish. Because of her dad's career as a banker for the United Nations, Fisher and her four brothers experienced life in multiple countries when they were young. By the time the actor was 6 years old, her family settled in Perth, Australia, and she would remain in the land Down Under until adulthood. 
Moving around a lot can be tough on a kid, but Fisher figured out a surefire way to connect with her new classmates. As she told Marie Claire in 2021, "I went to a different school every year from elementary through middle and I had to learn to be funny to make friends." That natural sense of humor would get her far in her career, as would her ability to let go of any negativity lobbed her way. "Whatever the excuse [casting directors] gave me, my brothers had already prepared me by pointing out my failings during adolescence! I had a thicker skin when I got into show business and that may have helped with the longevity of my career," she said.
Isla Fisher's mother paved the way for her acting career
Isla Fisher was inspired to become an actor at just 4 years old — though she didn't start seriously thinking of it as a viable career until the ripe old age of 11. One of Fisher's early memories is of watching her mother in a local production of "Twelfth Night." "I thought, 'Ooh, this seems really exciting and fun' when I was backstage and everyone was getting their dresses and makeup done," she recalled in Glass magazine. "From the time I was very young, I always liked the idea of performance, but equally, I was very shy."
When Fisher felt ready to give acting a shot, she didn't sit idly by and wait for opportunity to come knocking. Rather, when she was still a preteen, she took matters into her own hands. "I managed to look in the Yellow Pages, pre-Google days, and I found myself an agent, spoke with them on the phone, and then I was lucky enough to get cast in something," she recounted. And the rest, as they say, is history.
Fisher's first major role was in the Australian soap opera "Home and Away," which she starred in from 1994 to 1997. In the late 1990s, she moved to London to chase her acting dreams. She recollected the career leap during an interview with the Independent, telling the outlet, "It was that classic period of your life where you're just trying to work out your identity. ... I remember doing a lot of West End theatre."
She found solace in books as a child
Books were a big part of Isla Fisher's childhood, an important constant in her ever-changing world. As previously noted, her family moved around a bunch when she was little, and adjusting to new schools over and over again could be difficult. Thankfully, books could provide her with some comfort. As she told Balance in 2017, "They were my safety net in so many ways, and a great form of escapism for me." 
In a separate interview with Cosmopolitan, the actor looked back on being the forever "new kid." "It was difficult at the start because I was very bookish — I was literally sat in the corner reading books, with no friends," she said. Even after Fisher figured out how to use her sense of humor to bond with classmates, she still experienced rough days, like any school-aged child. She confessed to Barnes & Noble, "On the days that my comedy material sucked and no one wanted to eat lunch with me, I would hide in a book. I almost preferred reading a book to having friends as a kid."
Fisher's love for books blossomed into a love for writing when she became a teenager. She co-authored two young adult romance books with her mother, "Bewitched" and "Seduced by Fame," and she would return to her writing roots decades later as an adult. 
She attended a prestigious clown school in Paris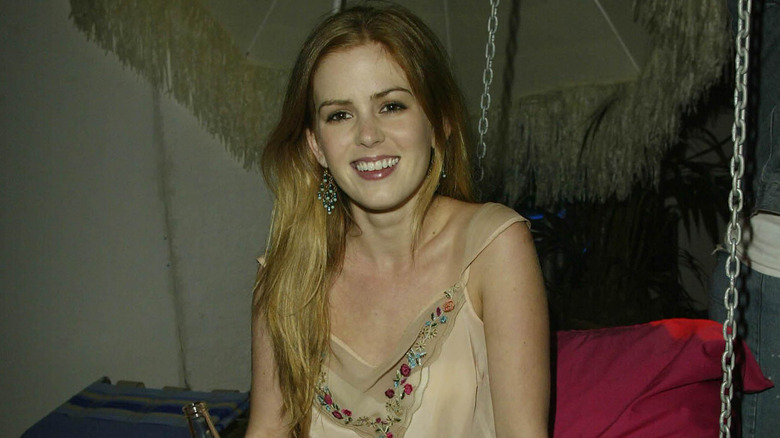 Dave Hogan/Getty Images
At 21 years old, Isla Fisher headed to Paris for clown school. This wasn't just any clown school, but L'École Internationale de Théâtre Jacques Lecoq, an institution that counts Geoffrey Rush and Emma Thompson as alumni. And both actors inspired Fisher to enroll. Of Geoffrey Rush's work in the movie "Shine," she said in the Independent, "I just wanted to one day be able to physicalize my comedy like that. Slapstick, mime, making a funny face — there's just something about that I enjoy more than anything." And in a 2013 chat with Cosmopolitan, Fisher dished, "I knew Emma Thompson had been there and she was a big deal at the time with 'Sense And Sensibility,' and I thought, 'Oh, wow.' It sounded so romantic and exciting and different."
Of the many things she learned at clown school, Fisher said one of the most important lessons was how to embody a character from the outside in. As she said in Marie Claire in 2021, "[Lecoq] taught me to think about how [my characters] walk and talk — it's like putting on a costume, and doing that then informs all the internal work." Additionally, the actor learned how to see her physical "flaws" as an advantage. Fisher, who stands at 5'3", learned how to play up her small stature — a skill that would come in handy when she was acting opposite a very tall Vince Vaughn in "Wedding Crashers."
Her big debut alongside Scooby-Doo
Isla Fisher's first break in Hollywood — and her very first major movie role — was in "Scooby-Doo." She played Shaggy's totally far-out girlfriend Mary Jane in the 2002 flick, which also starred Matthew Lillard, Sarah Michelle Gellar, Laura Cardellini, Freddie Prinze Jr., and Rowan Atkinson. Fisher told the Los Angeles Times that she not only enjoyed making that movie, but making enough money to treat herself. "I had a paycheck! I had a paycheck every week," she said. "I remember I went out to restaurants. People were teasing me for being in a movie with an animated dog and I was like, 'Are you crazy? I had a Thai meal for dinner.'"
Not long after Fisher and fellow actor Sacha Baron Cohen started dating in the early 2000s, Fisher narrowed her focus to comedic roles. "My husband said, 'You're the funniest person I know — you should be doing comedy,' and before that it just never crossed my mind," Fisher told the Independent. She recalled feeling self-conscious when she asked her agent to pitch her for comedy roles, but the next week, she got an audition for the movie that would really put her star on the map: "Wedding Crashers."
"That was my breakthrough performance," she fondly remembered of her award-winning 2005 role. "Every time I'm traveling, a TSA officer or an immigration officer will say, 'I'll find you!'" Fisher shared, joking: "Clearly I'm still more recognized for that performance than anything else."
She experienced a 'low point' after Wedding Crashers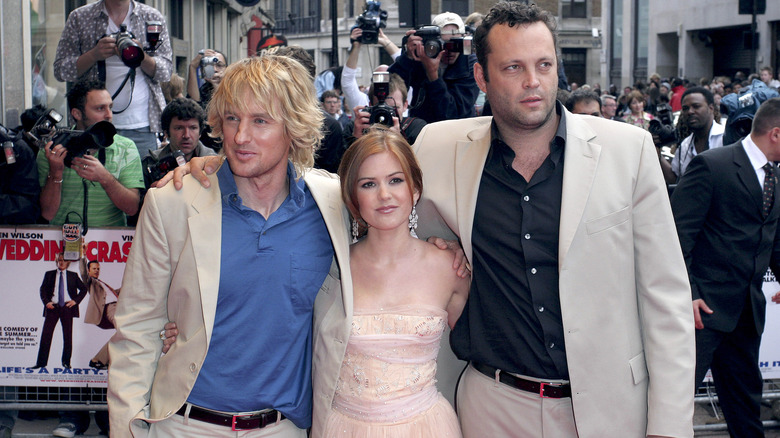 Goffredo Di Crollalanza/Getty Images
Isla Fisher's acting career surprisingly went through a bit of a drought following her breakout role in "Wedding Crashers." Though she'd proven herself alongside Christopher Walken, Jane Seymour, Owen Wilson, and Vince Vaughn — and even won an MTV Movie Award for her gut-busting role — Fisher didn't land another acting gig for a year. "After doing ["Wedding Crashers"], I had 12 months where I was auditioning three times a day and I didn't get a single job. That was a real low point," Fisher shared with Women's Health.
Though the "Definitely, Maybe" star's career lull proved to be temporary, she admitted during an interview with Glass magazine that she still finds auditioning difficult, going as far as saying she's become worse at trying out for roles as she's gotten older. "I'm very lucky because now I tend to get involved [with projects] at an earlier level, so I can avoid auditioning, but when I do have to audition for a role, I'm always so much more nervous than I used to be," she said.
Isla Fisher's career put the pedal to the metal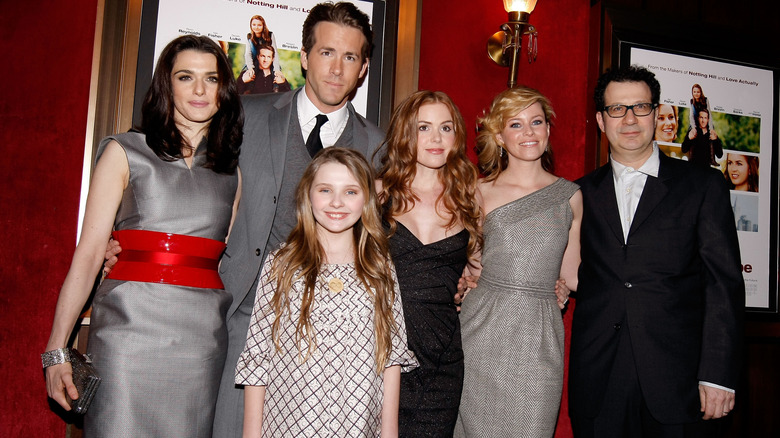 Jemal Countess/Getty Images
By 2007, Isla Fisher's career was officially back in full swing and she was sharing the screen with A-lister after A-lister. In the span of just a few years, she was in "Hot Rod," "Definitely, Maybe," "Horton Hears a Who!," "Confessions of a Shopaholic," "Rango," and "Bachelorette." Her costars in that five-year span included everyone from Andy Samberg and Bill Hader to Elizabeth Banks and Rachel Weisz to Hugh Dancy and Joan Cusack to Kirsten Dunst and James Marsden. 
In 2013, Fisher was in "Now You See Me" alongside veterans like Morgan Freeman and Michael Caine. She was in "Life of Crime" with Jennifer Aniston. And, of course, she was in "The Great Gatsby" with Tobey McGuire, Carey Mulligan, and Leonardo DiCaprio. When asked about what it was like working with DiCaprio on an episode of "Watch What Happens Live" in 2022, Fisher noted that he made a point of remembering all of her kids' names. "He's such a generous person," she said.
After that, Fisher was in "The Brothers Grimsby," "Nocturnal Animals," and "Keeping Up with the Joneses." She added another comedy to her resume with 2018's "Tag," and the following year, she was in "The Beach Bum." In "The Brothers Grimsby," she acted alongside her husband, Sacha Baron Cohen — something she'd previously said she wasn't interested in. "Personally, I think we collaborate on enough behind closed doors," she told Gotham in 2013 (via ET). "We're working on some really important collaborations, and I think that's more important."
She married fellow actor Sacha Baron Cohen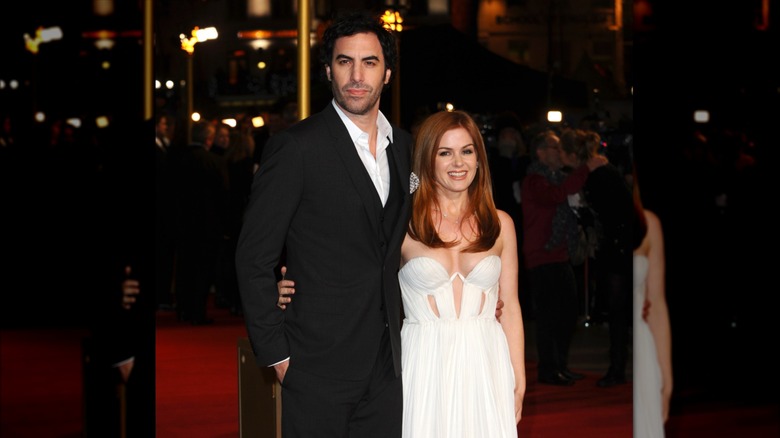 Anthony Harvey/Getty Images
Isla Fisher met Sacha Baron Cohen at an industry event in Australia in 2002, and they've been together ever since. In a 2020 interview with The New York Times, Cohen recalled, "We were at a very pretentious party, and me and her bonded over taking the mick out of the other people in the party. I knew instantly." The couple got engaged in 2004, then tied the knot six years later during an intimate ceremony in Paris. Before they got married, Fisher converted to Judaism.
Fisher and Cohen welcomed their first child, a daughter named Olive, in 2007. A year after they married, the actors added a second daughter, Elula, to their family. Then in 2015, Fisher gave birth to a baby boy, whom she and Cohen named Montgomery.
Though they remain one of Hollywood's most enduring relationships, Fisher and Cohen keep their personal life out of the limelight. The "Now You See Me" star explained to The Australian Women's Weekly, "I feel like, by not having my relationship in the public domain and not having spoken about how we met or really talked about our marriage publicly, it's remained something private and valuable to me. ... And, otherwise, I just think it's nice to keep some things for yourself."
Since becoming a mom, she prefers smaller roles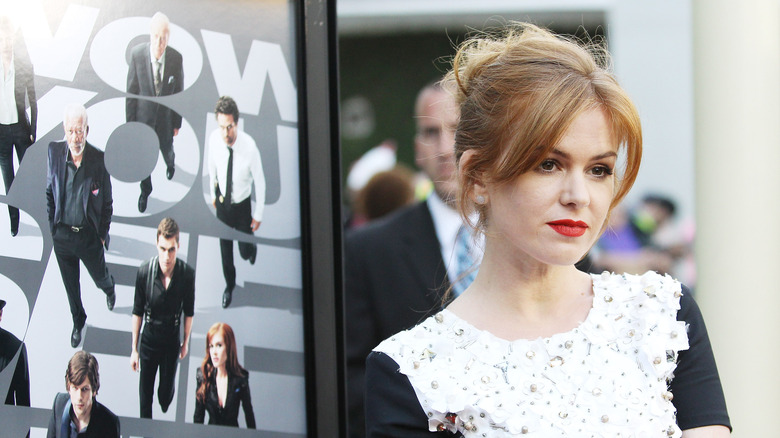 Michael Tran/Getty Images
After becoming a mom, Isla Fisher's career goals shifted. While she's open to going after leading roles again when her kids are older, the actor told The Scotsman in 2013 that she gravitates more toward supporting roles with large ensemble casts. "I definitely don't want to do the lead role in a movie," Fisher asserted. "The hours, being away from my young family, the pressure of having to open a movie. Once you go down that road, it feels creatively and emotionally and mentally and physically way too challenging for me." She continued to share how much she enjoyed work on "The Great Gatsby" and "Now You See Me" because she was able to maintain her work-life balance. "[Y]ou get all the perks of your job, the actual job — you get to do great work, you get to carry the emotional arc of the movie, you can take more risks creatively because it's a smaller role so you can really push yourself to try new things," she said. 
In a 2017 chat with Balance, Fisher explained how difficult it is to come by roles she's genuinely interested in that also allow her to be present and involved in her kids' lives. "You're very limited in what you're able to do," she admitted.
She teamed up with her Hollywood doppelgänger in 2016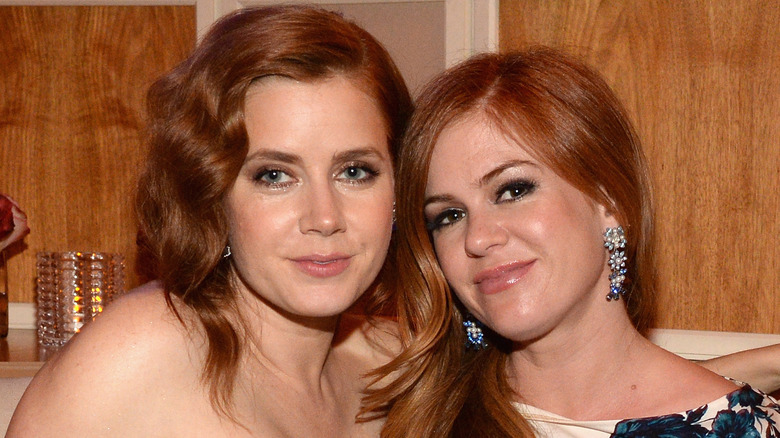 Kevin Mazur/vf15/Getty Images
For years, Isla Fisher has been mistaken for fellow red-headed actor Amy Adams — even by fellow celebrities. On a 2017 episode of "Jimmy Kimmel Live!," Fisher recounted a particularly funny moment when Lady Gaga approached her at a Vanity Fair Oscars party because she thought she was someone else. (We'll give you three guesses.) "She's heading right towards me, and she says, 'Thank you. Your performance in "American Hustle," Amy, was...' and I'm thinking, 'Oh my gosh. It's Lady Gaga. I love her so much. I don't want to tell her the truth,'" Fisher recalled. "So I just gracefully thanked her and bowed my head. ... And then I look over her shoulder, and there's Amy Adams walking into the party! So I'm like, 'There's Isla Fisher.'" 
Now, before you ask if anyone's ever seen the two in a room together, first of all, please see the photo above. And second, Adams and Fisher both appeared in 2016's "Nocturnal Animals." Granted, their characters existed in separate storylines, but still, they were in the movie together. In a chat with the Los Angeles Times, Fisher shared how jazzed she was to call Adams a costar: "It was like 'Finally, we can put the rumors that we're the same person to rest!'"
Isla Fisher got back to her roots and became a published author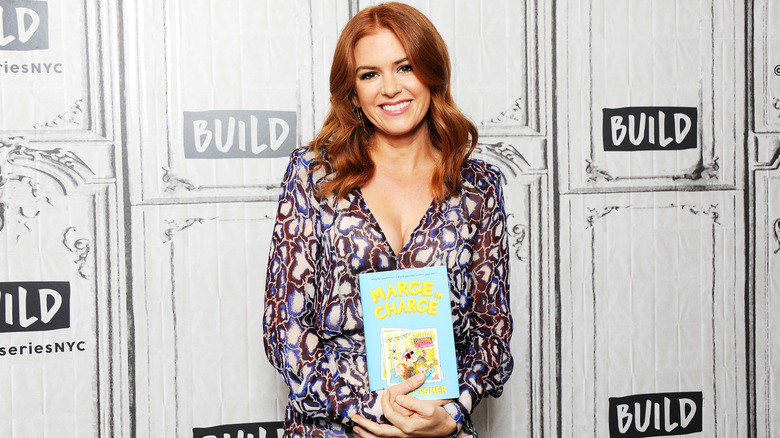 Desiree Navarro/Getty Images
Though Isla Fisher has spent most of her adult years as an actor, professionally speaking, she also returned to her childhood love for books by pursuing a secondary career as a children's author. Motherhood actually inspired her "Marge in Charge" series, which first hit shelves in 2016. As Fisher shared in a 2019 interview with Barnes & Noble, "There's only so long you can survive on impressions of your children's friend's parents or pretend to be "Peppa Pig," and oink around their bedroom before you need new material. So I began making up stories in funny voices and Marge, this naughty babysitter who breaks all the rules, just became the most popular character for them." 
Fisher's anxieties around the current state of the world's social fabric also contributed to her desire to become a children's author. "I worry that books for children are dying out," she admitted to Balance. "We're in a world of emojis, hashtags, and Twitter feeds, and I think we occasionally need to find words to express ourselves, instead of an emoticon happy poo." The author added that society's disinterest in reading long-form articles in favor of quick and snappy content has allowed fake news to thrive, which is concerning for future generations.
Outside of the "Marge" series, Fisher has hinted at the possibility of returning to young adult fiction in the future — as previously noted, she published two YA novels as a teen — expanding from her current audience of early readers. 
She gives herself grace when it comes to health and wellness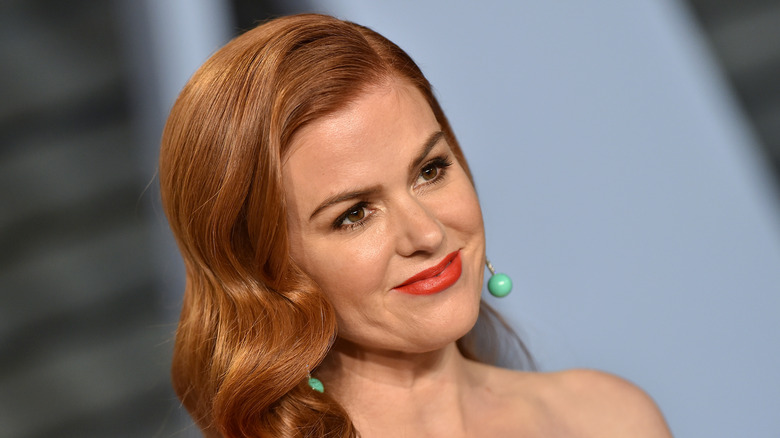 Axelle/bauer-griffin/Getty Images
Isla Fisher doesn't follow a strict regimen when it comes to fitness and diet; she simply embraces living well most of the time and doing what feels right. She told Women's Health in 2013, "I'm a tempura junkie and I love a french fry. And I have ice cream when I feel like it." In a 2018 chat with The Sun, she noted that she's a fan of pastries as well. "When I'm working on a book I need frequent breaks to keep my spirits up, and I'll tuck into a pastry whenever I run out of inspiration," she said. 
Fisher is all about finding balance in her diet too, making sure to work in fish and vegetable-based options. The actor, who sticks to a pescatarian lifestyle, is also big on going for hikes and practicing yoga. She gushed to Women's Health, "After yoga, you really do feel happier!" In a 2017 interview with Balance, the "Bachelorette" star said she's big on drinking water and getting a good night's sleep, too. 
Above all else, Fisher makes sure to give herself plenty of grace. "There's a real pressure on us, particularly as women, to be perfect and do everything, but we are only setting ourselves up for disappointment. Sometimes I think we could all do with cutting ourselves some slack," she said in Balance. "I'm not perfect — I'm consistently dropping balls — but that's okay."
Isla Fisher returned to Australia in 2020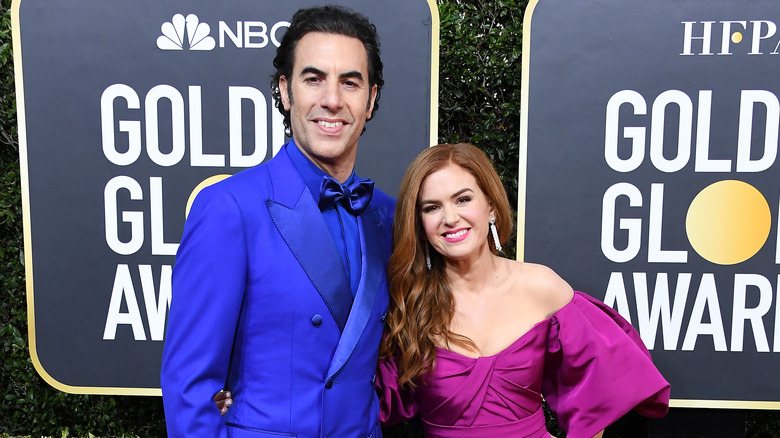 Steve Granitz/Getty Images
In 2020, Isla Fisher and Sacha Baron Cohen moved their family from Los Angeles to Perth — where Fisher spent the majority of her childhood. Chatting with Stellar Magazine about the move (via the Daily Mail), she said, "I just feel so safe, I suppose the word is cozy, when I'm in Australia." While the couple was originally speculated to have moved to flee the coronavirus pandemic in America, a source claimed to the Sunday Morning Herald that their decision was based on their distaste for Donald Trump.
In 2021, Fisher spoke about her love for the land Down Under during an interview with Marie Claire. "I feel like I can be myself in Australia," she shared. "I love the people. I love the colors and the sights and the taste and the smells. ... I have a very Australian sensibility." In a 2018 chat with Marie Claire, the actor opened up about her experiences with having young kids in Los Angeles. As far as she was concerned, it wasn't as chill a town as she'd like. "There's not really a culture of bringing your kids to dinner parties or to restaurants past 6pm. I tend to entertain at home because I want to be with my family — it's easier to put your kids to bed and have a wine with friends," she said.
She continues to keep her personal life off social media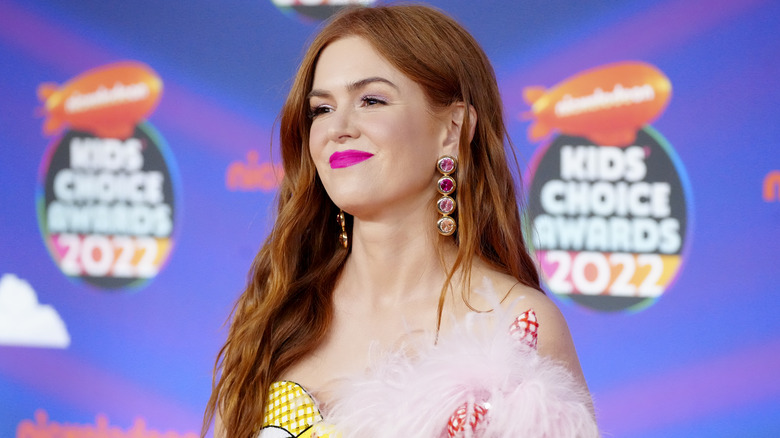 Jeff Kravitz/Getty Images
Isla Fisher is fiercely protective of her personal life, especially when it comes to her marriage and children. She once began telling the story of how she and Sacha Baron Cohen met during an interview with Women's Health but trailed off before she could really dig into details. As she told the interviewer, she values keeping a boundary between her personal and professional lives. As far as speaking about her three kids, Fisher makes a point of keeping the details limited. "I want our children to have a normal childhood — being able to play outside without pressure or scrutiny. All kids have the right to just be kids, and I would never sell a film or magazine by speaking about [mine]," she once told Marie Claire.
Keeping all of that in mind, it may not come as a surprise that Fisher isn't huge on posting the ins and outs of her life on social media. "[Instagram is] toxic for children and [for] the proliferation of fake news. ... [And it] increases bullying and fear of missing out and leads to anxiety and depression," she once told Independent. Because of her negative view of the platform and others like it, the actor largely sticks to posting about her career. Whether she's picking acting gigs or posting content, she stays true to that work-life balance.