General Hospital Star Cynthia Watros Takes After Nina With Her Twin Daughters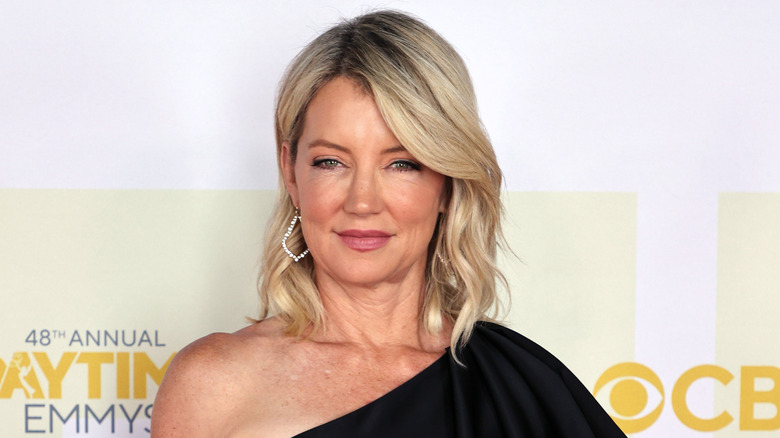 Kevin Winter/Getty Images
On "General Hospital" Nina Reeves' (Cynthia Watros) journey to parenthood has been like no other. There was one storyline when Nina thought Sasha was her daughter. The real truth was that Nina gave birth to a set of twins, which her mother had forced her to give up for adoption, but the story about Nina's real daughters doesn't end there. Nelle Benson (Chloe Lanier) died before Nina found out that she was her daughter. 
For the longest time, Nina's love rival Carly Corinthos (Laura Wright) also hid the fact that Willow Tait (Katelynn MacMullen) was her other real daughter, according to Soaps in Depth. Despite all of Nina's secrets and challenges, Watros says it feels like an honor to play the character with or without the heartache. She told Soap Opera Digest in 2021, "Nina's had a lot of tears, and I am so thankful as Cynthia to have Nina laugh a little bit and dance a little bit and sort of be happy and carefree."
Watros also feels connected to her character for another reason. That's because the actor takes after Nina when it comes to her own personal journey with motherhood. It might not be as dramatic as a soap opera storyline, but it's pretty close.
Cynthia Watros is a very proud mom of twins
Just like her character in "General Hospital," Cynthia Watros is also a mother of twins. She has two daughters, Emma Rose Marie and Sadie Anna Marie, with her husband, Curtis Gilliland. Coolness certainly runs in the family. Back in 2020, Watros had a dance-off with her girls on Instagram, according to Soap Hub. She captioned her video, which has since been deleted, with, "When you try to be as cool as your daughter." Her twin Emma also has some incredible talent as she often loves to show off her skills as a makeup artist on Instagram.
Even though their mother is a huge daytime television star, the twins for the most part stay out of the celebrity spotlight. Even so, Watros still talks about how proud she is of her girls. When asked the most challenging thing about motherhood, Watros told Soap Opera Digest in May 2023, "I have daughters that are 21, turning 22. It's about loving them and letting them be their own people because you're used to teaching them and guiding them and there comes a point where you just have to look at them realistically and who they actually are and who they're becoming and appreciate the people that they are, not the people that I think they should be."
But there have been some setbacks in Watros' life, too.
Cynthia Watros chose to be a mom before an actor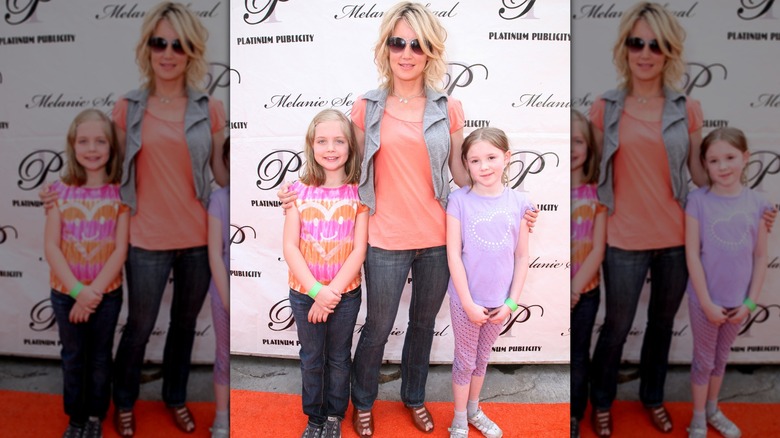 Tiffany Rose/Getty Images
Cynthia Watros has admitted that raising her family while trying to struggle with the demands of her career wasn't always easy. Sure, Nina Reeves has had it tough on "General Hospital," but Watros has had to make some sacrifices, too. There was one point in her life when she chose motherhood over television roles. Watros told Soap Opera Digest in a 2019 interview, "I would turn down a lot of things. I mean, your kids need you and they're only kids for 18 years, you know? It means a lot to me to be there for my girls, so that did change my relationship with the industry."
Yet, being a mother in real life has helped Watros play a more believable parent in front of the cameras, like when she did for the series "Finding Carter." Watros played a character by the name of Officer Elizabeth Wilson who was also a mom of twins. She told MTV News in an interview, "Having to play a parent is sort of easy because all those natural instincts just are in you now. All the protective stuff — like, in real life, if one of my daughters was abducted, I would do exactly what Elizabeth is doing."